Baked Tilapia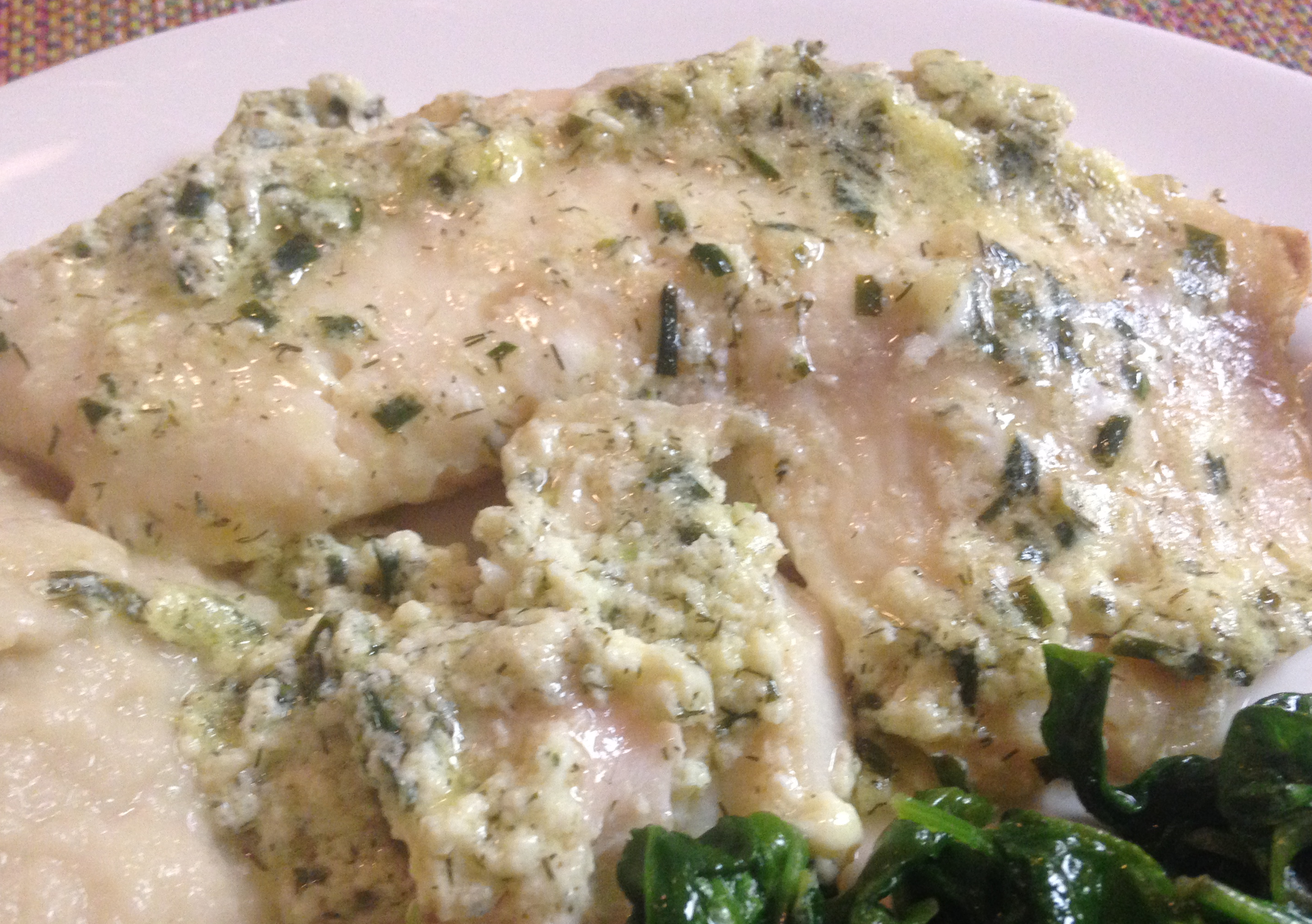 If you scroll through my recipes you will notice there are not many including fish. Not because I dislike fish, for I really like it, especially salmon and tuna. I think it is because I consider it more delicate and not as filling as other proteins, like beef, pork and chicken. When I think about stocking the refrigerator with a few days worth of leftovers I don't lean towards fish.
That said, this recipe for tilapia was absolutely delicious! The creamy sauce with egg and cheese protected the fish, allowing it to get cooked sufficiently without drying out. It was flavorful but not so strongly seasoned that it overpowered the fish. Surrounded by mashed cauliflower and sautéed baby spinach, it made for a lovely dinner. And the leftovers were good too!
Baked Parmesan Tilapia





1 garlic clove, minced




1/2 cup chopped fresh chives




1 teaspoon dill leaves




1/2 cup butter




1/4 cup lemon juice 




1/4 cup heavy whipping cream




1/2 teaspoon sea salt




2 eggs, beaten




8 tilapia fillets, deboned




1/2 cup finely grated Parmesan cheese





Preheat oven to 375 degrees.





In a medium skillet over medium heat melt the butter. When it begins to bubble add the garlic and chives. 
Sauté until garlic begins to brown. Remove from heat. 

Add lemon juice and stir. Add cream and stir until incorporated. By this time the sauce should be cool 
enough to not cook the eggs. Add the  salt and eggs, whisking until combined.





In a 9x13 inch baking dish pour a thin layer of sauce in the bottom, no more that a fourth of the sauce.





Arrange the fish in the dish. If the fillets need to overlap, do so with the thin ends. Pour the rest of the sauce 
on top, gently lifting pieces of fillet that overlap, letting sauce spread.





Sprinkle Parmesan cheese on top. Bake fish for 15 minutes until fish is flaking. 





Remove from oven and serve i

mmediately.