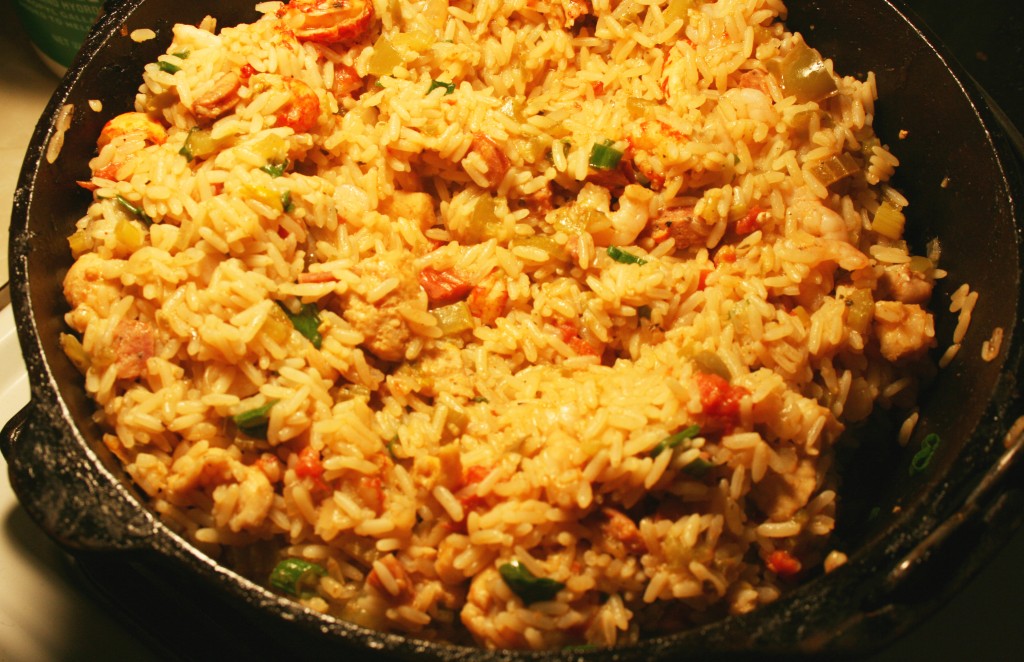 When I was in 6th grade my dad had a business trip to New Orleans. It coincided with spring break so my mom, brother and I went along. The trip was exhilarating in a number of ways. 1) the old, European feel of the narrow streets and old buildings was a new experience for me, 2) even as a 'tween' I immediately recognized the potential for fun and folly inherent on Bourbon Street, which was apparent to me in spite of the fact I only saw it in daylight, and 3) the Mississippi was mighty. My brother and I got a brief chance to walk the streets together without the parents, got caught in a rainstorm and were mistaken for a young couple in love (it was a REALLY crowded elevator so we were scrunched together, we were freakishly tall for our age and we were sopping wet). Another discovery was the food in New Orleans. It is sometimes subtle and sometimes spicy, but always has roots in simplicity. Jambalaya is a popular dish found in New Orleans. It is consistent with an international tendency to create a one-pot conglomeration of ingredients that is delicious, filling and representive of local ingredients. Jambalaya is similar to risotto in Italy, paella in Spain, pilaf in Greece/Turkey and fried rice in Asia. Although the ingredients may seem exotic in some regions of the U.S., the following recipe is typical for the Creole tradition of cooking, and close to Cajun methods, even though Cajuns tended not to use tomatoes.
Upon our return to Texas from that first trip to New Orleans there was a flurry of Cajun dishes made in our house. I am not kidding – my dad purchased cookbooks, multiple iron skillets and a propane burner for use outside to make things like blackened redfish. I spent a lot of time chopping up the holy trinity – equal parts green bell pepper, celery and onion. We grew up eating many servings of jambalaya, gumbo, and occasionally etouffee. He sprinkled many a dish with Paul Prudhomme's magic seasoning blends. Dad was a master meat griller and among his secrets for preparing meat (which he shared with me but I will not divulge here) he relied on the seasoning blends to give the right spiciness and flavor to meats. Such influences still linger with me today, and were part of the reason I was inclined to spend three additional vacations in New Orleans, and spend six months living there. I really want to return again and further experience the magic of one of the oldest and most culturally diverse cities in our country. It may be because I miss my dad, but it may also be that the charm of the city is undeniable and cannot be understood unless you walk the streets and open your heart to the experience.
Jambalaya
1/4 cup vegetable oil
1 large onion, chopped
1 green bell pepper, chopped
3 stalks celery with leaves, chopped
6 cloves garlic, chopped
2 tsp oregano
1 Tbsp cayenne pepper (or less if you want to curb spiciness)
2 tsp salt
1 pound alligator meat, cubed
1 pound andouille sausage, quartered and sliced
2 cups long grain parboiled rice
2 cups chicken stock
2 cups water
1 14.5 ounce can diced tomatoes
3 bay leaves
1 pound cooked crawfish tail meat
1 pound uncooked small shrimp, peeled and de-veined
2 green onions, chopped
In a large Dutch oven heat oil over medium heat on stove top. Add onion, bell pepper, celery, garlic, oregano, cayenne and salt. Cook for about 10 minutes, stirring regularly and scraping bottom until vegetables are wilted and mixture is becoming a caramel color. Push vegetables to the edges of the pot to create a well on the bottom. Add sausage and alligator; cook until it begins to sear, about five minutes, then combine with vegetables. Scrape the bottom of the pan regularly while the meat sears. Add rice, tossing it until thoroughly coated. Add chicken stock, water, tomatoes with their liquid and bay leaves. Stir thoroughly. Cover and simmer over medium low heat for 25 minutes. Do not remove lid during cooking time. Rice should be almost cooked but some liquid not absorbed. Add shrimp and crawfish tails. Cook on low another 10 minutes, until shrimp is cooked, crawfish heated through and liquid absorbed*. Remove from heat and stir in green onions. Let sit for 10 minutes. Taste before serving and add salt as needed to enhance flavors. Before serving remove bay leaves, or at least warn your guests to look out for them.
*To make the jambalaya without seafood use 6 chicken thighs (skinned and diced into large cubes) instead of the alligator. Add the chicken instead of alligator along with the sausage and skip the step later when the shrimp and crawfish are added.