Spicy Honey Chicken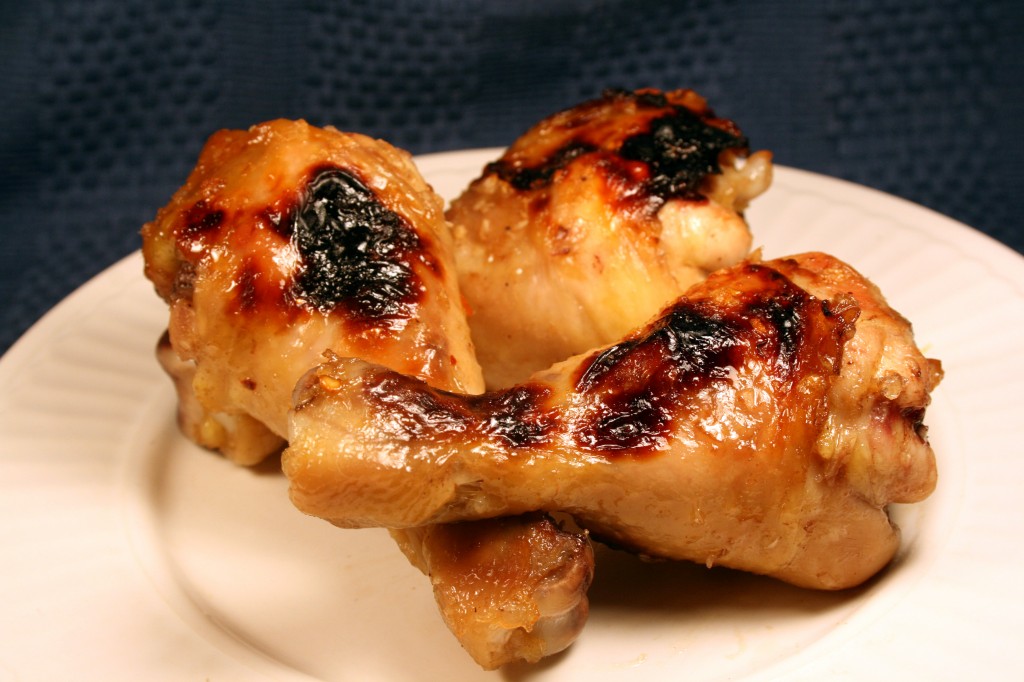 In my family there is always a fight over drumsticks. We like dark chicken meat and negotiate who gets what dark parts. I know they would look funny, but if anyone ever came up with a four or five-legged chicken I would so be in front of the line to buy some fryers, genetic distortions notwithstanding. Legs are good hot or cold, with beans or salad or slaw, and are mobile while being much easier to hold than those clumsy breasts. In recent years I have noticed more and more that packages filled with about ten legs are sold in the stores. They fit great in a crock pot or a baking dish and whenever I make them they are scarfed down. These days the bulk chicken leg packages are cheaper than the 'buffalo wings' that are getting more and more expensive. Quite a deal at fifty cents each at restaurants – really? Really? Not.
Chicken drumsticks always make me feel like a kid. I have been at fancy parties and felt obligated to eat them with a fork and knife, but when in more casual company I pick them up with my fingers and dig in, ready with a napkin nearby. Little B really likes them and I hope she ties many a childhood memory to hanging on to a leg while enjoying fun company.
This recipe was inspired by what I already had on hand in the kitchen, so next time I make it the recipe will probably look and taste different. I wanted sticky and sweet and a bit hot. It worked out pretty well, but I am really looking forward to having an even cooking broiler at our next place. I just can't get this one to work the way I want. Serve them with some tangy coleslaw and dig in!
Spicy Honey Chicken
½ cup honey
2 Tbsp balsamic vinegar
2 tsp red chili flakes
1 tsp ground cumin
1 tsp black pepper
1 tsp salt
2 cloves garlic, chopped
½ small onion, finely diced
Preheat oven to 400. In a bowl mix together all ingredients except chicken. Dip each leg into the sauce, making sure each leg is covered. Place end to end in 9×13 baking dish. Pour no more than ½ cup of remaining sauce over legs, making sure the small ends get covered too (not a worry if you got yourself a little sticky while initially dipping the legs in the sauce). Bake in oven for about 25 minutes. The glaze may smoke a bit, but should not burn. If the glaze does not brown you can turn on the broiler for a bit to finish them off. A little caramelizing is wonderful.