Baked Crispy Chicken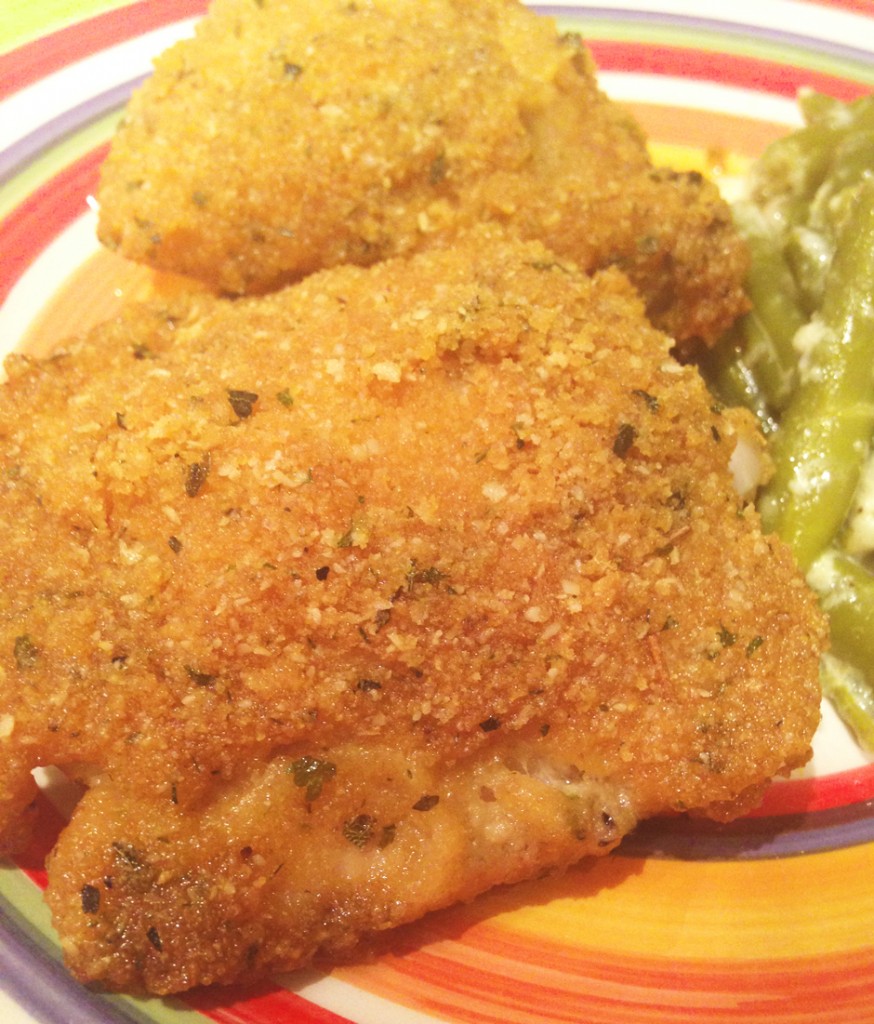 I have seen the use of crushed pork rinds as a 'breading' in a lot of different places lately. I was originally going to use our approach to breading we rely on for Scotch Eggs, using golden flaxseed meal, but wanted to try the pork rind approach first. We are usually dark chicken meat people, but our young house guest Skinny D likes white meat, so we caved in and made it too. Adding the variety gave us an opportunity to try three different chicken conditions – dark meat, white meat and skinless 'tenders'.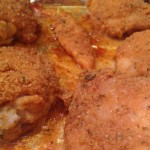 The results were awesome – the pork rind breading worked on everything! Leftovers were a little soggy when microwaved instead of toasted/baked, but straight out of the oven worked for me as a fried chicken replacement. Big D found it to be a bit lacking in his pursuit of more crunch, but we have ideas to change that. Stay tuned!
Baked Crispy Chicken
8 chicken thighs, with bone and skin
2 chicken breasts, with bone and skin
1/2 cup butter, melted
2 large bags pork rinds
1 cup grated parmesean cheese
1/4 cup parsley, finely chopped
1 Tbsp garlic powder
2 tsp onion powder
2 tsp cumin powder
2 tsp sea salt
1 tsp ground black pepper
1 Tbsp dried oregano leaves
Preheat oven to 350 degrees. Line shallow baking sheets with aluminum foil. Using a blender or food processor cut the pork rinds into small crumbs. Place crumbs in large mixing bowl. Add cheese and spices to the crumbs and stir until combined. Remove bones from chicken breasts while leaving the skin attached, removing separately the long tenderloin pieces along the bone for 'chicken strips'. Slice chicken breasts in half, making four evenly sized pieces. Season all pieces of chicken with sea salt. One at a time coat each piece of chicken with butter, then thoroughly coat all surfaces of each one wit the crumb mixture. Place each piece, skin side up, on the baking sheets, leaving about an inch of space around each piece. Bake for about one hour, until juices run clear. Serve immediately.
Adapted from Oven Fried Chicken at Buttoni's Low Carb Recipes.