Beef Curry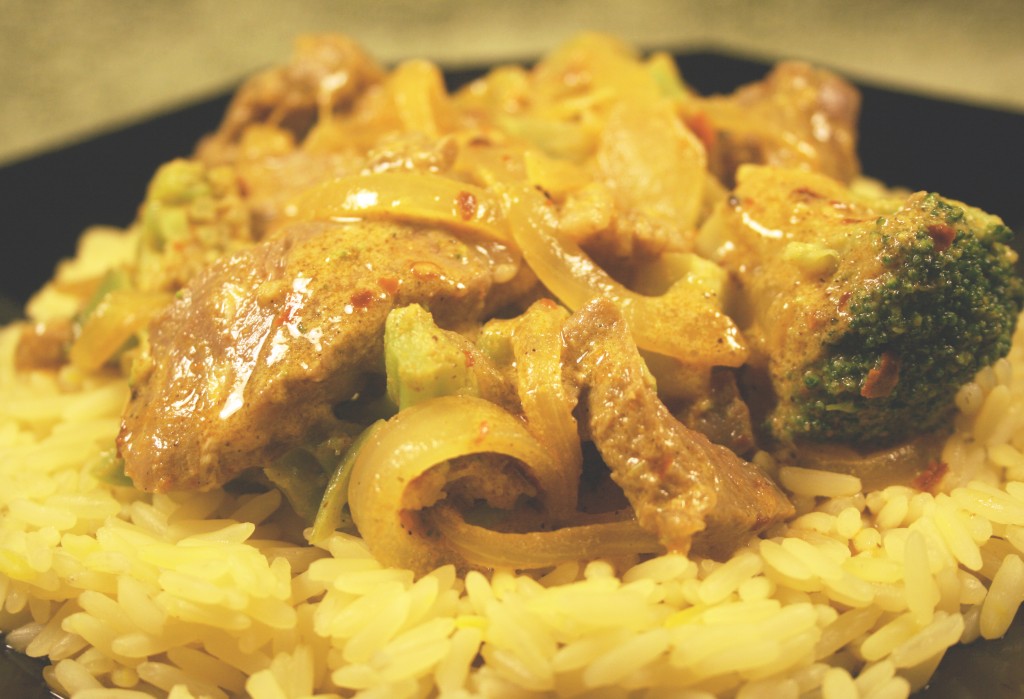 As promised to Big D weeks and weeks ago, I am trying out a spicy curry dish. He is usually the one that cooks dishes with curry sauces, but I am going to take a stab at it. His favorite is a chicken spinach concoction with curry sauce he first discovered in Anchorage, Alaska, at a little Indian restaurant. I am not going to try and copy it, since he does such a good job doing it himself, so I will aim for beefy. Trying new things is good, right? I also think my concoction went very well over saffron rice, which I was craving lately. My in-laws took a trip to Greece last summer and brought back some wonderfully strong saffron for me. Saffron is a flavor that does not go with just anything, and can actually make some foods almost sour, but I think it will be very complimentary to the beef and curry, while softening the bite of the chili. When Big D took his first bite I was sitting across the table from him – he smiled and his eyes got big as he quickly reached for his beer. I think I got it spicy enough for him!
Beef Curry
10-12 ounces tender cut beef steak, sliced into bite size strips
3 Tbsp vegetable or canola oil
½ yellow onion, cut julienne
1 pound broccoli, chopped
2 cloves garlic, crushed
1 Tbsp dried chili flakes
2 Tbsp curry powder
1 tsp ground ginger
1 cup whole milk
2 Tbsp lemon juice
1 cup long grain parboiled rice
2 ¼ cups chicken broth
1 ½ tsp salt
10-15 strands saffron
Combine broth, 1 tsp salt and saffron in a medium pot over high heat on the stove. Bring it to a boil and add rice. Cook for 20 minutes until liquid is absorbed. Let sit for about ten minutes before serving. While rice is cooking you can prepare the meat and vegetables. Add oil to electric or stove top wok on medium high heat. When oil is hot add chili flakes and garlic. As garlic begins to brown add onions and sauté until they are transparent. Add lemon juice, curry, ginger and ½ tsp salt. The spices will soak up all the oil and juice pretty quickly. Cook until the color of the mixture changes to a dark brown. If you are convinced the dish will not be hot enough for you, do what I did and stir in a squirt (about 1 Tbsp) of Sriracha hot chile sauce. Move onions to the outer edges of the wok. Add beef into the well and toss just until it begins to brown. Toss onion mixture with meat. Add milk and stir until combined. Add broccoli and cover, lower the heat and let mixture simmer for about 5 minutes. It is ready when the sauce is hot and the broccoli just tender but still bright green. Serve on top of the saffron rice.