Blue Plate Chops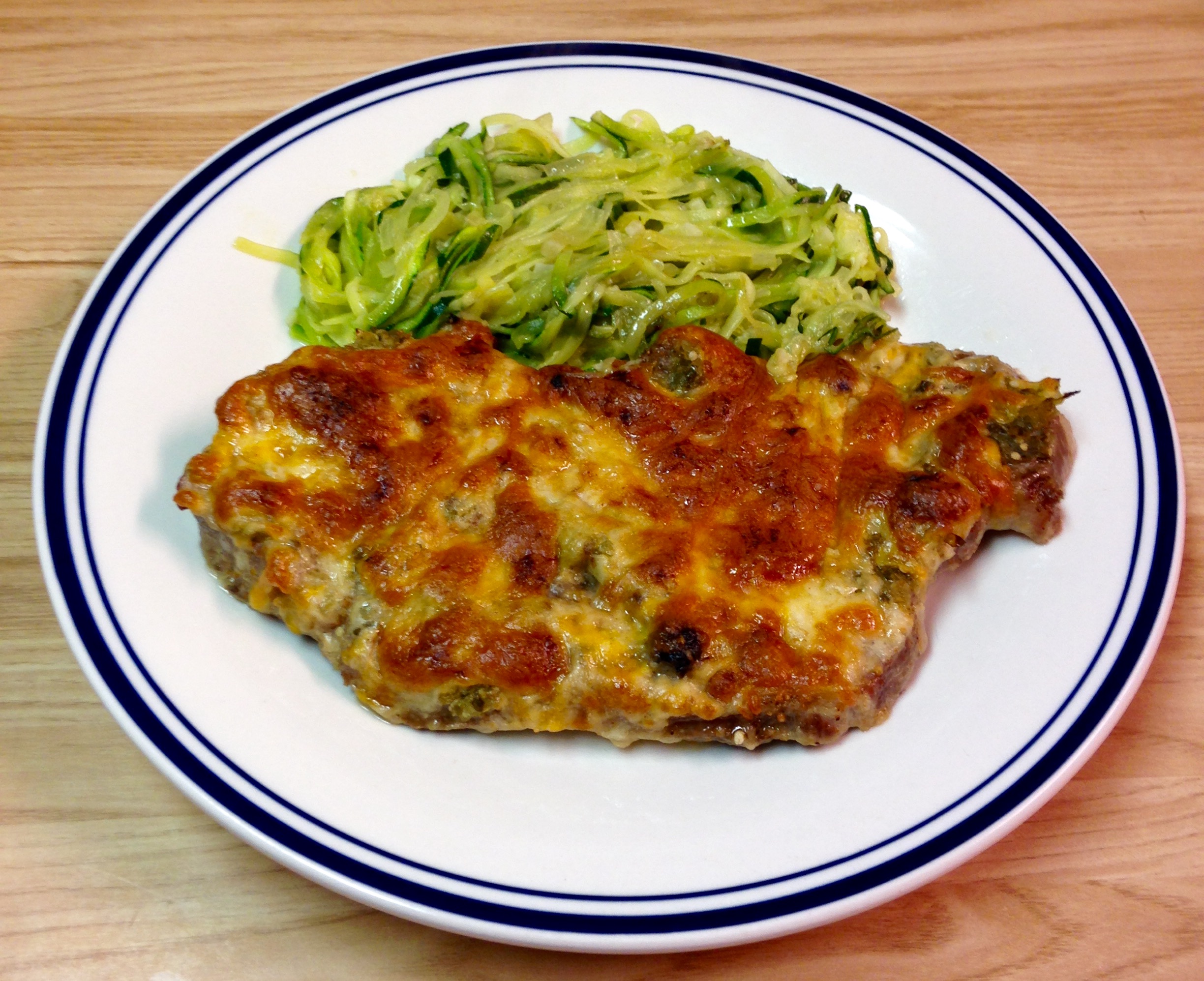 I know this recipe looks suspiciously like a chop recipe I shared in December, but it is definitely different. It has bite and goodness that the other does not. They do share a crisp brown on top, but can anyone get enough of crisp brown on sauce topped meats? Not me!
I call it a blue plate special because it is comforting, easy and filling. The traditional blue plate special is thought to first be offered during the Great Depression of the 1920s and 1930s, consisting of a meat and three sides on a blue colored divided plate. Another thing about the blue plate special–you take what you get and don't get upset. There were not any choices with the original blue plate special – to keep the price low the meal elements were made in bulk quantities and included in every serving. Don't like the peas offered? Then pay more and order something else.
On this plate I prepared the inexpensively cut bone in pork steak and combined three veggies in one side – onion, zucchini and yellow squash, for which the recipe can be found here. The main point is that an inexpensive protein can be made to taste absolutely delicious without much effort. Make your oven do the hard work!
Since our squash needs eating while still presentable, it was an unconditional veggie side for the night. I don't have a traditional divided blue plate, but maybe a blue rimmed plate will work in this century? Everybody ate without complaint. Maybe it was because it was a busy day of working and play group meeting frenzy and light lunching, but I think it may have been because we were all hungry. Regardless, it was yummy and it was gone. No need to package leftovers….
Blue Plate Special Chops

4 large bone in pork steaks (approx 2 1/2–3 pounds)
1/2 cup tomatillo or Verde salsa
1 cup shredded cheddar or co-jack cheese
1/2 cup finely grated Parmesan cheese
2 teaspoons granulated Garlic
Salt And pepper to taste
Preheat oven to 350 Degrees.
Line shallow baking sheet with foil Generously season both sides of all chops with salt and pepper. Place on sheet evenly spaced out. Divide the salsa among the four chops, spreading it evenly on the top facing side.
Sprinkle Parmesan cheese on each cup, followed by grated cheese. Sprinkle granulated garlic and a little bit more salt. Place sheet on top level if oven. Bake for 30 Minutes. Cheese layer should be brown and crisp.
Remove from oven and serve immediately.