Bred Bread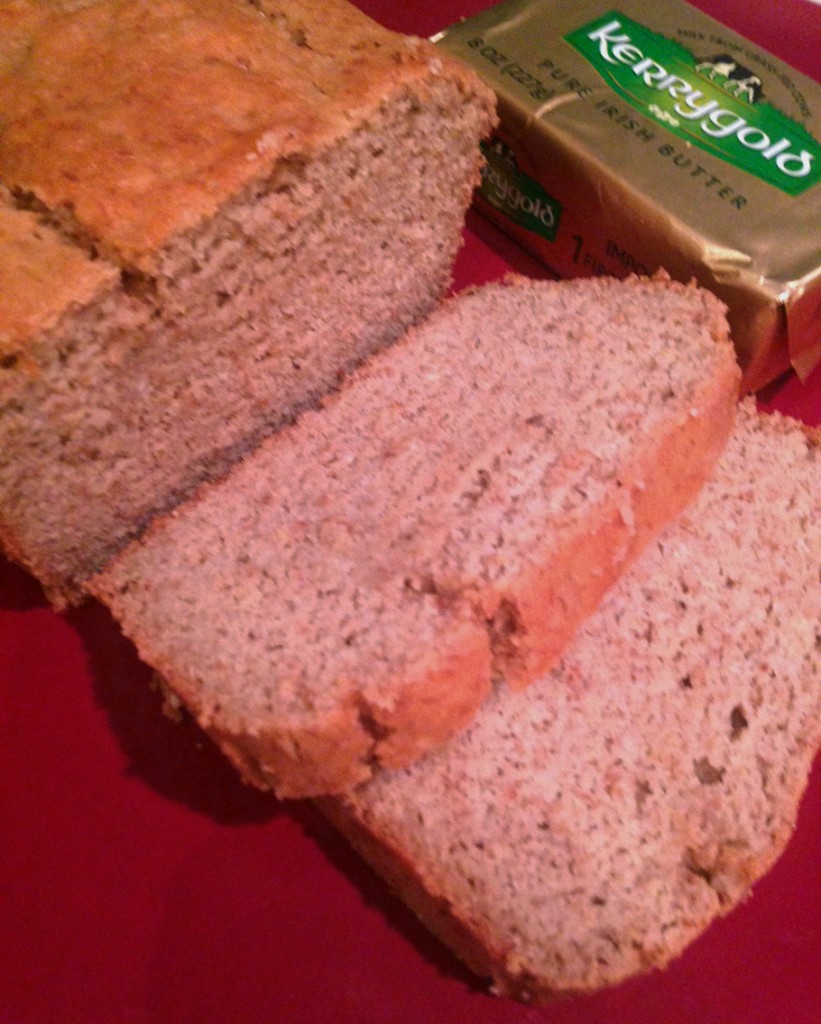 What an adventurous effort this bread recipe has been! It is officially named Bred, just because, and as a homage to Big D's tendency to play with words. Actually, the recipe has mostly been a result of Big D's efforts, but Little B and I supervised, mixed, provided input (solicited and not) and were overall cheerleaders. We certainly ate a lot of the results. It all began with cravings. As we continue on our low carb journey we longed more and more for sandwiches and bread. We thought there must be a way to make a nutritious, low carb bread-like thing to sate our desires. Some gluten free breads on the market are okay, but have more carbs that we want to deal with, and include non-wheat grains that we prefer to avoid. They also tend to be a bit rubbery and tasteless, without the help of other flavors slathered all over. After my experimenting with various baked goods, we were already familiar with the impact of flaxseed meals, coconut flour, and almond meal – in muffins, pies, rolls, etc. Not only their impact on the end product, but on our personal weight management, which was not negatively.
Big D searched the interwebs and found this recipe from the wonderful Miss Elana. Our first batch using the recipe was okay, but did not have the texture and flavor we craved. We also did not have the dainty bread pan she recommended, so the first attempt was not as loafy as we wanted. It was a good launching pad for what you find below. This bread is substantial enough for deli sandwiches, garlic bread, and especially grilled cheese sandwiches. After mastering the basic Bred recipe we found that some slight variations make for different, yet still satisfying results. The 'rye' version has the tang of traditional rye bread, making for wonderful reuben sandwiches. The version using non-golden flaxseed meal gives the bread a much lighter, almost poppy seed flavor that lends itself to more delicate tea and fish sandwiches. If you miss the very obvious point here, we are so very excited to have bread back in our diet! It adds variety and convenience and helps in stretching out leftovers, which are always hanging out in our fridge.
A related and concurrent discovery was a source of Kerrygold Butter here in town! There is such a superior flavor and texture difference with Kerrygold when compared to other butters – a difference we fell in love with many years ago. We have been searching for it locally for many months now and dreaded the expense of getting it shipped directly. Of course we bought out the supply when we found it, but we don't feel bad. I am pretty sure others did the same before us. Maybe since it sold out they will restock? We hope so, but that is not always how the bread crumbles…give our Bred recipe a try, and do so with Kerrygold. Yum!
Bred Bread
4 cups almond flour
1/4 cup coconut flour
½ cup golden flaxseed meal
1 ½ tsp sea salt
2 tsp baking soda
½ tsp stevita/erythritol powder
10 eggs
2 Tbsp coconut oil or lard
1/4 cup apple cider vinegar
Rye Version
When combining first six ingredients also add:
1 Tbsp caraway seeds
1 tsp ground turmeric
½ tsp ground mustard
¼ tsp ground black pepper
Lighter Version
Use regular instead of golden flaxseed meal
Place almond four, coconut flour, flaxseed meal, salt, baking soda and erythritol in a bowl and stir until well mixed. Add eggs and oil and stir until well combined, using your hands if necessary as the dough thickens. Add vinegar and stir until well combined. Place dough into a greased 9″x5″ bread pan. Bake at 325 degrees for 50  minutes – knife should come out clean from tallest point of the loaf. Bake for ten more minutes if knife is damp. Remove from pan immediately. Serve.