Cheese Crisps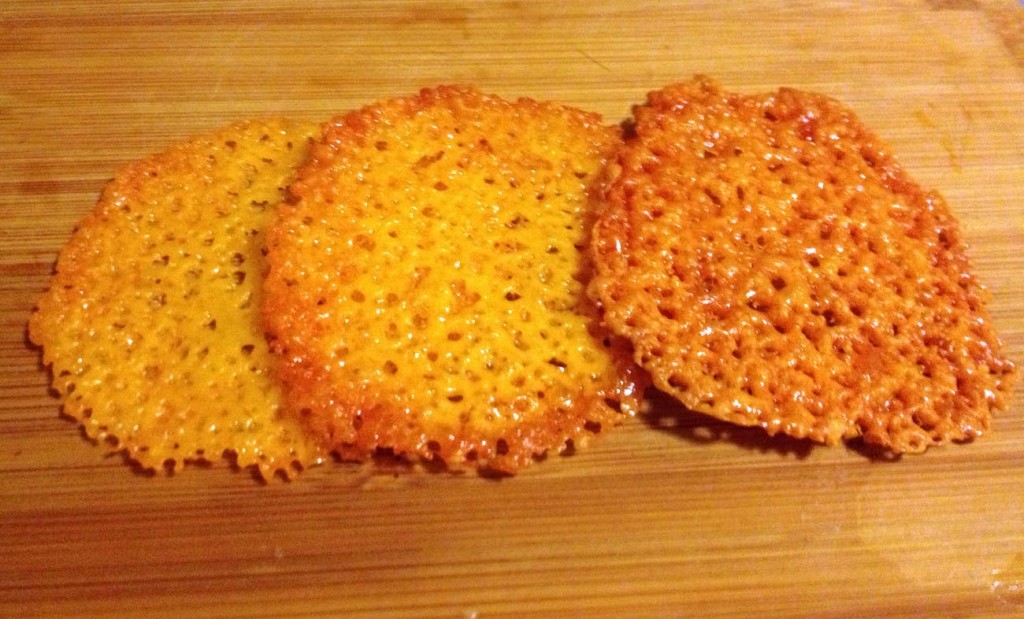 I like chips. I like crackers. Don't eat much of either anymore, but still crave them. I have tried to make cheesy low carb versions in the past but to no avail and pork rinds just don't always do it for me. Some experimenting on my own resulted in gooey, stretchy cheese pucks. Delicious, but not crispy. I did some research and found this approach. Perfect! Each pan I cooked for a different amount of time to see how the results varied. As you can see from the picture, I came up with three different types of crackers, in a good way. They were all stiff enough to dip or hold stuff piled on them, but the flavor was very different. I used sharp cheddar, and the sharpness really stood out in the browner, crispier crisps. The ones with the browned edges and lighter middle had a nice crispy and chewy balance, but mostly crispy. The lighter ones were not crispy, but were stiff enough to bend without breaking and make mini tacos. They inspired me to try bigger rounds and cool them in a curved, crispy taco shape. I did the basic sandwich thickness slices of cheese, but plan on trying the shredded, herby versions in the near future. I will update you when I do. When I made these the other night it was just me and Little B we ate every single one, experimenting with dipping and loading the different donenesses to test their capabilities. It was fun, we were very full, and Big D will get his own batch very soon.
Cheese Crisps
1 pound block sharp cheddar cheese
Parchment paper
Preheat oven to 350 degrees. Slice cheese into reasonably thin (like sandwich cheese thick) slices 1 – 1 1/2  inches in diameter. Place slices at least one inch apart on parchment paper on top of shallow baking sheets. Bake for five to seven minutes until the edges just start to brown, or they are brown all over, depending on preference. Remove from the oven immediately. Slide parchment paper off the sheet onto the kitchen counter or other heat resistant flat surface. Let cool. When cool remove crisps to paper towels to soak up lingering grease. Repeat slicing and baking until cheese is gone, because you will eat all of them. If you do have leftovers they can be stored at room temperature in an airtight container.