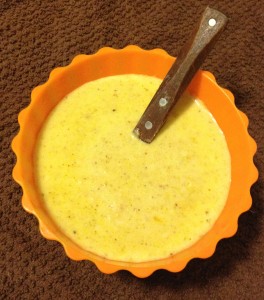 As the weather cooled in Maryland before we moved, I had an immediate urge to start the making of soup. I am particular about the temperature of my food liquids – cold stuff in warm weather and warm stuff in cold weather. Any other combination just feels wrong to me. I am often made fun of about my idiosyncrasy (insert Big D laughing here), which I believe is pretty common. Am I really alone on this? A hot cup of coffee in the heat of July makes me feel as if I am burning up from the inside. A cold smoothie in December makes me shiver for an hour. That is why my gazpacho happened in June and iced coffee in July, but then I delved into warm drink mixes in October and here today I offer soup with two of my favorite ingredients – beer and cheese. A challenge I often have when making a liquid dish with cheese is ensuring the cheese is well combined, and is balanced with the liquid. I think I found a good balance here. Your results may vary, but taking time to gradually add and fully incorporate the cheese seems to be the secret. This soup has a strong flavor because of the strong beer, so if you want a more mild soup, then vary the beer, for it will be your guide. And make sure you make it during cooler weather because that is the only reasonable time to eat hot soup, right?
Broccoli Beer Cheese Soup
1 Tbsp butter
1 garlic clove, crushed
½ small onion, finely chopped
1 small head broccoli, roughly chopped
12 ounces hoppy beer (suggest India Pale Ale)
2 cups sharp cheddar cheese, grated
1 cup mozzarella cheese, grated
½ cup heavy whipping cream
¼ cup Parmesan cheese (optional)
In a medium sauce pan combine over medium high heat melt the butter. Add the garlic and onion, cooking until transparent. Add the broccoli and toss, letting it cook for a minute or two. When the broccoli begins to sweat a bit, about two minutes, add the beer. Bring mixture to a boil and turn down temperature to low. Cover and let simmer for about ten minutes, until onion and broccoli is very soft. Remove from heat and let cool for a few minutes, until it is safe to puree. With a stand blender or hand blender in the sauce pan, puree liquid and vegetables until all the pieces are very small and uniform. Return mixture to the stove top over medium high heat and make sure it returns to a boil. When hot, gradually add cheddar and mozzarella cheeses, about 1/3 cup at a time, and stir until each portion is completely melted and combined. After all the cheese is combined, turn down temperature to low and let simmer for about ten minutes, stirring after five minutes. Add the whipping cream and stir some more. If you want the soup smoother, again use the blender to achieve desired smoothness, but remember that it will always be a little bumpy because of the broccoli. Serve immediately, sprinkled with Parmesan cheese.