Chimichurri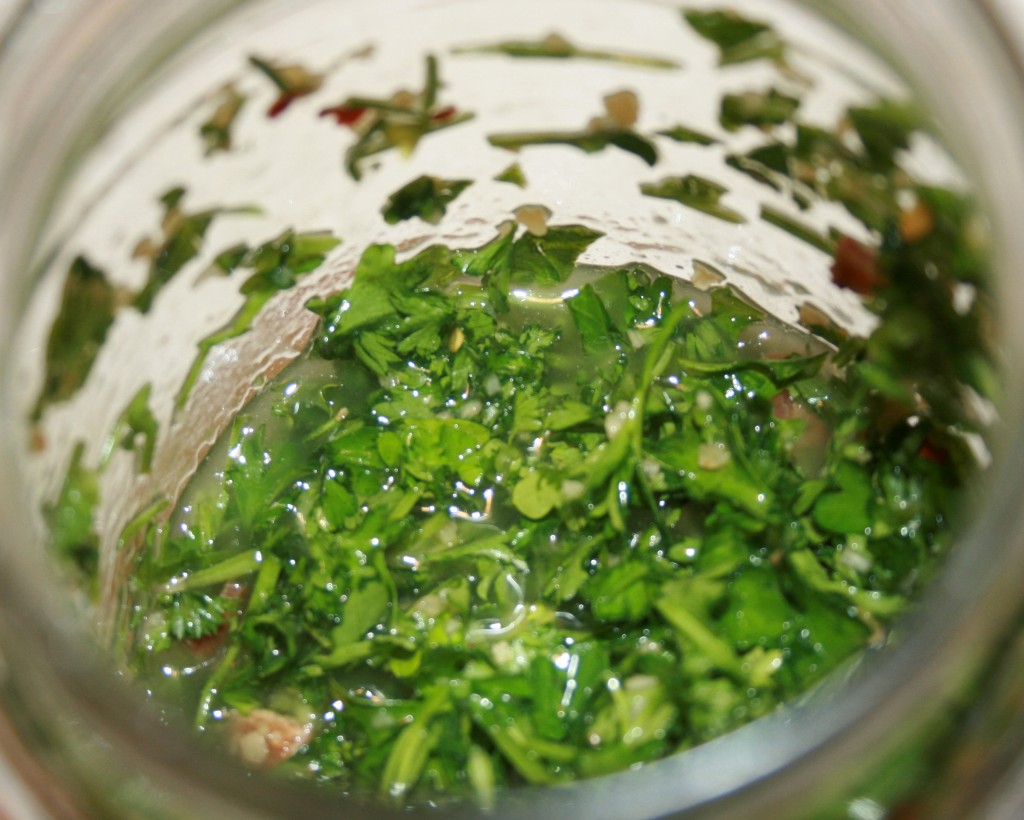 I was first introduced to chimichurri at a restaurant in San Antonio – Los Barrios– where metal bowls of the wonderful stuff are sitting on the table when you sit down. Then they bring hot chips and fresh salsa to add to the mix. Recipe for gluttony.  Drizzle a little on a chip and crunch away. I don't know why, but I always want to eat more. I would not have thought a sauce made primarily of parsley would appease my palate, but it does. Besides the digestive benefits of the parsley, if made correctly the sauce has a gentle balance of tangy, soft and addictive. It also goes wonderfully with pretty much any grilled meat, and of course drizzled over a fajita taco. I have even used the final dredges of a jar to sear veggies. It can be made without the bacon and grease for a healthier version, but be warned the texture and depth changes. Make the chimichurri and refrigerate it the day before you plan on serving it and the flavors really meld together. You can actually make it the same day, but sitting overnight makes a noticeable difference.
Chimichurri Sauce
1 bunch parsley
1 clove garlic, crushed
1 tsp salt
1 lime, juiced with meat included
1 slice bacon, cooked crisp
1 Tbsp bacon grease
½ – ¾ cup canola oil
Chop parsley roughly, including stems (If chopped too small the leaves can taste bitter). Place them in a glass bowl or jar. Add garlic, salt, lime and oil. Stir or shake up the ingredients until the parsley is coated. Heat up the bacon grease and chopped bacon until it is hot, then drizzle it over the mixture – this step will wilt some of the parsley and release flavor and aroma. If you make the sauce the day before you may want to pull it out of the fridge an hour or so before mealtime so it can warm to room temperature. Serve over meats, vegetables or use as a dipping sauce with tortillas or chips.