Chocolate Coconut No Bake Goodies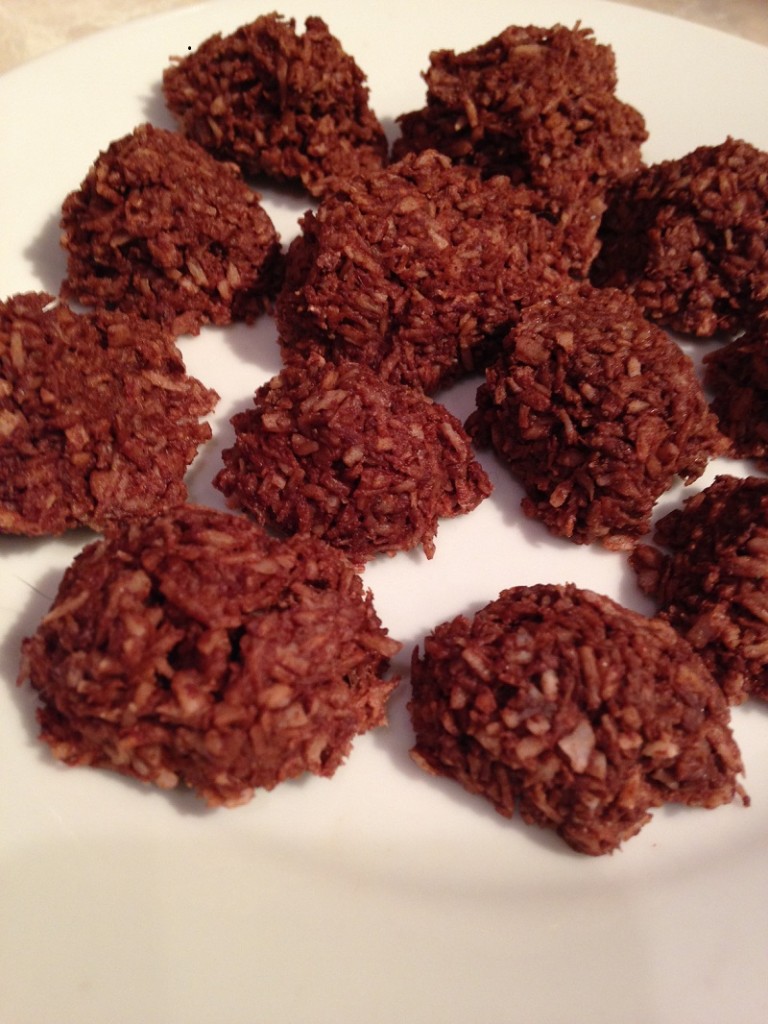 When I was growing up my mom made what she called tangos – heat up sugar, chocolate, oatmeal and peanut butter in a pan, drop the hot stuff on wax paper, let it cool and you have instant treats. I have made them a lot myself – the chocolate and peanut butter with the chewiness of the oatmeal made for a great snack and had a richness that appeased the nibbling and snacking craving I get of an afternoon. I have been craving them lately and sought out a version that does not have sugar or oatmeal. I found what looked like a really close version with coconut. I relied on the traditional peanut butter instead of almond, and a few other tweaks, but the recipe made a great healthy snack for my family. Tall P really liked them to appease his sweet tooth cravings, too, but the guy that dips his strawberries in sugar said they were too sweet. Silly boy. Little B liked them so much she took them to her Valentine's Day party to share with friends. Score!
Chocolate Coconut No Bake Goodies
3.5 oz bittersweet chocolate
1/3 cup coconut oil
2 Tbsp smooth peanut butter
1/2 cup coconut milk
1 tsp vanilla extract
Pinch of sea salt
2 Tbsp Stevita spoonable stevia
4 cups finely shredded coconut
In a medium sauce pan over medium heat combine the dark chocolate, butter and peanut butter. Cook until melted and thoroughly combine. Add the coconut milk, vanilla, salt, and sweetener and stir to combine. The heated mixture will thicken quickly, then needs to be taken off the heat. If it begins to separate it is okay, just keep stirring when off the heat. In a large bowl pour the chocolate mixture over the coconut. Stir to incorporate. Using a cookie scoop, scoop out the mixture onto a piece of parchment paper. Refrigerate until hardened.