Crispy Baked Chips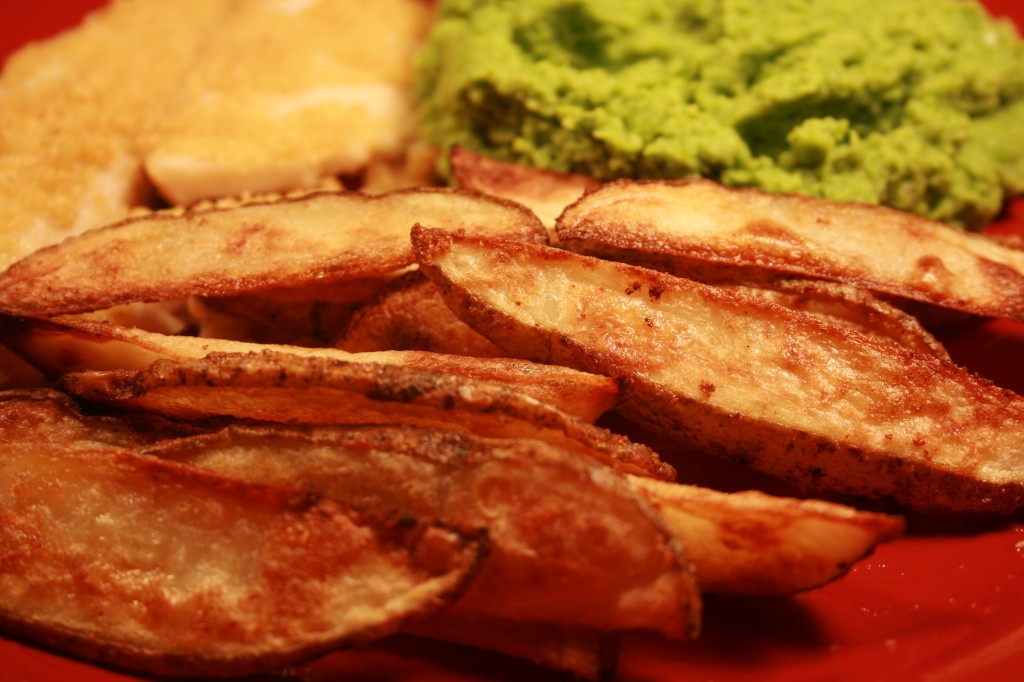 You want fries with that? Of course, but I shouldn't…
Although I like a lot of foods that are good for me, I also crave some of those foods that are quite lacking in nutritional value. You know, oreos, macaroni and cheese, loaded baked potato and of course the fries. Yum! Usually made with processed potatoes and deep fried, they go well with burgers and ribs and under a pile of chili and cheese. An occasional small serving is no problem, but when they come so easily almost everywhere we eat out – and we eat out quite frequently – it gets harder and harder to resist. One way that helps me is to make some at home, which are just as good or loads better than those found in a restaurant. They cook up so crispy, and the seasoning begs not to be dipped in ketsup, but if absolutely necessary, I guess it could be done. These are chips, as in fish 'n chips! These little guys taste like they could have been deep fried, but they are baked, much lower fat than their deep-fried counterparts, crispy and addictive! I served them up with mushed peas and some tilapia cooked in a skidge of oil and lime juice.
Crispy Baked Chips
4 small or 3 medium russet potatoes
2 Tbsp canola or olive oil
1 tsp salt
1 tsp garlic powder
Dash of pepper
Wash and slice potatoes into thin wedges lengthwise, approximately 12 per potato. Soak slices in a bowl of cold water for 10 minutes. Preheat oven to 425F. Lay out wedges on a towel to dry, pressing down from above using another towel to get as much water off as possible. Place wedges in a bowl and sprinkle with oil, salt, pepper and garlic, tossing until completely coated. Spread wedges out in one layer on large cookie sheet. Bake in oven for about 20 minutes. Flip wedges over, rotate pan 180 degrees to ensure even baking and return to oven for 10-20 minutes. The second baking time varies so much because the size of the wedges may vary. By the time the first bake time is over the potatoes will be cooked – the second time is to ensure complete and utter crispiness. Serve immediately. The recipe can be easily doubled, just make sure you have sufficient cookie sheet space. If doubling the recipe and cooking on two cookie sheets, which probably means using two levels of the stove, you will need to cook them twenty minutes, then switch levels for the additional time to allow for even browning.