Mushed Peas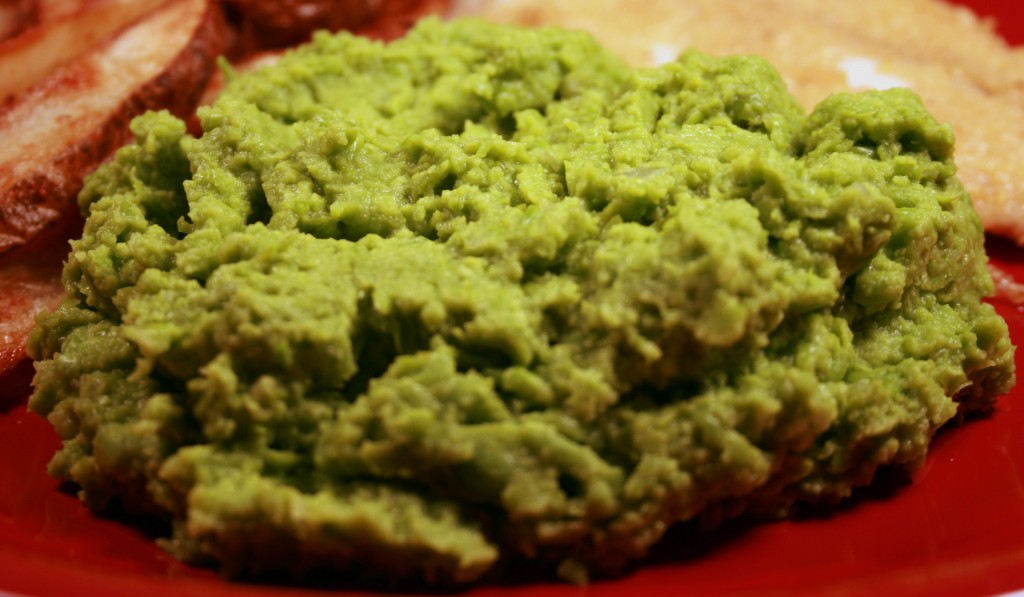 On the first day of my first trip to Ireland I stayed up for 36 hours straight. The original plan was to sleep on the flight over the Atlantic, but a merry band of fine looking Italian men decided to have a party about five rows away, so any thoughts of peace and quiet went out the window. There are worse reasons for not sleeping. We landed in Shannon, went through customs, found our B&B and took off in our little car to explore. Bumping along a narrow road on the way to the Cliffs of Moher we came across a little cottage converted into a small cafe. Our rumbling stomachs could be heard over the car engine, so we stopped for a bite. It may have been the beautiful, lush green surroundings, but the fish and chips with mushed peas we ate for lunch tasted magical. Our table of two made up half the customers in the place for the entirety of our meal. It was quiet, we could see through windows in three directions, and were slightly punchy from being awake in our 30th hour. It was a blissful break from the rushed feeling inherent in travel. A decade later I still recall the cup of bright peas, the subtle mint mixed in, and how amazed I was that I never thought of mushing them before. Some people call them mashed, other mushy, but I call them mushed because that is what they were called during my first encounter. Oh, and the Cliffs of Moher are really tall and otherwise left me speechless.
Mushed Peas
2 pounds frozen peas
½ small onion, finely diced
2 Tbsp butter
1 Tbsp fresh mint, minced leaves only
2 Tbsp whole milk
Salt and Pepper to taste
Melt butter in a pot. Add peas and onion and cook covered on low until peas and onion are tender. Add mint. Mash with a potato masher, food processor, hand blender or other macerating device you may have handy. Add milk and stir. Season to taste with salt and pepper – take care with the salt and pepper because a little goes a long way with mushed peas. Serve warm.