Crispy Tuna Melts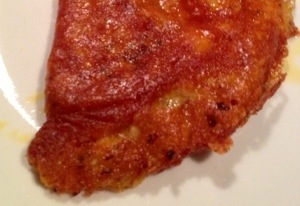 We found ourselves hanging out in the RV the other day after a hot, hilly hike along a section of the Appalachian Trail. A few years ago Big D did a stint solo from Georgia to Virginia, and has had a hankering to return to the trail ever since. I am keen to spend a few months on the trail with him and Little B, but finding a gooldly chunk of time during the right seasons of the year has yet to happen, so we will continue with it on our radar for now. Living in Maryland, so close to the trail inspired us to dip our toes into the experience. The dip not only reminds us of our desire to dive in, but also to see how our little trooper, Little B, would do. Ever since she was about 2 years old we have taken her on stroller free walks and hikes. To this day she gets excited about going 'on a dirt trail', which is much more fun than the more structured 'asphalt trails'. When given a choice she always chooses the dirtier path. We all did well with the rocky hills and deep drop offs during our hike, but the heat really drained all my extra energy. Hungry, but also melting into our lounge chairs, we tried to figure out what to have for dinner. Wanting something quick, while limited by our decision to pass on a trip to the store, I dug through the fridge and pantry and came up with these guys – crispy tuna melts. When you think of a tuna melt it is probably an image of hot cheese and tuna between two pieces of buttered, crispy toast. To avoid the carbs and wheat of the bread I made some tasty tuna treats without the sandwich part. They were filling, so it did not take much to sate us, and we sank back into our chairs, full and sleepy as the evening air cooled with the setting sun. Nice day and nice food with nice company.
Crispy Tuna Melts
2 cans tuna in water, drained
3 cloves garlic, crushed
2 cups grated sharp cheddar cheese
Salt and pepper to taste
Heat medium sauté pan over medium high heat. Sprinkle 1/2 cup of cheese in the pan, followed by half a can of tuna and some garlic. Season with salt and pepper. After a minute or so the cheese will begin to crisp as stick together in a cheese pancake. When the tuna and garlic mixes with the melted cheese it is time to flip. Push spatula under half of the pancake and flip it over the other half, like you would an omelet. Flip the crisp to make sure it is evenly browned on both sides. Remove from pan to a plate for cooling. Repeat the process three more time to use the rest of the ingredients. Cut crisps in half, or strips, or any shape for eating. Can be eaten cold or reheated.