Gazpacho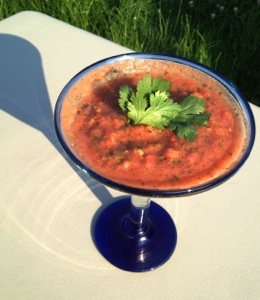 Look at me diving into summery goodness! I am not a real big fan of summer heat, which is only kind of funny, considering I grew up in Texas, where hot and humid are the name of the game for half the year. Maryland has its share of hot and humid, but for only a fraction of the Texas time, thank goodness. After a particularly rainy week we landed ourselves in the RV for a mostly warm, sunny weekend. Such a weather change inspired me to make a nice, cold soup to go with our fire seared meaty dinner. I stocked up on some fresh vegetables, threw them in a blender and waited, not turning on an oven or firing up a single burner on the stove. The meat got cooked over the fire pit as the sun set, making for a beautiful summer meal at twilight and grand evening of simple, refreshing food.
Gazpacho
2 pounds ripe tomatoes, coarsely chopped
1 small cucumber, peeled
1/2 red bell pepper, seeded and chopped
3 garlic cloves, crushed
1 cup fresh cilantro, loosely packed
1/2 cup parsley, loosely packed
1/2 sweet Vidalia onion, coarsely chopped
1/2 tsp sea salt
1/8 – 1/4 cup sherry
Combine all ingredients except sherry into a blender or food processor. Pulse until combined and all pieces uniform size. Add 1/8 cup sherry and pulse again to combine. If you like chunkier soup like me don't pulse further. For smoother soup, continue pulsing to desired texture. Depending on the sweetness of the tomatoes and onion you may need more sherry and/or salt. If you are not sure, chill soup for about an hour and taste before deciding to add more. Chill at least two hours or overnight before serving. Garnish individual servings with any combination of tomato/cucumber/bell pepper/herbs you wish.