Ham and Egg Salad Tomatoes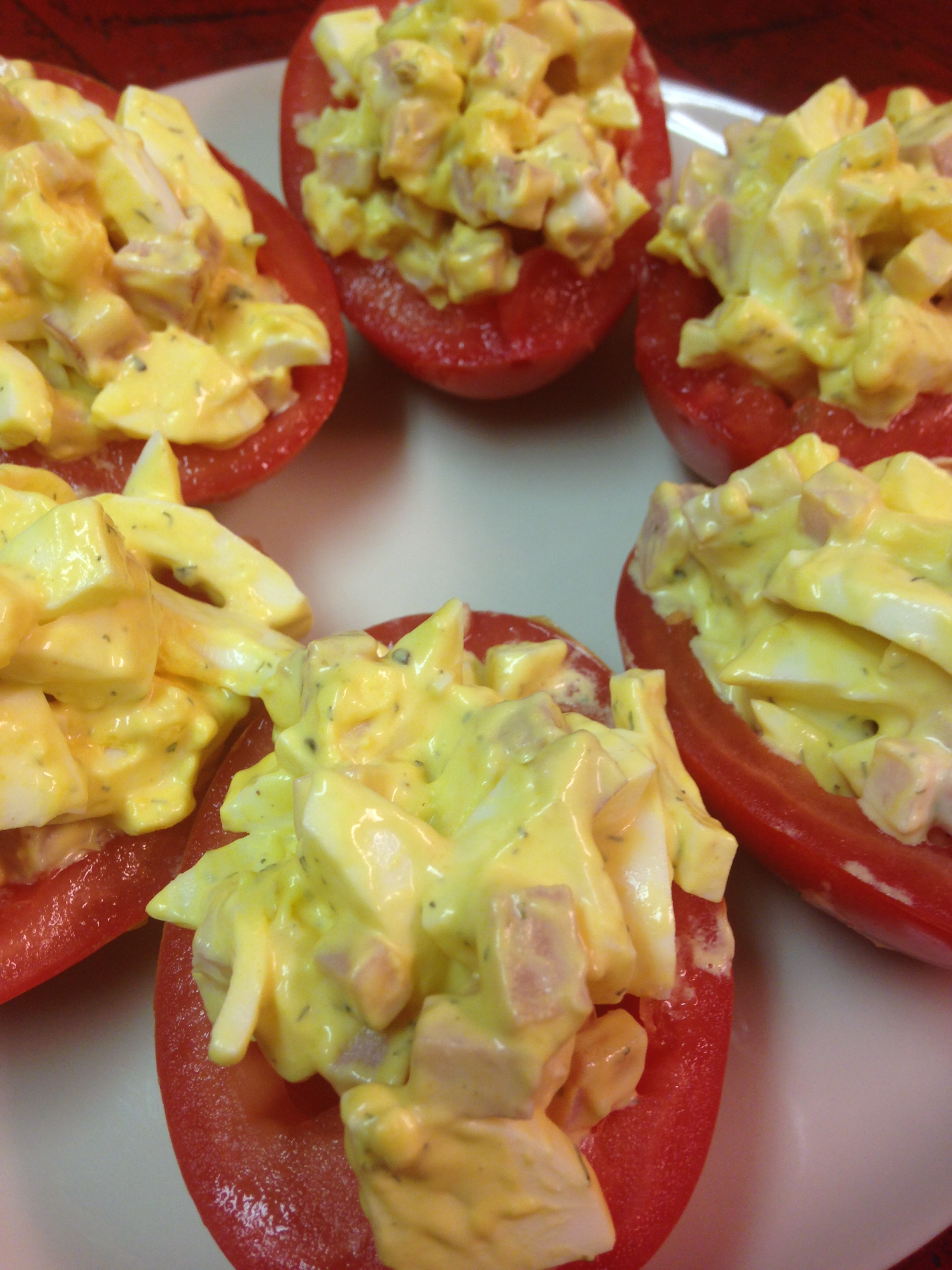 After a long day of baking and roasting products for Grain Free Haven, and helping hubby publish his latest book, The Secret:  A Thriller (free for a couple more days!) it was time to actually eat a meal. Not interested in turning on the oven again, I sought out a quick, oven-free meal for us to have. Spying the ever-present boiled eggs, ham and tomatoes in the fridge I came up with a fun idea. Stuffed tomatoes! The same staple foods we often eat, but in a fun little package! I won't be selling them from my booth next weekend, but they were fun to make and eat. I have done something similar with tuna and cherry tomatoes, for a dainty tea party dish, but never used egg salad or larger roma tomatoes. These would go great as make ahead for a luncheon or pot luck. Let's see if my mom is inspired to do them for one of her many monthly lunches next month!
Ham and Egg Salad Tomatoes
4 boiled eggs, roughly chopped (drop raw eggs in boiling water, boil for ten minutes, rinse with cold water, then peel)
1/2 cup mayonnaise
1 Tbsp yellow or other mustard
1 tsp dill leaves
1/2 tsp garlic powder
1/4 tsp onion powder
Salt and pepper to taste
2 slices ham, diced
5-6 roma tomatoes, halved lengthwise and seeds removed
In a medium bowl add mayonnaise, mustard, garlic powder, onion powder, dill leaves and a dash of salt and pepper. Whisk together until well combined. Add eggs and ham. Stir until ham and egg is coated. Fill each tomato half with salad, mounding it on top and gently pressing it into the hollow of the tomato. Place on platter and serve immediately or cover and refrigerate.