Herbilicious Chicken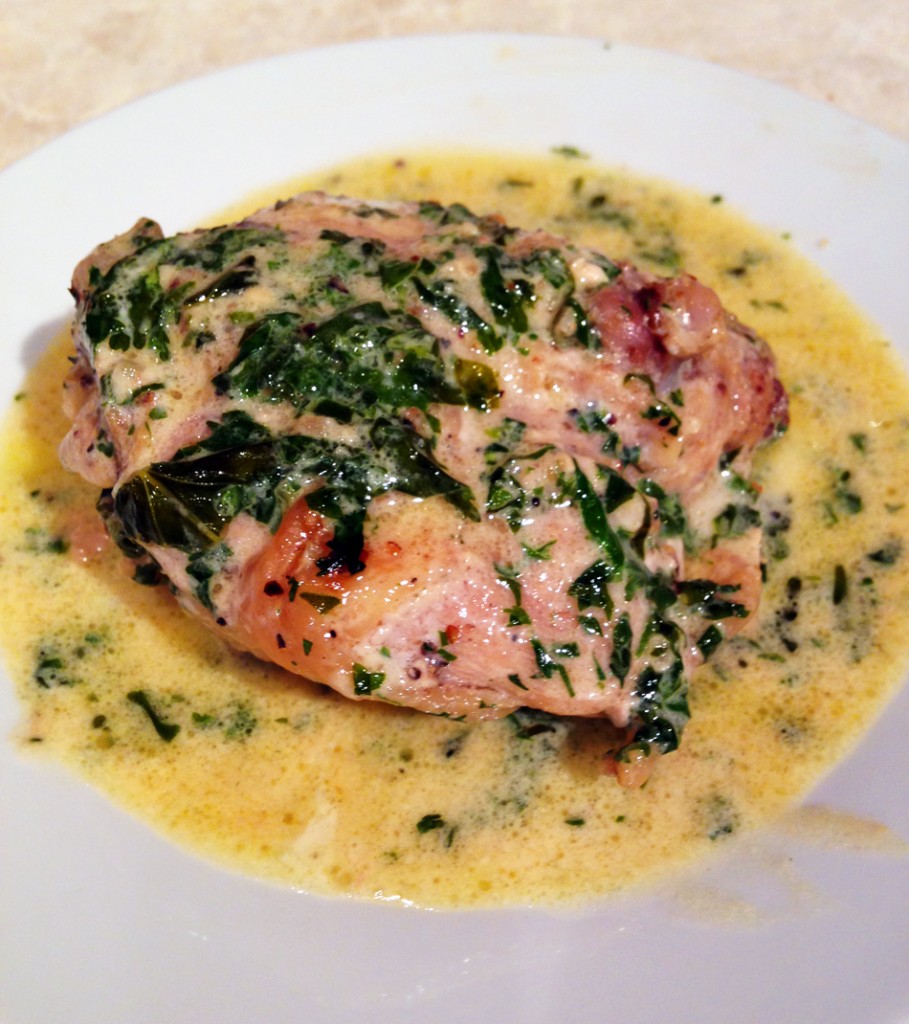 It is so herby and so delicious it must be herbilicious! And chicken to boot! We even made it twice in one week, which is very rare in our house – not only making the recipe, but making chicken. We are a protein kind of house, and most often rely on beef and pork to keep up our intake. Chicken is okay, but not our first choice. A dish has to be really good to get a double-make in a week. Our little balcony garden is growing like gangbusters and the nibbling birds cannot keep up, so we actually get to eat some of our harvest! Our oregano and sage look a little sad, but the cilantro, basil and parsley are very happy with the circumstances, and they do what they can to try and keep up with the towering collard greens. After not doing much gardening in recent years I am now reminded by our little plot just how much better food tastes when I grow it myself. It is amazing how much the sense of taste is influenced by the feeling of such an accomplishment. I can only imagine this dish would also be herbilicious with other herb combinations, so walk out in your garden and grab some handfuls. Let me know how it goes!
Herbilicious Chicken
6 – 8 chicken thighs, skin on
1/4 cup butter
3/4 – 1 cup heavy whipping cream
1 cup fresh parsley
1 cup fresh cilantro
1/2 cup fresh basil
3 cloves garlic, chopped
Salt and pepper, to taste
Season chicken thighs with salt and pepper. In large frying pan over medium high heat place all thighs in the dry plan, skin side down. Cook until skin begins to brown, about eight minutes. Turn thighs and cook for five more minutes. While chicken cooks roll the parsley, cilantro and basil together and slice them up, then finish with a rough chop. Add butter to pan and flip thighs so they are all coated with butter. Add herbs and garlic, again turning the thighs so they are coated. Cover pan and cook for ten more minutes, until juices from chicken run clear. Add cream and stir thighs until cream mixes with juices and herbs. Lower heat and let simmer until cream is heated and chicken is cooked completely, about five more minutes. Serve immediately.