Japanese Eggplant Tomato Salad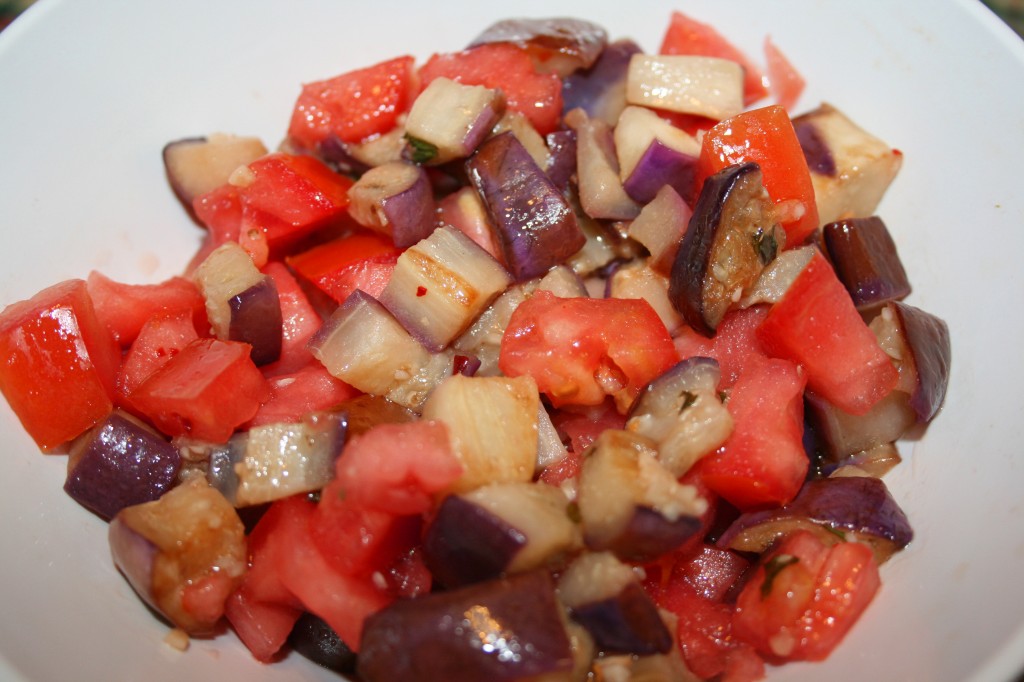 The summer heat has made itself at home in Maryland, for now. I was hopeful that the triple digit temperatures had moved on earlier this week, since the highs dropped into the 80s, but alas, it was not so. They shot right back up. I know it is August, but a girl can hope! I am very much an Autumn/Winter kind of girl – wearing sweaters and pretty scarves, taking brisk walks to get the blood flowing without sweat raining off my brow. Cooler weather will come eventually – it always does – so for now I will trudge on in the heat and make some summer salads. I found some Japanese eggplant at the store this week and grabbed a few. The are longer and more narrow than the typical eggplant, and in my opinion sweeter and more tender. Maybe I need to work with it more, but the short, fat eggplant tends to be tough and lacking flavor when I have prepared it in the past. The Japanese eggplant is more appealing, but also more elusive. I wanted a cold side dish to accompany some spicy tacos for dinner, and this is what I came up with, adapted from the recipe here.
Japanese Eggplant Salad
¼ cup white vinegar
1 clove garlic, crushed
2 tsp fresh ginger, minced
¼ tsp red pepper flakes, crushed
1 Tbsp fresh basil, chopped
1/8 cup olive oil
2 Japanese eggplants
1 large tomato
Cut off ends of eggplants, cut each lengthwise into six pieces, then cross cut into cubes. Sprinkle cubes lightly with salt and let sit for about ten minutes. While waiting for the eggplant make the dressing. Combine the first five ingredients and whisk together until combined. Slowly add oil while you continue whisking until it is all added. Set aside the dressing. Heat dry skillet over medium high heat. Add eggplant and about one Tablespoon of dressing, then saute until tender, about five minutes. Transfer cubes to paper towel and let cool to room temperature, or chill until ready to serve. Cut tomatoes in half and scoop out seeds, leaving as much flesh as possible, then cube the tomatoes so they are about the same size as the cooked eggplant pieces. Combine the tomato and eggplant cubes. Drizzle with dressing and toss lightly to coat. Serve immediately or chill until ready to serve.