Mustard Cider Pork Chops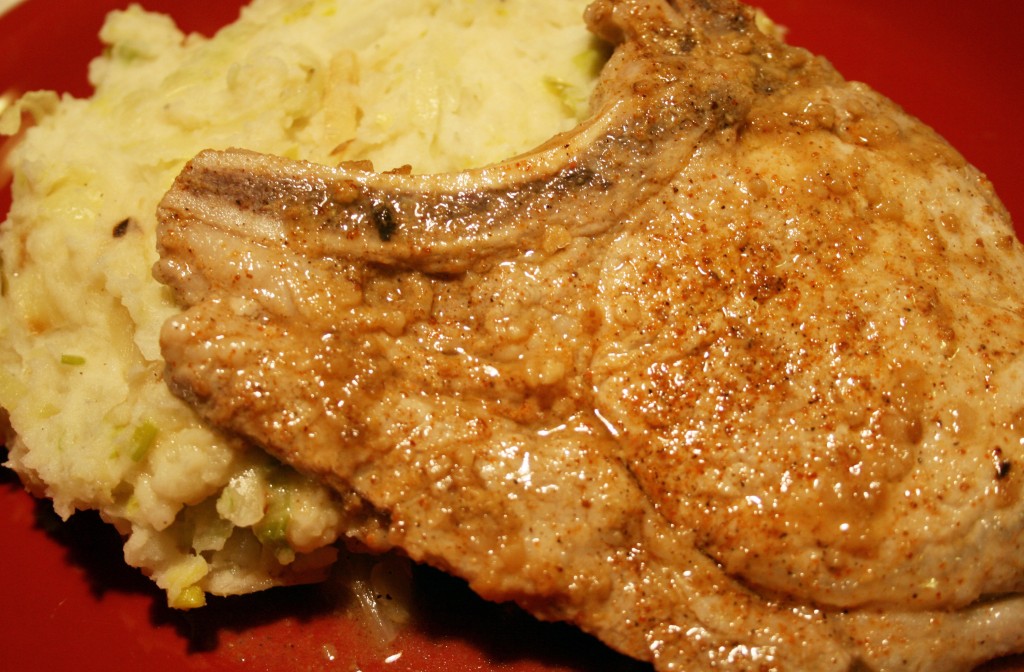 One thing about traditional Irish foods and methods of preparation is they are often simple and/or quick. I enjoy making simply prepared dishes just as much as complicated ones. Many more modern Irish dishes combine sweet and savory to compliment meats, which is what I did here. Although the older method of preparing chops (pork or mutton) involves boiling them in broth (Irish food boiled? No! Never heard of that concept before!), but I just could not do it. I had to sear them a bit before letting them simmer in the sauce. So sue me, I broke from tradition. I am sure the Irish food cops will not be knocking on my door anytime soon. These chops go great with colcannon I shared with you earlier this week. I was inspired by the recipe here, but may have made so many changes you might not be able to tell. Have a great weekend and look for more Irish inspired dishes soon!
Mustard Cider Pork Chops
4 thin cut bone-in pork chops
3 Tbsp olive oil
1 Tbsp stone ground mustard
2 Tbsp lime juice
2 Tbsp cider
2 cloves garlic, chopped
Salt and Pepper to taste
Make two slits in the meat of each pork chop, 2-3 inches apart cutting towards the bone. Season chops with salt and pepper. Heat large skillet over medium-high heat. Add oil. When hot add garlic and cook until it begins to brown. Add mustard, honey and lime juice. Stir until combined and hot. Place pork chops in the pan, press down a bit, then flip, allowing both sides of the chops to be covered with sauce. Cook on each side for about 3 minutes until seared. Decrease heat to medium-low and cover pan, cooking until pork is cooked through. Serve immediately.