Colcannon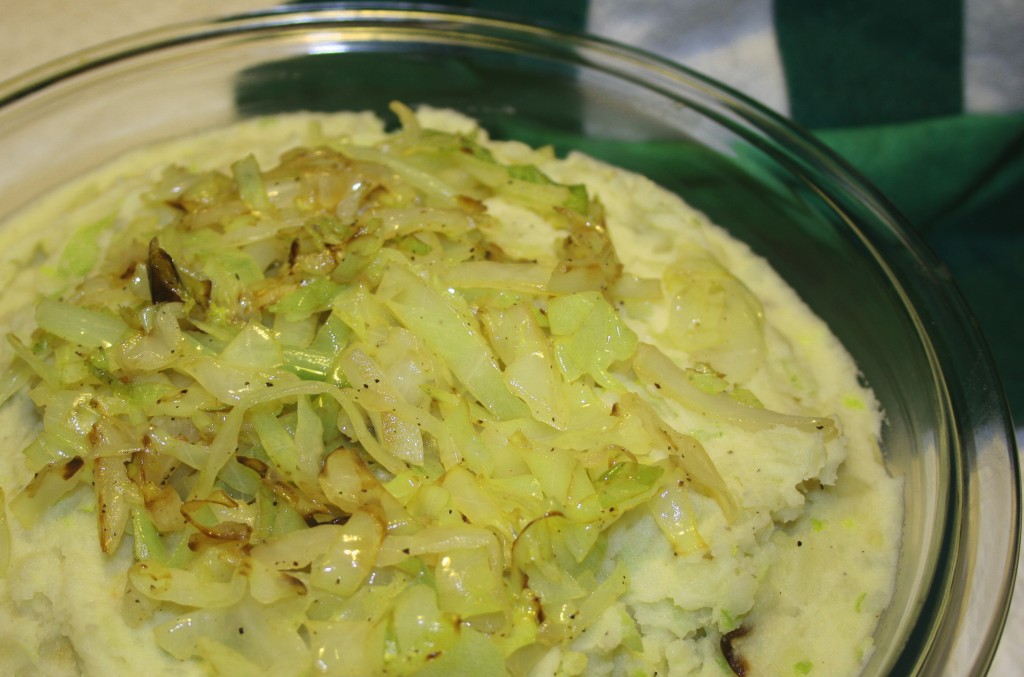 It is March! March means two things to me – the world changes from brown to green and the 17th of the month is one of my favorite days of the year. As St. Patrick's Day nears I ponder more and more the Irish dishes I consider comfort food. Frankly, when I think of Ireland and food my thoughts do not often float beyond seafood and potato dishes. My ancestors survived on such things, so it is no wonder I enjoy exploring them. Traditional Irish-American foods that start popping up around St. Patrick's Day usually include corned beef, but pork is more often the protein in Irish dishes. Over the next few posts leading up to St. Patty's Day I am going to cover some of my favorite Irish dishes, prepared in ways my family enjoys them. Let's see where this journey takes us! I am starting with colcannon, which goes well with pork. Go figure.
One of my favorite pubs is The Lion and Rose British Restaurant and Pub, of which there are a few locations down in San Antonio and Austin, Texas. The first one opened in a little shopping center in Alamo Heights, an old neighborhood in San Antonio near my alma mater. So far they have retained the deliciousness of their food, and hopefully continue to do so as the number of locations grows. I mention the pub because they serve a dish I love, but for some reason rarely make – colcannon. Uh, technically their menu item is bubble and squeak (an English stove top version of colcannon), but the flavor is much the same and so easy to make myself. When I eat mashed potatoes there are usually vegetables along side and I always end up mixing them together. Mashed potatoes and corn? Mix. Mashed potatoes and peas? Mix. Mashed potatoes and green beans? Mix. Mashed potatoes and cabbage. Yep, mix.
The traditional versions of colcannon I have come across include boiling. A lot of boiling. I can boil everything and mix it together as was done in the past, but I am partial to sauteed cabbage. The searing of cabbage that is barely crispy and just becoming tender makes me melt. I guess you can say I make a hybrid of colcannon and bubble and squeak. I am okay with that statement. If you are like me and serve colcannon with meat, at the last minute you suddenly worry that you forgot to make a vegetable for dinner. Never fear. The cabbage IN the colcannon is actually the vegetable! Big D got a laugh out of my omigosh-I-forgot-the-veggies moment.
Colcannon
3 pounds potatoes, peeled
1 small (or ½ medium) head cabbage
1 medium leek (green sections removed), thinly sliced
1 cup milk
½ cup butter
Salt and pepper to taste
Chop potatoes into equal sized pieces (about 4-6 pieces per potato). Drop potatoes into boiling salt water and cook until tender, about 20 minutes. Drain and set aside. While potatoes are cooking, core and thinly slice the cabbage. In a large skillet melt 1 Tbsp of the butter over medium high heat. Add cabbage and toss to distribute the butter. Turn down the heat to medium, add salt and pepper to taste and cover, cooking until cabbage is tender. Occasionally toss the cabbage, allowing some browning to occur. While the cabbage is cooking add the remaining butter to a small sauce pan and melt. Add leek to butter and cook until transparent. Add milk and simmer until heated through, using salt and pepper to taste. Mash the potatoes until smooth (they may look dry). Add the onion mixture (the potatoes won't look dry anymore). Add the cabbage, setting aside about one cup for garnish. Stir until all is combined. Top with the set aside cabbage. Serve hot.