Shortcakes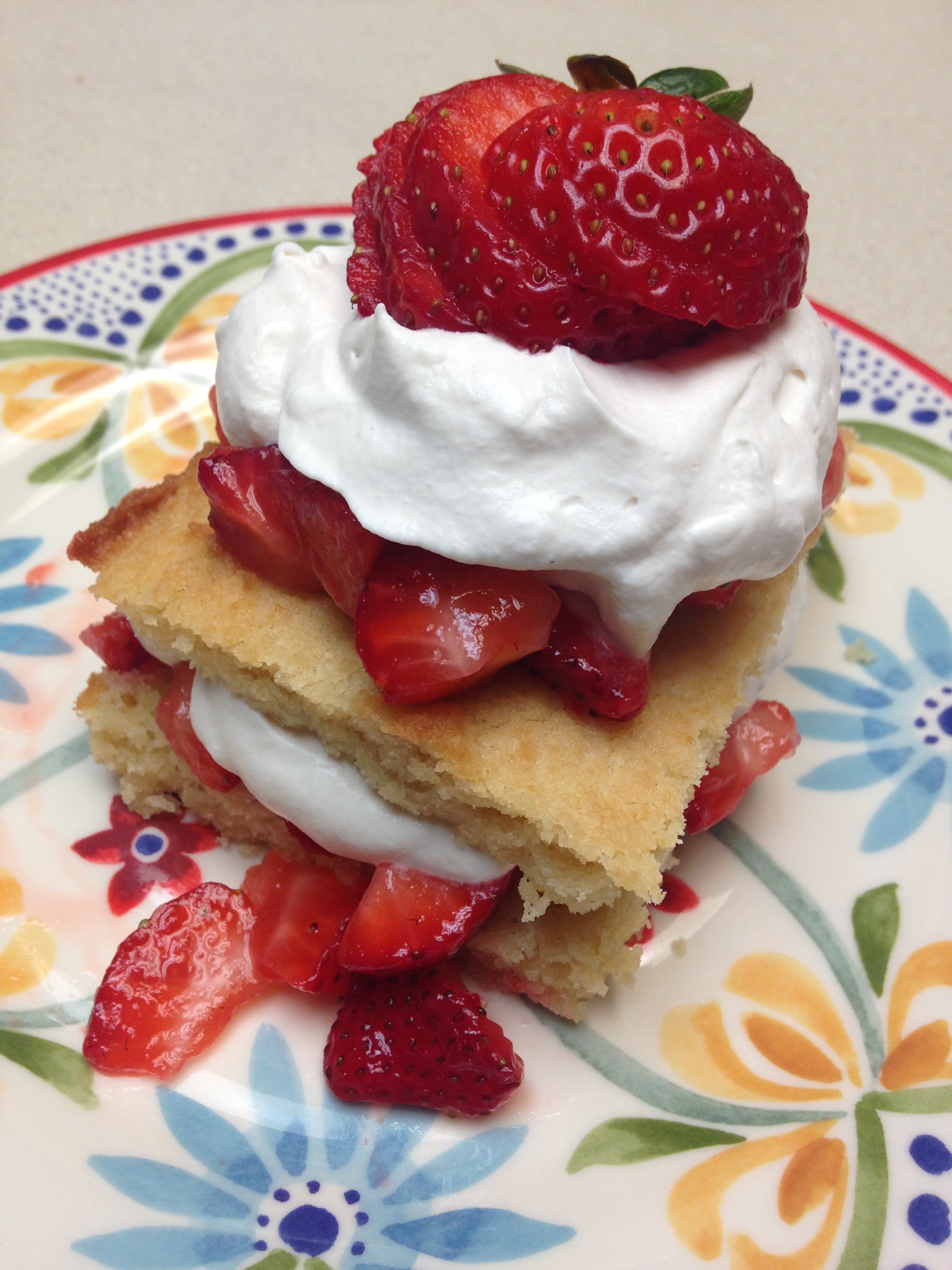 Summer is so  much about bright, ripe fruit I could strangle myself. I grew up in South Texas, where they have at least a dozen fruit-based festivals every summer – watermelon, blueberry, tomato, peach, grapefruit, cantaloupe, gourde, hot sauce, wine, strawberry….oh wait, some of those aren't fruit, but they might as well be, the way Texans consume them in the summertime. My favorite is strawberries. We would get strawberries by the flat. They would go in our cereal, salads, on toast and waffles, and of course dessert. One year I ate so many I got hives while in a movie theater watching Steel Magnolias. First there was the itch, then the welts, then the freaking out because I never had them before and wondering what I caught at work serving frozen yogurt. Friends assured me they would go away and they did, after a day or two. Strawberries were the obvious culprit. It has not happened since, but I am very careful when faced with an entire flat of the berries.
Because of the higher carbohydrate count of the stuff, I am also careful, in spite of the fact they fall very short of the most wonderful stuff on earth. To balance the carbs of berries I have come up with this otherwise pretty low carb dessert. My favorite version is with strawberries, but any berry will do. I took a chance and tweaked some successful almond meal based muffin recipes, in the hope that there would be enough sponginess and firmness to honor the berries. The cake came out wonderfully – moist and cakey but not too dense. You cannot believe how happy I am to have strawberry shortcake in my grain free, lowish carb repertoire!
Shortcakes
1 1/2 cups almond meal
1 1/2 tsp baking powder
1 Tbsp granulated sweetener
2 eggs
1/2 cup butter, melted and cooled slightly
1 Tbsp lemon juice
1 tsp vanilla
Fresh Berries (see below for strawberry version, other berries can be left whole)
Whipped Cream (see step 3 below in strawberry version)
Preheat oven to 350 degrees. Line the bottom of a 9×9 baking dish with parchment paper. In a medium bowl combine the meal, sweetener and baking powder. Add the eggs, butter, lemon juice and vanilla. Stir until completely combined. Pour into prepared baking dish and with a spatula even out the top. Bake for 25 minutes, until toothpick comes out clean from the center and the top begins to turn golden. Remove from oven and let cool completely or place in refrigerator until ready to serve. Trying to manipulate it before completely cool or cold will result in a crumbly mess. Slice in squares or rectangles and layer with whipped cream and berries.
Strawberry Shortcake
Preparing strawberries for shortcake is a little different from using other berries. Other than strawberries can be left whole and layered with whipped cream and cake. To make a traditional strawberry shortcake take the following steps:
1) Set aside enough pretty, whole berries to put one on top of each planned servings (one cake will serve 6-8).
2) Gather three to four additional berries per person. Slice and dice the berries, tossing them with 1 Tbsp of granulated sweetener and a splash of lemon juice. Let sit for about ten minutes and the juices will release. Mush them up a bit to add to the sauce.
3) Place one cup heavy whipping cream, 1/2 tsp vanilla extract and 1 tsp granulated sweetener to a bowl. Whisk them together until cream makes stiff peaks. Double quantities for every four servings. This whipped cream does not have any stabilizers and will not keep for more than a day or so.
4) To prepare the dessert it is recommended that steps are completed in a production line, doing every layer for all servings at the same time, evenly distributing chopped berries and whipped cream. Cut the cake into 6 – 8 pieces. For each serving slice a square of cake in half lengthwise. Place the bottom half on a plate. Drop a spoonful of strawberries on the cake slice and spread, pressing it into the cake a bit. Drop a dollop of whipped cream and another spoonful of berries. Place the top half of the cake square on top and lightly press it down. Add more chopped strawberries, top with a final dollop of cream and finish with a pretty, whole berry. Serve immediately.