Peach Fool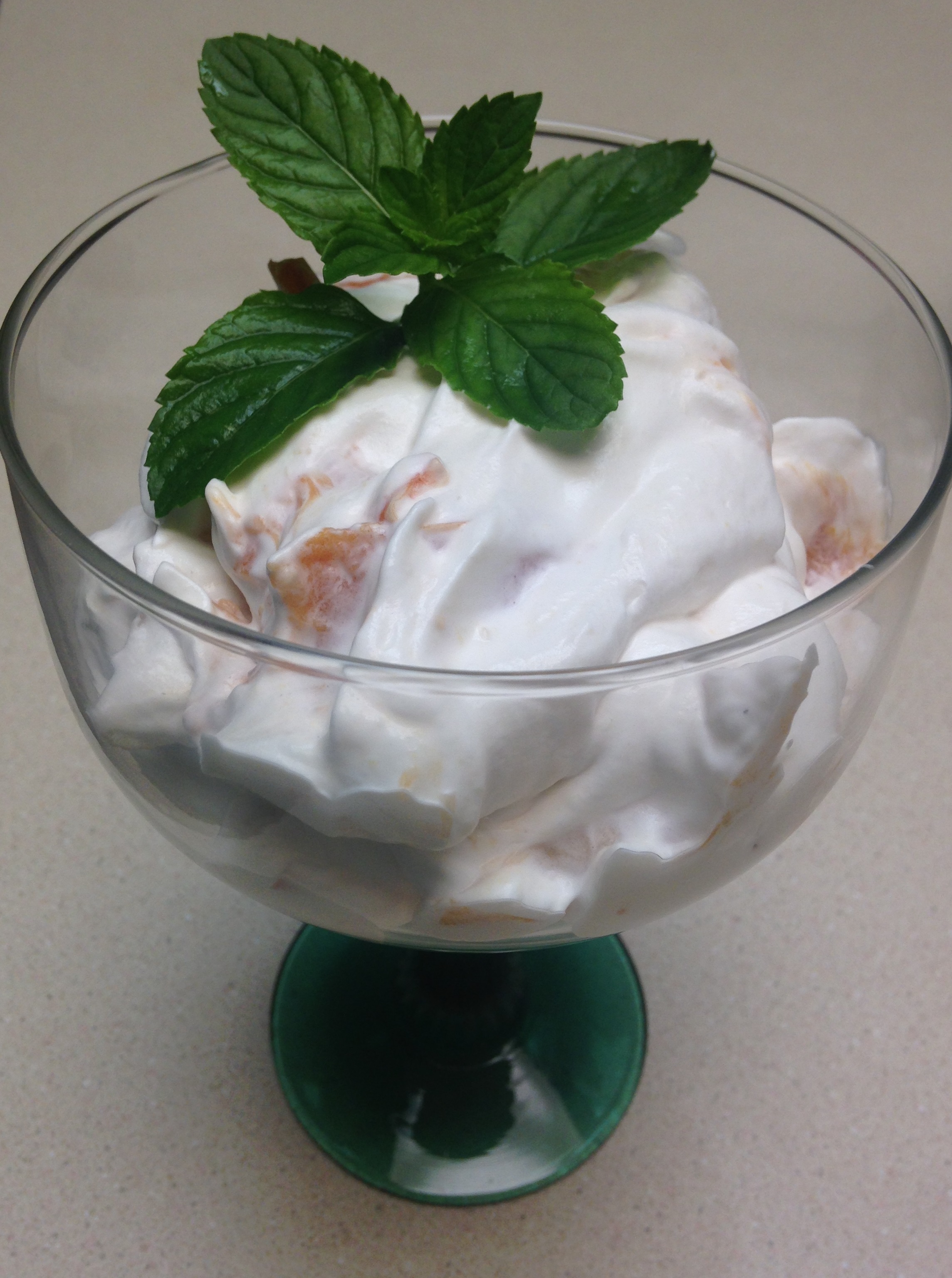 I adore the name of this dessert! Fool! I don't know much about it's history, short of it being English and traditionally made with gooseberries. I do know it is not heavy and is easy to make ahead when you have dinner to get ready. I was reminded of the dessert during a recent weekend road trip. If you have ever been to Texas you may have discovered that the Hill Country is prime for grape growing and wine making, and the people there know it. There are more than forty wineries west of the Fort Worth/Austin/San Antonio corridor. The area is also prime for growing other fruits, like peaches. There is an abundance of the sweet stone fruit during the summer, sold at produce stands and grocery stores all over the state and beyond.
During a recent overnight adventure to sample wines between Johnson City and Fredericksburg we discovered it was a prime peach picking period. It was a beautiful trip, full of wonderful company, wines and food, as well as beautiful arts and crafts we discovered along the way. If you want to create your own adventure in the area this website was extremely helpful to us: www.texaswinetrail.com. On the way home we sought out some fresh produce, including the lovely and talented Fredericksburg peaches. The ripe mound we claimed for ourselves were freestone, so they did not stick to the pit.
They are much more sweet that what I usually eat, but here is the thing: enjoying such things in moderation really makes a difference to me when experiencing the seasons, especially summer. I am not a summer fan. Correction – I am not a hot summer fan. Anything above 75 degrees has the potential to make me grumpy. I am currently hanging out in a place that is lucky to have that temperature as the LOW each day. If I can find a bit of summer joy by eating a few peaches with whatever iced beverage I choose to have with me every minute of my waking hours, then I will eat them. To balance out their natural sugariness I took a stab at this fool. I have attempted to make a good tasting fool that is sugar free (except for those wondrous juices in the peaches) and abundant in protein. Hope you like it!
Peach Fool
3 cups sliced, pitted peaches, skin on
2 tsp lemon juice
1 Tbsp + 2 tsp granulated sweetener (recommend erythritol/stevia mix)
1 1/2 cups heavy whipping cream
1/2 cup plain Greek yogurt (or sour cream)
1 tsp vanilla extract
Mint leaves and thin peach slices (optional, for garnish)
In a medium skillet over medium heat add the peaches, drizzle lemon juice and 1 Tbsp sweetener and gently toss. Cook for about five minutes until peaches soften and begin to break apart. Gently toss again and remove from heat, allowing to cool completely at room temperature or in the refrigerator. When peaches are cool prepare the cream. In a mixing bowl add the whipping cream, yogurt, 2 tsp sweetener and vanilla. Whisk or beat on high until stiff peaks form. Fold in peaches and their juices just until combined, creating a swirled effect – over stirring can cause the cream to collapse and loss of the swirl. It is recommended that the folding step occur in the serving bowl, to avoid over stirring. Serve 'family style' from the larger serving bowl, or carefully transfer to individual dessert dishes. Garnish with mint and thin peach slices (optional), then serve with crisp cookies or squares of shortcake.
Note: this dessert can be made with berries as well, with a much more dramatic swirl effect. The cooking time for the berries will probably need to be doubled to make sure the juices are released enough to make the fool swirly.