Tangy Wings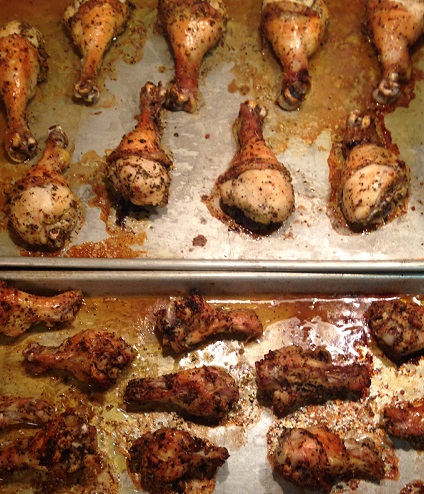 We eat wings often, but mostly when Big D is not around for the meal. It is not a sneaky thing, for it is based on historical fact. He is not a big fan of high maintenance food, even if it tastes good – lobster, crab, quail, cornish game hens…and even chicken wings. In spite of all this I still make them sometimes when he will be home for dinner. I usually just toss wings in a bit of oil and some spices, then toss them on a tray for the oven, like I did with these mustard parmesean wings. I would like to think I can evolve, so I attempted to do so. These wings take a little longer to prepare than the others I posted, but I think the time is well spent. I got the idea from my brother's efforts to brine some chicken before smoking it. Doing the soaked portion of this recipe is not a pure brine, but I think it had a similar effect of adding flavor to the chicken without doing much else, which is how his wonderful smoked chicken works. I love the result I got with these wings. The acids and bases in the 'brine' worked well to make the wings tangy and juicy. Since it was a meal when Big D would be home I added some larger,  lower maintenance chicken legs to the mix. The legs got done cooking about the time the smaller wings were perfectly browned and crispy, so all was well. People kept eating and eating, so there were no leftovers. I think I will make these again, regardless of who is noshing on them.
Tangy Wings
24 – 36 chicken wing drumettes
12 chicken legs
1/2 cup extra virgin olive oil
1 cup apple cider vinegar
2 Tbsp lime juice
2 Tbsp Montreal Steak Seasoning (or other general seasoning mix)
1 tsp onion powder
1 tsp garlic powder
1 tsp yellow mustard powder
In a large bowl combine the oil, vinegar and lime juice. Add all the chicken and toss, making sure all pieces are coated. Marinate for at least 90 minutes to four hours, tossing to coat every 30 minutes. Preheat oven to 400 degrees. Drain liquid from chicken and pat all pieces dry. In large bowl add the seasoning mix, garlic powder, onion powder and mustard powder. Add chicken and toss to coat. Place chicken pieces on shallow baking sheets, leaving some space between each one. Bake for 45 – 60 minutes, switching pans halfway through cooking if multiple pans are used at different levels in the oven. After chicken is cooked and juices run clear, remove from oven and let cool about five minutes before serving.