Tilapia Tacos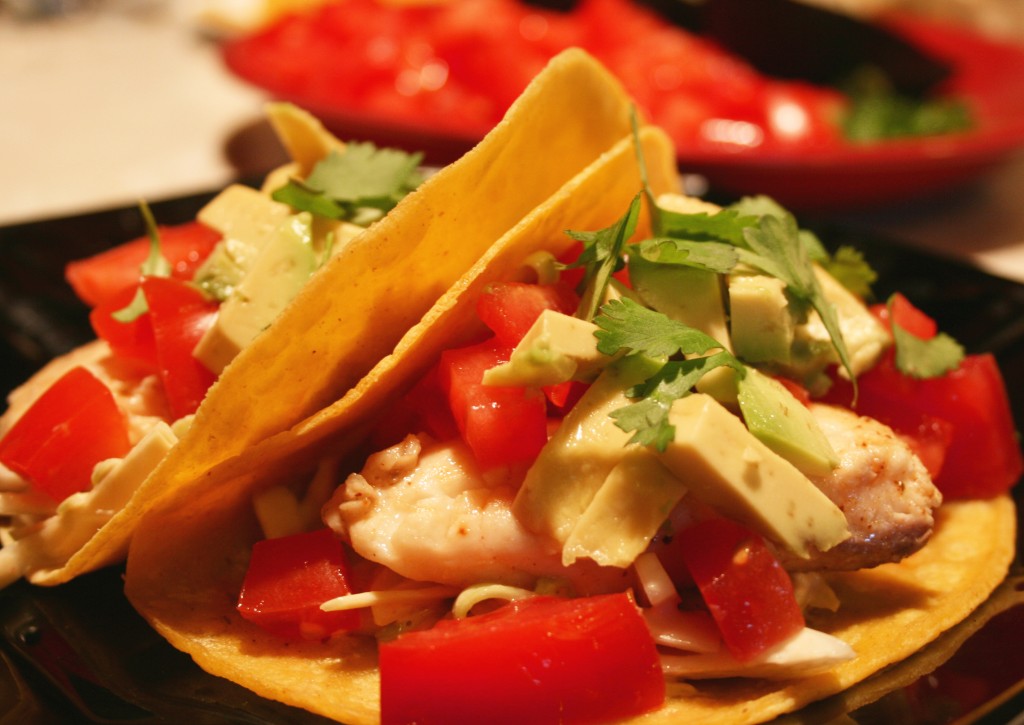 One of my favorite past times is kayaking. Big D and I have sit-on-top kayaks we use in warmer climates, while our sit-inside kayaks and spray skirts are reserved for colder places. Besides allowing us to paddle to shallow nooks and crannies boats often cannot go, the kayaks keep me on top of the water. I never really like that vulnerable feeling when I have my feet dangling down where they cannot touch the bottom, wondering if my wiggling toes are calling large sea mammals to come feast. It is irrational and I do not get to the point where I freeze with fear, but my imagination sure runs wild. Yes, I may be able to blame images from Jaws or Deep Blue Sea for giving me trepidations, and (mom, don't read this) I have in fact landed in the ocean with feet dangling over the abyss, hanging on the edge of my kayak while waves roll me around. Good thing I can swim and can heave ho myself back into my kayak. I can stand here today and say with confidence that I have not yet been eaten by any sea creatures, though I am pretty sure a few have come close and considered a snack. All of this kayak talk is leading me to my solution for using up some beautifully ripe tomatoes and avocados.
I appreciate the taste of fresh fish on fresh corn tortillas, topped with things like the previously mentioned beautifully ripe tomatoes and avocados. Such concoctions are called fish tacos in my world. When I am done kayaking for the day, and famished, I am rarely interested in cooking. I want food. Immediately. Made by someone else. Since it is a must to be near water when kayaking, it is pretty much guaranteed there is someone cooking up seafood at nearby restaurants. I will trudge over to the nearest joint, regardless of my sandy and salty and bedraggled state, drink a ton of water and chow down. When I am not eating shrimp or oysters at said restaurants I like fish tacos – a mix of fresh vegetables and fresh fish all swaddled in corn tortillas. After watching fish swim by and under me all day I can't help but think about eating them. I have discovered in my travels the preparation of fish tacos varies in the U.S. from coast to coast to coast (yes, there are at least three in the contiguous U.S.). Here is the way I like them.
Tilapia Tacos
2 tilapia fillets
3-4 Tbsp olive oil
1 lime, juiced with meat included
1 tsp chili powder
½ tsp salt
¼ head green or red cabbage
1 Tbsp red wine vinegar
3 Tbsp sour cream
1 tsp Crystal® hot sauce
1 tsp cumin
Salt and pepper to taste
1 large ripe tomato, chopped
1 avocado, diced
¼ cup cilantro leaves
6 corn tortillas
Combine 2 tablespoons olive oil, lime juice, chili powder and salt in a bag that can be sealed. Add fillets and toss gently until the fish is covered by the marinade. Push air out of the bag and seal, marinating for at least an hour, flipping it over about half way through. For the coleslaw chop the cabbage thinly and then across, making short, bite-size pieces. Combine vinegar, sour cream, hot sauce, salt, pepper and cumin. Toss with cabbage. Refrigerate until tacos are served. Preheat oven to 300F. Brush the remaining olive oil on both sides of the corn tortillas, placing them on a large cookie sheet. While cooking the fish pop the tortillas in the oven. They should be ready about the same time as the fish – they just need to be heated up, not browned or crisped. Heat a pan on the stove top to medium high. Cut each fillet into three or four pieces, depending on the size of the fillets. Add the fish to the dry heated pan and cook about three minutes on each side, until cooked through. There should be enough oil on the fish to cook them without adding more oil, but if not, you may need to add a splash more while cooking. Remember: dry fish is gross fish! Before serving break up the fish into even smaller pieces, allowing them to better mix with the other ingredients when added to the tacos. Fill tortillas with fish, coleslaw, tomato, avocado and cilantro. Eat up! I tend to put the slaw on top so the dressing can drip down onto the rest of the taco contents. After a few bites sprinkle on some hot sauce if the tacos are not spicy enough.