Tortilla Steak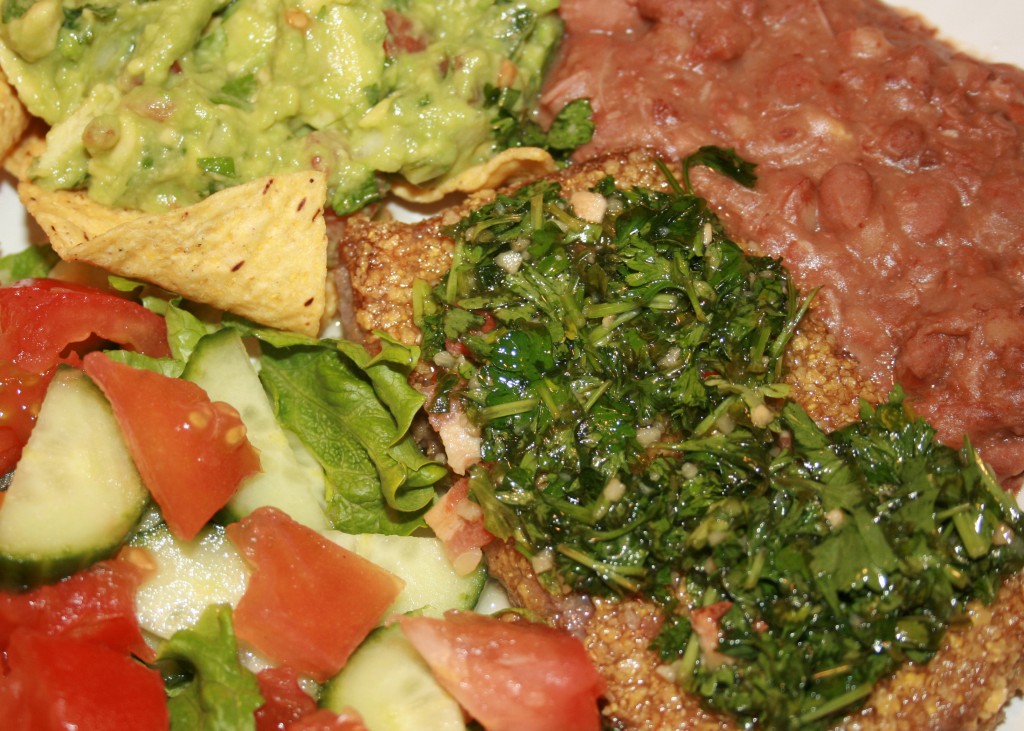 I don't know about you, but when I make a big batch of beans, and chimichurri and guacamole I want to mix it all up on one plate and have a feast. Here is what I did for my latest tex-mex feast. I was inspired to make this steak by a Japanese based cooking show – sort of – an Iron Chef America episode. If you know anything about Iron Chef, you probably know it was started in Japan in the '90s by Takeshi Kaga, who pit Japanese chefs from the different regions of Japan to compete others touted as Iron Chefs. The twist of the competition is a secret ingredient presented at the beginning of the show which the chefs must use in four creative, delicious dishes in one hour. Judges then taste and score the dishes and a winner is declared. Many of the ingredients in the original Japanese show are interesting to say the least. I don't commonly cook with eel or octopus, and only eat them as part of a sushi feast, but some ingredients were more familiar to me, like corn, mushrooms or noodles. The secret ingredients in the recent inspiring episode were very familiar – tequila and corn tortillas. One dish, a pork cutlet, was breaded with crumbled tortillas. In my constant quest to find good recipes without wheat, the breading idea intrigued me. Tortilla chips are a constant presence on our kitchen counter – what a coincidence!
Instead of deep frying pork like they did on the show I chose to flash fry the steaks on the stove top. I use the term steak here very loosely. When I think of steak I immediately picture a thick ribeye, seared over a wood fire and medium-rare in the middle. In the tex-mex world I knew from growing up in San Antonio, Texas, steaks are thin and quickly fried, then covered with a delicious sauce, based in tomatoes, tomatillos or queso. I recall scarfing down a number of these thin, saucy steaks when I was in college and working down the street at Tomatillos Café y Cantina. I used a round steak here, since a quick braise is all I was going to do to cook it.
The steak would be okay without a topper, but I still have chimichurri from a few days ago, and I am hard pressed to have a dish with beef and tortillas without yearning for a spoonful of chimi on top. And what else goes along on a plate of tex-mex food? Guacamole and beans of course.
Tortilla Steak
8 oz Tortilla chips
Salt, cumin and Pepper to taste
1 round steak cut into three or four smaller pieces
½ cup oil or butter
Crumble the tortilla chips in a food processor and place them in a shallow bowl or pie plate – you will need about a cup of crumbs. Set an iron skillet over medium high heat (maybe a little higher for electric stoves) and add the oil or butter. Season the steaks with salt, cumin and pepper. Press each steak firmly into the crumbs so the meat is covered on all sides. When the pan is hot add the steaks and cook no more than one minute on each side for medium rare, or longer until cooked to desired wellness. If you want them cooked more than medium rare, you may need to lower the heat so the crumbs don't overcook. Serve immediately with a generous portion of chimichurri drizzled on top, along with traditional sides, like tortilla chips, guacamole, refried beans and a fresh salad.