Two Day Chicken Vegetable Soup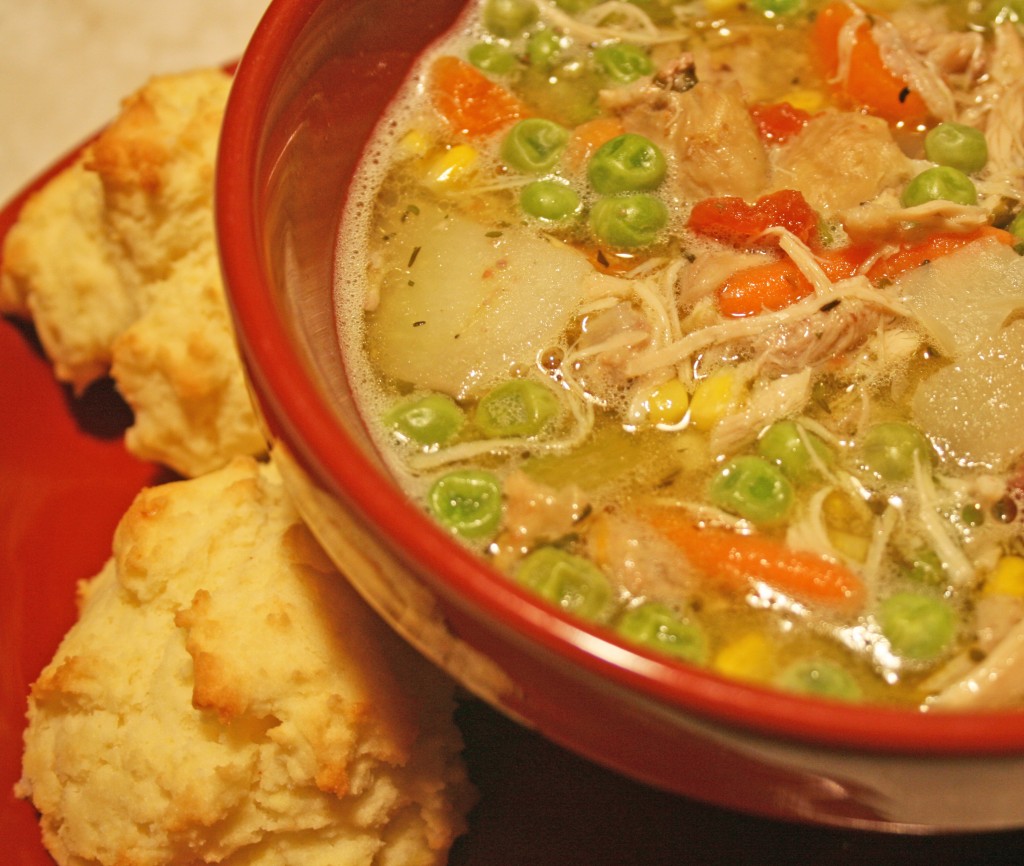 When it comes to soup I prefer mine chunky. I also make creamy and pureed soup, but rely on them mostly for appetizers or snacks. Otherwise, I feel like I am having a meal of baby food, though much more flavorful (believe me, I made baby food for Little B – TMI warning: if it was not bland the results on the other end were disturbing). A main course soup needs to be chunky in my world. My chicken soup comes with yet another dimension – slow cooked chicken. I have tried to sear the chicken right before adding it to the soup, or steaming it just enough to avoid adding raw meat to the soup, but it just does not work for me. I like chicken in my soup that has the flavor of slow cooked meat. My chicken soup is a two day process, so don't think you can just throw things in a crock pot one morning and return that evening with dinner ready. No no no. You can return two nights later for dinner. It is a double crock pot meal, and not because you might happen to own two crock pots. It is a consecutive process, not concurrent. I slow cook the meat one day, prep it, let it rest, then slow cook the soup the next day. It really does taste better. Really.
Two Day Chicken Vegetable Soup
Day 1
6 – 8 chicken thighs
5 cloves garlic
1 Tbsp cumin
1 can Rotel® tomatoes and green chiles*
Salt and pepper to taste
Season chicken thoroughly by sprinkling it with cumin, salt and pepper. Pour half the can of Rotel in a 5-quart crock pot. Arrange chicken on top of the Rotel®. Chop garlic and sprinkle on top of chicken, then add the rest of the Rotel®. Cover and cook on high for first two hours, then lower temperature and cook for four more hours. If you are gone for the day it can be cooked on low for eight hours with similar results. When cooled debone and remove skin from the thighs. Shred meat into bite-size pieces. Retain liquid, including any pieces remaining of the tomatoes and chiles. Store meat and liquid separately overnight in the refrigerator.
*If no Rotel® is available it can be substituted with a 14.5 ounce can diced tomatoes and a small 4.5 ounce can of green chiles.
Day 2
Chicken meat and liquid from Day 1
5-6 cups water
20 mini carrots, quartered
2 potatoes peeled, halved and sliced thin
2 cups peas
2 cups corn
1 bunch celery hearts with leaves, chopped
2 cups mixed cauliflower and broccoli, chopped
1 small onion, chopped
1 Tbsp dried thyme
1 Tbsp dried parsley
1 tsp ground sage
Salt to taste
Remove chicken meat and liquid from fridge. Skim fat off top of liquid and discard. Pour liquid (which will include some flavorful gelatinous/fatty substance) in the bottom of the crock pot. Add vegetables and herbs, topping with chicken meat. Stir together all ingredients. Add water until meat and vegetables are just covered with liquid and stir again. Cover and cook six hours on high. Turn off heat and taste, adding salt and pepper if desired. Let soup sit for about an hour before serving. Serve with fresh bread or biscuits.