White Chocolate Frito Popcorn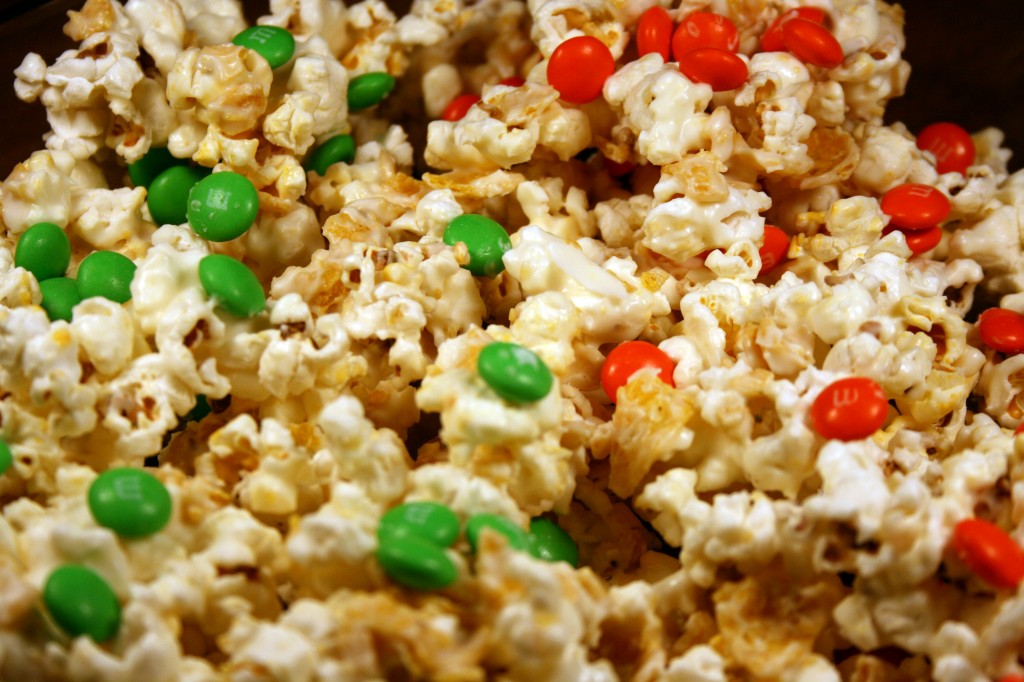 I enjoy the addictive nature of salty and sweet. Is there a better combination than popcorn and candy coated chocolate? Not. A lovely boyfriend in my past introduced me to mixing popcorn and peanut M&Ms as a snack. It works in a movie theater, at home or on a hiking trail. The flavors bring back so many diverse memories I can get overwhelmed, so I actually avoid it. The plus is not getting overwhelmed by memories and also not accumulating fat and calories that damage any nutritious benefit of popcorn.
When I was collecting ingredients I discovered something. In my quest to make a St. Patty's Day treat I purchased a standard bag of candy coated chocolate, intending to pull out the green factions. There were not as many as I expected, and would make the recipe lacking in the sweet category, so I pondered what other color would accentuate the March holiday. Tossing popcorn, corn chips and white chocolate together is pleasant as is, but there is a whole world of colors, depending on the holiday, that can be added. With the looming March celebrations I pondered. I decided to be retrospective. I used orange along with the green.
If there are thoughts of Ireland connected with St. Patrick's Day they may wander, very logically, to the conflict between Protestants and Catholics, Irish and English. Ireland and Northern Ireland are still distinct countries with distinct preferences religiously. Without going deeply into the religious, political and dynamic contrasts of the two sides there can be a general agreement of how they are traditionally represented, as on the Irish flag – with green for the Catholic/Irish and orange for Protestant/English, relying on white to keep them neutral. At least that is generally – and with no intention for animosity – what I understand as the reason the flag of Ireland is set up as it is. Although I understand that Protestants do no celebrate saints to the extent Catholics do, I still feel obligated to recognize the whole of the island. I know it is a simple sweet treat, but colors are often not something to laugh at but to recognize.
My guinea pigs (a.k.a. Big D and friends) decided that the results were salty, sweet and addictive, this recipe definitely needs more corn chips. Like, twice as many corn chips. I will consider doing so in the next batch. I relied on the recipe (and hilarious lead in) here.
White Chocolate Frito Popcorn
8 cups popped popcorn
16 ounces white chocolate or almond bark
2 cups corn chips, crushed
1 cup M&M's
Pop corn according to package directions. Put popped corn and crushed corn chips into a large bowl. Make sure to get all of the unpopped kernels ("grannies") out or someone will break their tooth. Melt chocolate in a microwave safe bowl in 30 second increments, stirring in between, until melted. Pour melted chocolate over popcorn mixture and stir to coat completely. Pour onto a wax paper or parchment paper lined cookie sheet and sprinkle with M&Ms. Allow to cool and dry.