Apple Strawberry Crisp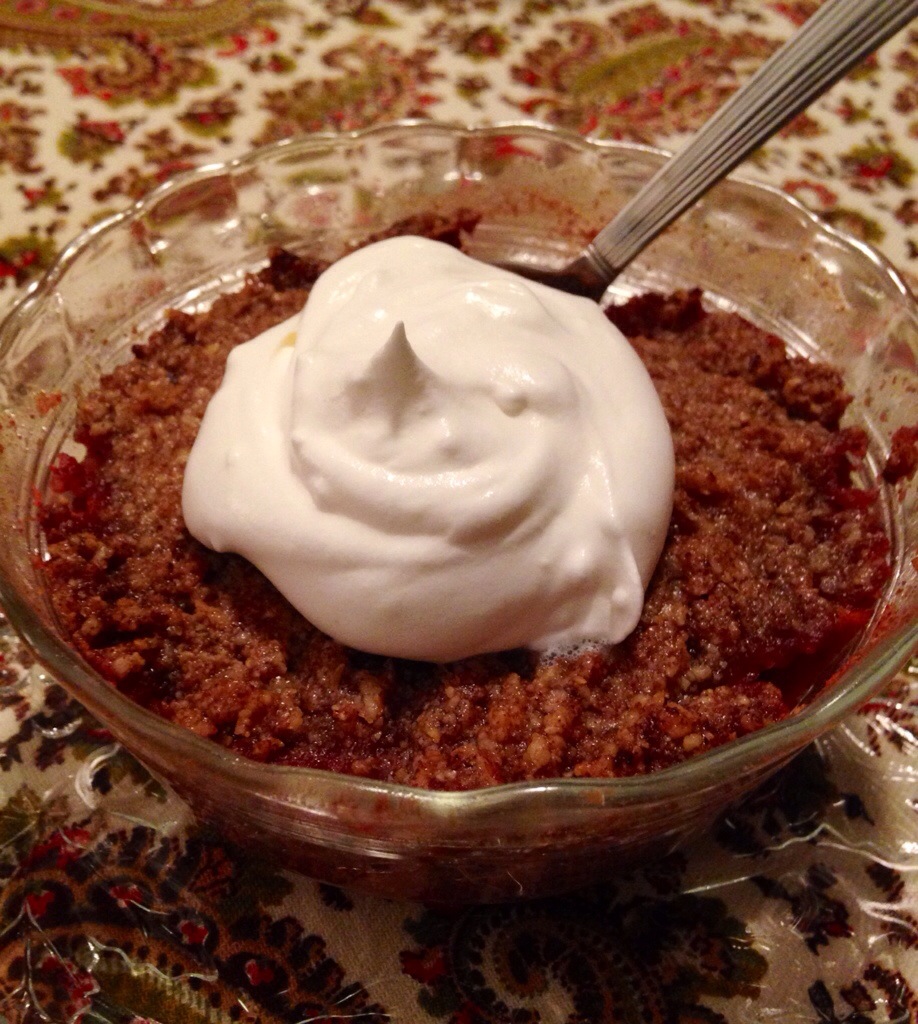 Unlike the other German themed dish I made recently and broke our typical non-starchy rule (shame), this crisp is intended to follow the theme of German sweets, but not so much to the letter. It is why I include berries, apples and cinnamon. According to the numerous people if know who have visited the lovely country it was accurate to think of apple cakes, berry strudels and lederhosen when I concocted it. The 'crumble' top could be thinner, but  why reduce yumminess?!
Apple Strawberry Crisp
Filling
2 green apples, peeled and sliced
2 cups strawberries, stems removed and sliced
3 Tbsp Stevita
2 Tbsp lemon juice
2 tsp ground cinnamon
Topping
1/2 cup almond meal
1/4 cup golden flaxseed meal
2 cups finely ground raw pecans
1/2 cup butter, melted
1 Tbsp stevita
1/2 tsp sea salt
Preheat oven to 350 degrees. Place apple and strawberry slices in a medium bowl. Sprinkle with sweetener, lemon juice and cinnamon. Toss fruit until it is all coated. Let sit while preparing topping. In a small bowl add the almond meal and ground pecans. Pour in butter and stir to combine. Add stevita and salt. Stir to combine. Divide fruit mixture among four or five single serve ramekins, or place it all in a 9″x9″ baking dish. Spread topping on top, completely covering fruit. Bake for about 30 minutes, until fruit is bubbly. Cooking time for using a larger baking dish may need to be 45-50 minutes. Serve plain, with whipped cream or ice cream.