Bacon Wrapped Scallops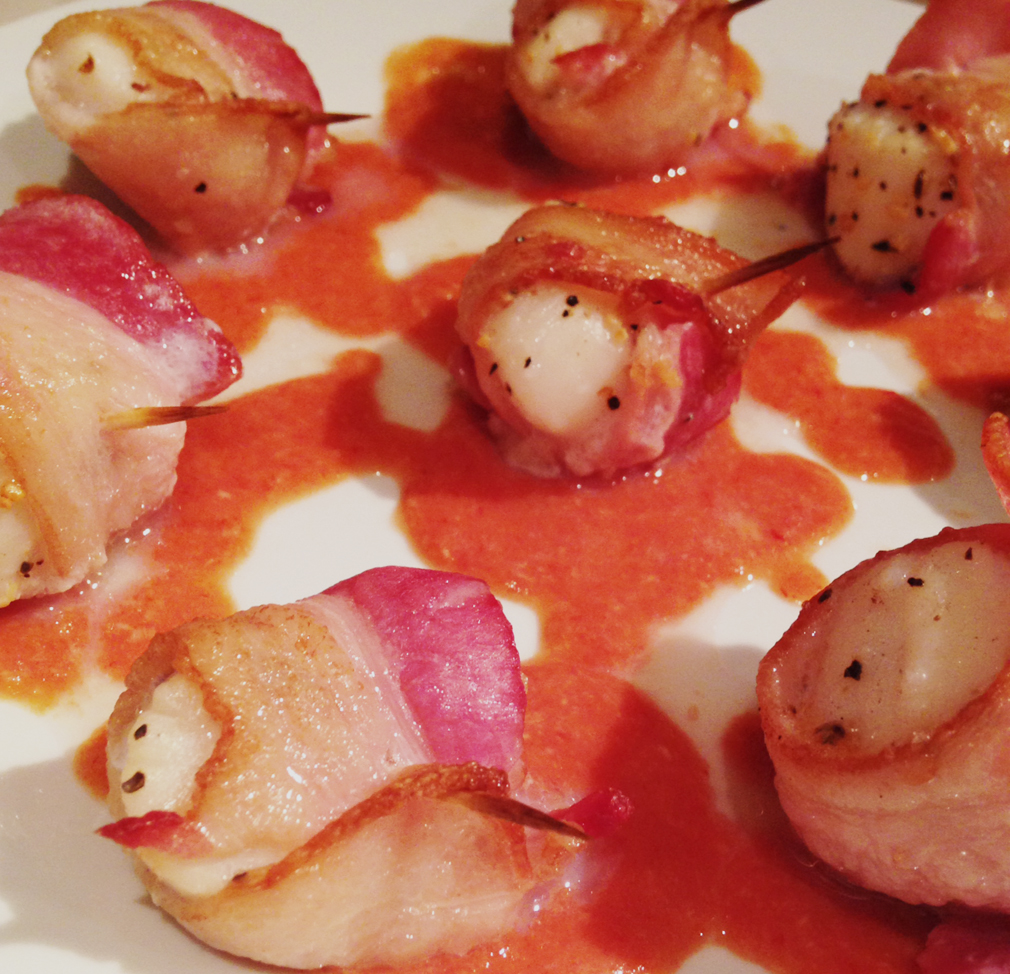 Big D is going to be so pissed that I did this while he was out of town. I just could not wait! There is a local restaurant that makes something similar, and I had a serious craving. The restaurant appears to wrap the scallops with bacon and pierce with toothpicks, then deep fry them and serve with hollandaise sauce. Their sauce is a bit subtle – it may be the version of sauce they make, but I have longed for something tangier when we have ordered and inhaled them as an appetizer. Not one to deep fry things, I decided to broil, since scallops are easy to overcook and quick cooking works well with the broiler. I was tempted to do more seasoning, but decided to keep it simple. I was not disappointed. These were so easy to make at home and delicious! I promise I will make them again sweetie and after you get home!
Bacon Wrapped Scallops
8 large scallops (about 1″ diameter raw)
4 slices bacon, cut in half
8 round toothpicks
Salt and pepper to taste
Spicy Cocktail Sauce
1 Tbsp tomato paste
1 1/2 Tbsp raw horseradish, grated
1/4 cup lemon juice
Preheat oven on low broil. Lightly sprinkle scallops with salt and pepper. Wrap a piece of bacon around a scallop, overlapping the edges. Secure the bacon with a toothpick, pushing it through both sides of the scallop. Repeat with all scallops. Place scallops on a shallow baking pan. Position oven rack about 8 inches below broiler. Place scallops in oven. Broil for about ten minutes, making sure not to overcook the scallops. If you only have one broiler setting assume it is high and reduce cooking time to 5-7 minutes, watching carefully – a few more minutes may be needed, depending on broiler heat. The bacon may smoke a bit. While the scallops cook make the spicy cocktail sauce: whisk together the paste, horseradish and juice until well blended. Sprinkle sauce on serving dish. Place scallops on plate and serve immediately after removing from the oven.