Banana Bread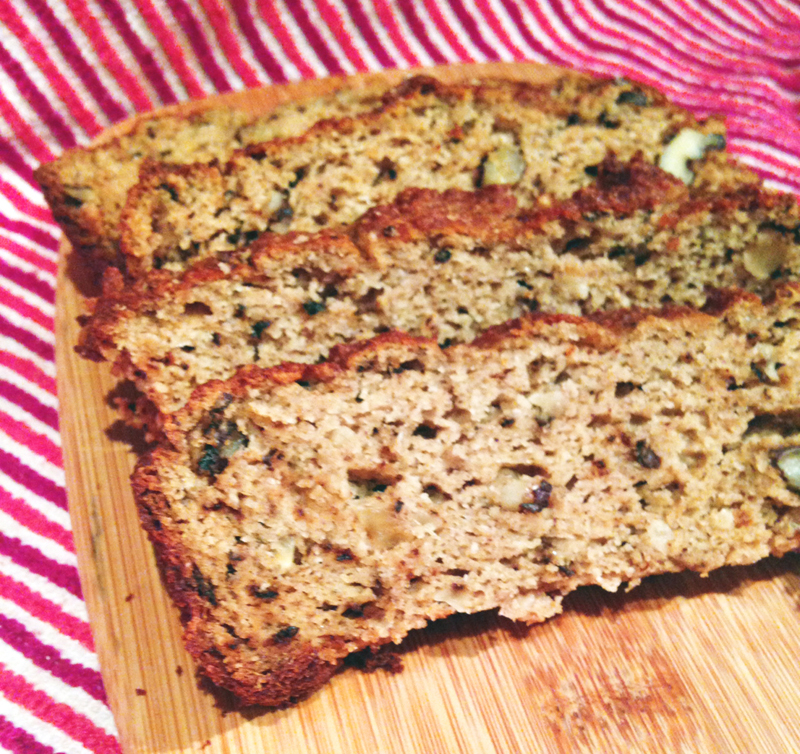 Little B has been requesting banana bread for over a month. We don't usually buy bananas because Little B is the only one who eats them, and often loses interest before the bunch is gone. The same was true this week. Two bananas were left to get dark brown and look pathetic. I remembered all the breads we have made over the past year and did a crap shoot. The ratio between almond and coconut flour definitely needs to be considered to ensure a moist result, but not overly so. The bananas would provide a natural sweetness, but no need to do much sweetening otherwise. Cinnamon always tastes yummy when sprinkled on a banana, so why not drop in a bit? The bread did not rise very much, but it was still light and fluffy. Little Be loved it, but picked out the walnuts, so the next batch we will do without. A lot of buts that turned into a lovely bread. And the darned bananas are finally gone.
Banana Bread
1 cup almond flour
1/2 cup coconut flour
1 tsp baking soda
1/2 tsp sea salt
1 Tbsp Stevita (can be excluded, if you find the mild sweetness of banana sufficient)
1 tsp ground cinnamon
2 ripe bananas
4 Tbsp butter, melted
3 eggs
1 cup finely chopped raw walnuts (optional)
Preheat oven to 350 degrees. Line rectangular bread pan with parchment paper or grease muffin pan. In a large bowl combine the almond and coconut flours, baking soda, sea salt, sweetener and cinnamon. In a separate bowl place the bananas. Puree the bananas with a stick blender (or mush with hands like Little B prefers) until smooth. Add butter and eggs, whisking together until smooth. Pour liquid mixture, and nuts (optional) to dry mixture. Whisk together until combined. Batter will be thick. Pour batter in bread pan, or divide batter equally among muffin pan divets. Bake in oven for 20 – 30 minutes. Muffins take about 20 minutes, loaf about 30. Remove from oven and let cool in pan for about ten minutes. Serve or store in refrigerator.