Biscuits and Gravy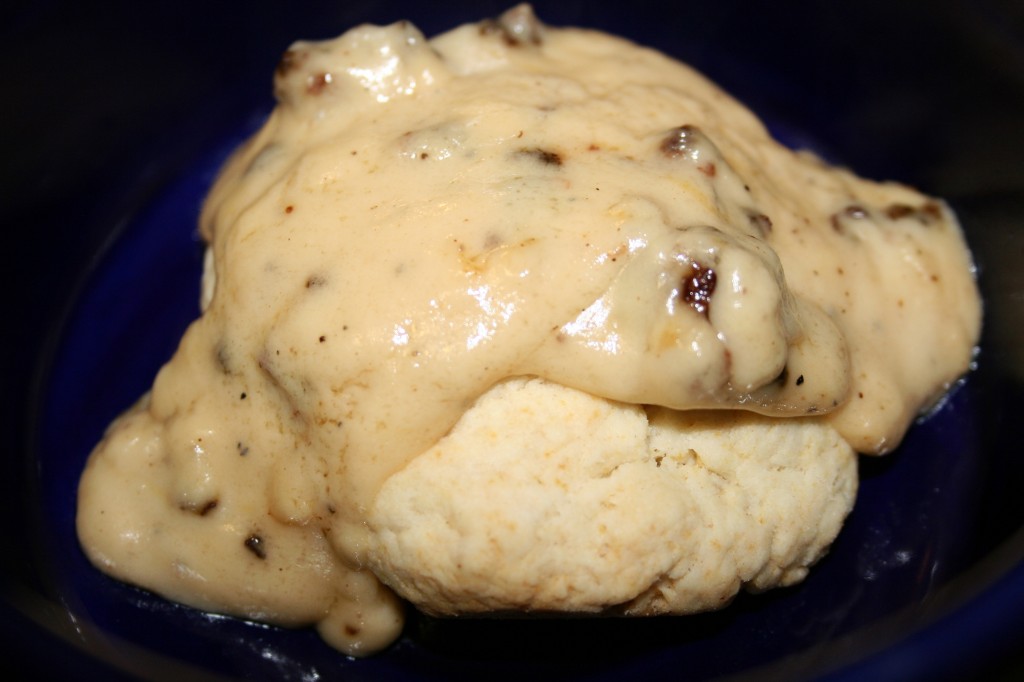 Our foster son, Tall P, is a good old southern boy. He loves his sweet tea, meat, mac n cheese and of course biscuits and gravy. We went to a diner for breakfast last week and he really wanted some. The plate came out and he dove in, but was sorely disappointed. The gravy was tasteless and the biscuits were mediocre. For anyone it would be a let down, but for someone who really likes good biscuits and gravy it was even worse. He looked so sad. I am not exactly sure where to find good biscuits and gravy in Maryland, so I decided to just make him some. Now, I know how to make biscuits and I know how to make gravy, but I had to grill him about what exactly he likes about a good plate of biscuits and gravy to make sure I did them right for him. Growing up I was never very interested in the dish, because my dad always made SOS (um, stuff on a shingle), which reminded him of Army mess halls. I never cared for the stuff, and frankly, biscuits with white sausage gravy always reminded me of the SOS. No thank you. I must say, my combination of biscuits and gravy came out pretty darned good, and was nothing like the SOS my dad made. Sorry dad, you lose this one.
Biscuits and Gravy
For the Biscuits
2 cups all purpose flour
1 Tbsp baking powder
1 tsp salt
Pepper to taste
1 tsp sugar
1/3 cup oil
2/3 cup milk
For the Gravy
¼ pound ground sausage, with drippings
1 Tbsp butter
2 Tbsp flour
1 cup milk
In medium pan cook sausage over medium high heat until browned, about five minutes. Set aside. Preheat oven to 375. In mixing bowl stir together flour, baking powder, salt, sugar and pepper. Add oil and milk. Using a fork stir together ingredients until well combined and dough forms. On a floured surface roll out dough to about an inch thick. Cut out biscuits with a round glass or dough cutters – makes about nine 2" round biscuits. Place biscuits in buttered baking dish or cookie sheet. Bake for 15-20 minutes until slightly brown on top.
When biscuits are about half done turn the heat back on under the sausage with drippings. When it starts to sizzle add butter to melt. Add flour and whisk together thoroughly with butter, sausage and drippings to make a smooth roux. Let flour darken a bit. Add milk and continue whisking until gravy thickens. When biscuits are ready spoon gravy over them and serve, eating them immediately.