Spaghetti Squash with Meaty Sauce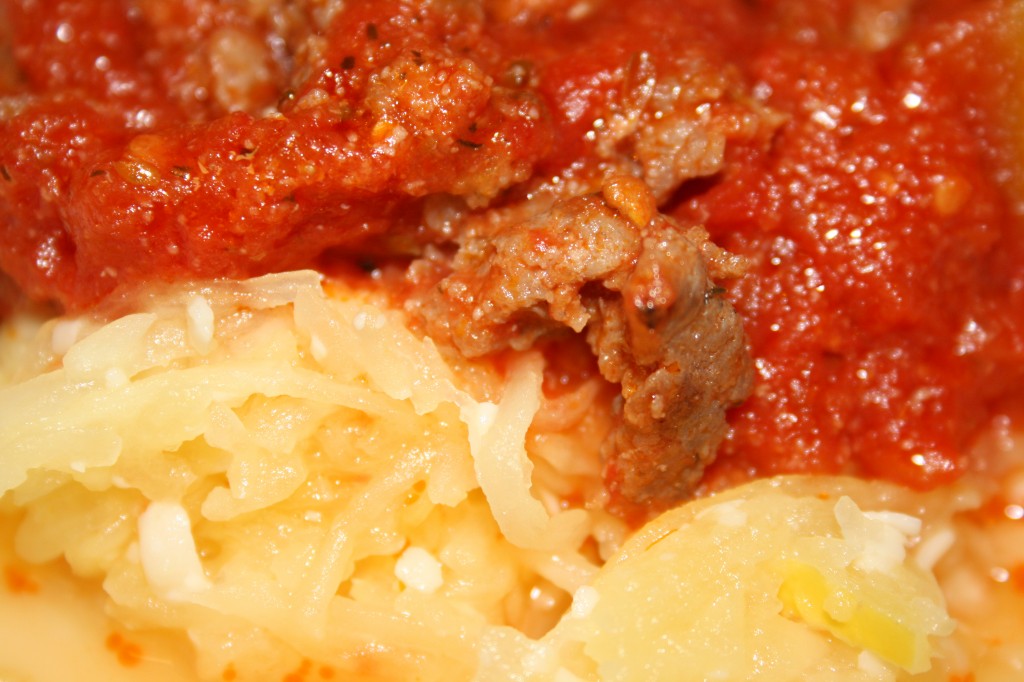 This is a down and dirty delicious weekday dinner. It uses some basic kitchen pantry ingredients I have on hand pretty much all the time. The first time I had spaghetti squash I did not like it. I think I was about ten and very much looking forward to pasta. It was crunchier and the flavor is very much squashy – of course I was comparing it with soft cooked pasta, so of course it would be different. As I got older I began to appreciate it more, and now love it! We used to try and boil it, which took forever, but then we discovered the microwave method, introduced to us by my mother in law. Of course the sauce would benefit from simmering for five hours, but it was delicious with just 20 or so minutes. I will be doing more quick dishes in the future, and am inspired by my friend Stacie's blog. Besides her awesome food ideas she also makes wonderful lotion.
Spaghetti Squash with Meaty Sauce
1 medium spaghetti squash
¼ cup parmesan cheese
1 Tbsp butter
2 14 ½ ounce cans diced tomatoes
2 cloves garlic, diced
2 tsp dried oregano
1 tsp salt
½ tsp sugar
1 pound ground sausage
In a medium sauce pan over medium heat combine tomatoes, garlic, oregano, salt and sugar. Cover and cook until bubbly. While tomatoes are bubbling away add sausage to a frying pan, break up the meat and cook until browned and well done. Drain sausage and add it to the tomato sauce. Simmer for 10-15 minutes until the flavors have time to mix. Cut spaghetti squash in half lengthwise. Scoop out seeds and stringy membrane. In shallow baking or pie dish add about ¼ inch of water. Add half of the squash, cut side down. Cover with cling wrap and place in microwave. Cook on high for about eight minutes, until squash is soft. With a fork scrape out inside of squash, pulling stringy 'spaghetti' out of the shell. Place squash in bowl with butter and cheese*. Stir together and let cheese and butter melt. Serve sauce on a bed of squash.
*Sometimes the squash soaks up some water. If you want to avoid the possibility of having a watery plate when serving, you can add a step before mixing the squash with butter and cheese – lay out a couple of paper towels and spread squash out to dry a bit. After doing this you may need to reheat the squash to make sure the butter and cheese melts.