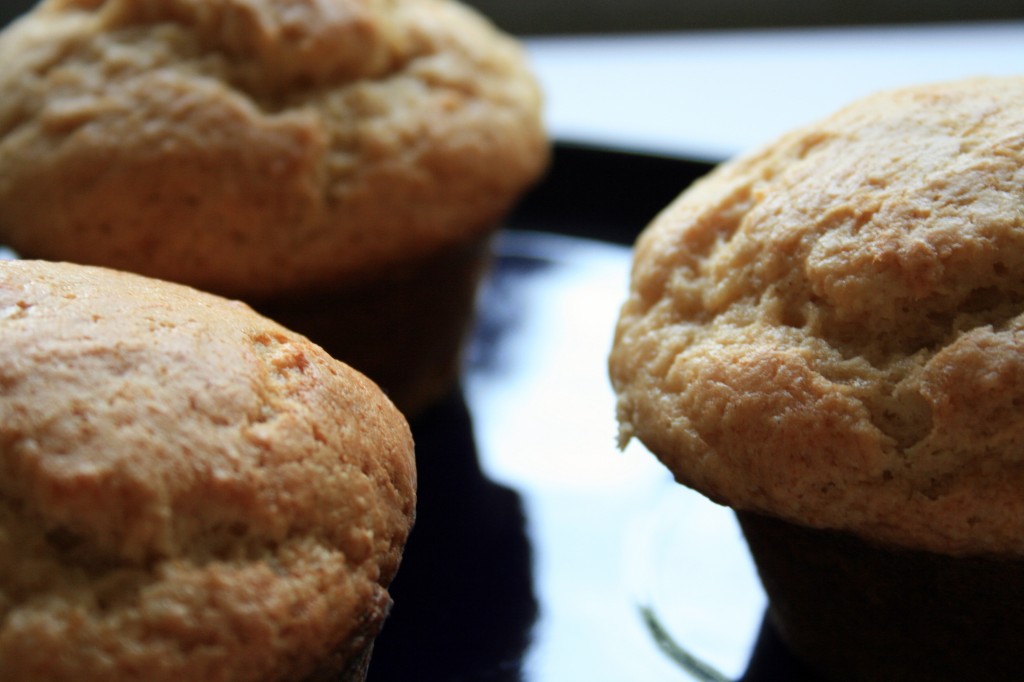 You may have noticed an influx of vegetables and meat in my entries lately. It is because we are watching our carbohydrate intake and there is no subtlety in the absence of starches. Alas, Brigit is still a lover of such things and is at an age where if she shows interest in food I definitely want to make it available. She has a constant interest in peanut butter and a dynamic interest in bananas, so I combined the two into a muffin, based on the still limited stocking of our pantry. She inhaled a muffin after dinner and there is already one packed for her to munch on during tomorrow's commute, so I think they are a success. Some vitamins and protein are no so bad, in spite of the processed flour and sugar. I will take what I can get with my almost three-year old. Oh yeah, the 17 year old foster son Paul (who thinks it is weird to do a food blog, but finds it totally reasonable to text and IM all day) promises to eat some, but not right after dinner. Teenagers. Ugh. I was not altogether creative on this one – I just wanted to use up the old bananas and have something to make that involved Little B in breaking eggs and smooshing stuff. They came out really great, so go forth and make some muffins! Here is the source.
Peanut Butter Banana Muffins
2 cups all purpose flour
1 cup sugar
1 Tbsp baking powder
1/4 teaspoon salt
1/2 cup creamy peanut butter
2 Tbsp vegetable oil
2 eggs
3/4 cup milk
2 ripe bananas, mashed
Preheat the oven to 375°F. In a large bowl, mix together flour, sugar, baking powder and salt. In a separate bowl beat together the peanut butter, oil, eggs, milk and bananas. Stir the wet ingredients into the dry ingredients just until moistened. Spoon the batter into 12 well greased muffin cups. Bake for 20 to 25 minutes, or until a toothpick inserted in the center of a muffin comes out clean. Makes 12 muffins.