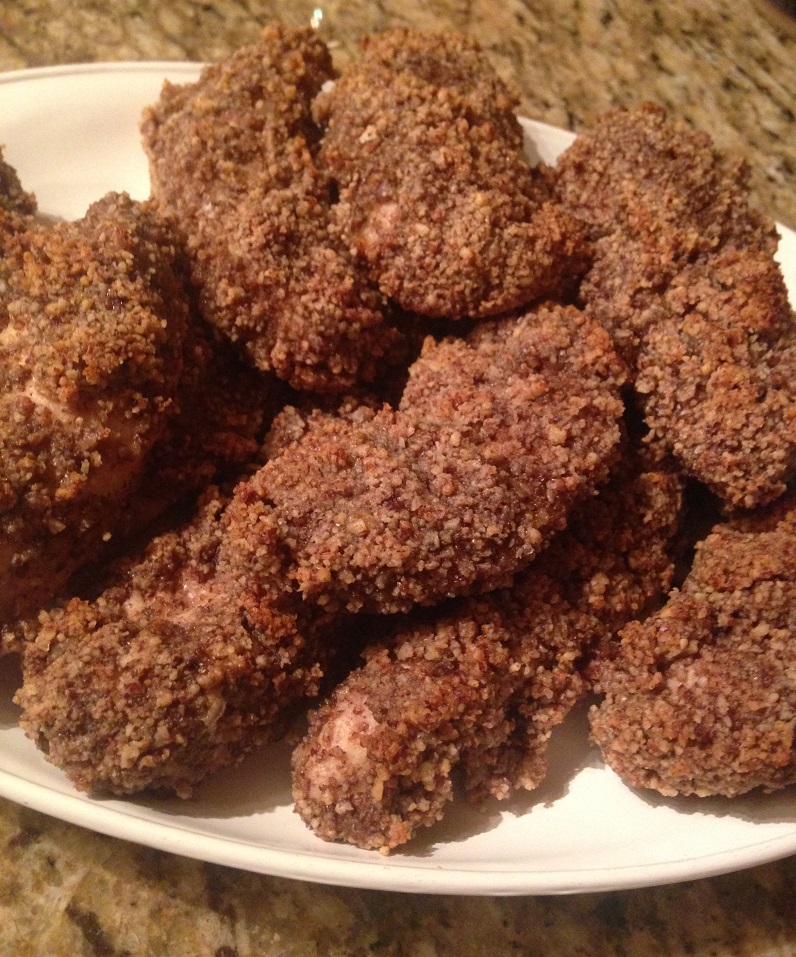 A few years ago we stopped eating wheat for a number of reasons. We have not been perfect about it, but try really hard. It is amazingly difficult to avoid wheat in convenience foods at stores and restaurants in America. Take a quick look at kid menus in quick serve and sit-down service restaurants – you are most likely to see choices like burgers,  grilled cheese sandwiches, corn dogs, macaroni and cheese, and some sort of breaded chicken. Most often included are the lovely and mysterious chicken nuggets and tenders – lovely because they are often crispy and mysterious because it not always clear what parts of the chicken are tendered or nuggetted. Little B and I like having such things on occasion, and am glad I have found a few versions that are not only wheat free but completely grain free. I like using the baked crispy chicken recipe for tenders and nuggets too, but wanted something with a little more crunch and bulk. The pecans sure fit the bill in this new recipe! The nuts chop up into various sizes, adding a nice texture which mixes well with the chicken. Little B eats them plain, but I like dipping in spicy dressing or mustard. They are filling too – instead of feeling hungry soon after eating like with wheat, the nut coating fills me up fast and keeps me full for a while. My in laws generously let me take over their kitchen during a recent visit and really liked them. Little B inhaled this stuff too – another score!
Pecan Crusted Chicken
3 pounds boneless skinless chicken pieces (tenders and thighs recommended)
2 pounds raw pecans
1 tsp sea salt
1 tsp garlic powder
3 egg whites
2 Tbsp dijon mustard
Sea salt and ground black pepper to taste
Preheat oven to 400 degrees. In a food processor pulse pecans, salt and garlic powder until nuts are finely chopped. In a medium bowl whisk together egg whites and mustard until well combined, but stop short of the whites becoming stiff. Line one to two shallow baking sheets with aluminum foil. Spread the nuts on a third sheet or large plate. Generously season chicken with salt and pepper. Dip the chicken in the egg wash, letting the excess run off. Roll chicken in the nuts, gently pressing them into the meat. Place chicken on the foil lined baking sheets with about an inch between pieces. Bake for 35-45 minutes, until juices run clear (whole chicken breasts or bone-in chicken may take longer). Serve immediately, plain or with desired dipping sauces.