Cheese Ball(s)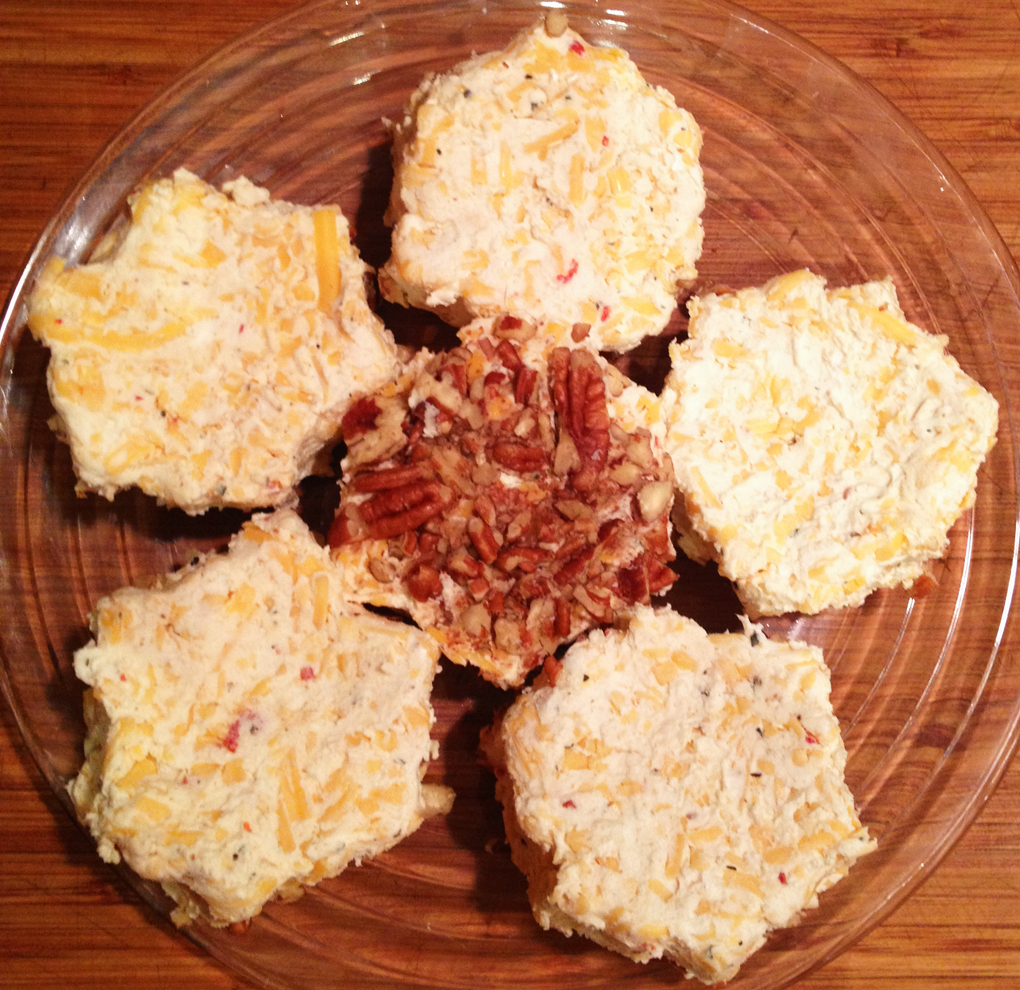 To continue with my appetizer trend, after a longer than expected pause, I offer you a cheese ball! If you look closely at the various balls available at the market, there is a curiously large amount of products that have added sugar and/or wheat. As frequent cheese consumers I found it logical to make our own. This one is simple and can be molded in all kinds of ways. The instructions below tell you how to make an actual ball, but the picture shows the result of using a silicone snowflake mold. I used the mold to make individual servings for a holiday meal, pressing nuts into the bottom, then chilling and turning them out. I served them with nuts face down, along with a smoked beef roast and cabbage saute. We have been eating wonderful meats lately, after our recent acquisition of an electric smoker. Our living situation necessitates the absence of charcoal-related activities on our balcony, so electric it is. The results are stupendous, and our refrigerator is full of delectable, smoked protein. The individual cheese servings were a perfect accompaniment to the meat and vegetables. You can probably tell, but the cheese mixture is extremely versatile and delicious! I recommend it in all forms and fashions to decorate and compliment as an appetizer or side dish. The snowflakes are not necessarily clearly defined, but the plate arrangement certainly gave a hint to the theme. I hope your holiday season is pleasant and not too cold, for the warmth of family and friends always makes the season cozy.
Cheese Ball
2 1/2 cups sharp cheddar cheese, grated and at room temperature
8 ounces cream cheese, room temperature
4 ounces goat cheese, room temperature
1/2 tsp red chili flakes
1 tsp ground cumin
1 cup toasted pecans, chopped (optional)
Whisk together cream cheese, goat cheese, chili flakes and cumin. Add cheddar cheese and stir together. The mixture may be a bit stiff if you don't have a strong mixer, so mixing it together with your hands (like I often do) works great. Drop cheese mixture onto a piece of cling wrap that is twice the size of the mixture. Using the cling wrap mold the cheese into the desired shape – sphere, log, oval, etc. you can also use a gelatin mold or other shape to form the cheese. If desired, roll shaped cheese in pecans and gently press them into the cheese. Chill at least an hour before serving with vegetables or crackers.