Chicken Enchiladas with Cilantro Cream Sauce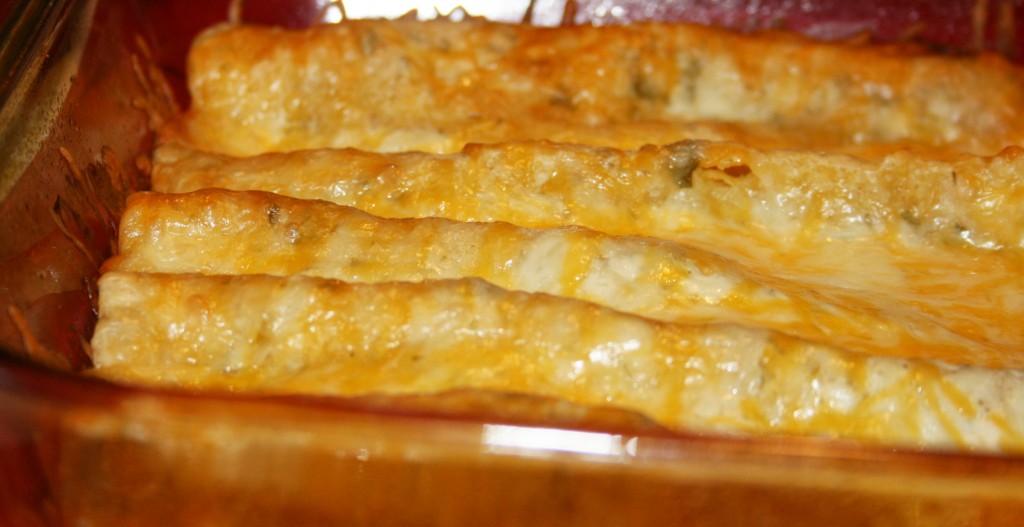 My tex-mex run is coming to an end. I promise. I am ending it (for now) with a pleasant flourish. When offered enchiladas there is usually a choice between cheese, beef, chicken or spinach. I usually want chicken/spinach enchiladas, so I just go -harumph- and choose between the two, or abandon both and go for cheese. I am not complaining. It is not a curse to have four good options to choose from. There just has to be a choice made, or I resort to a combination plate that mixes them all, which also means mixing the sauces and not really getting a pure, committed bite of any one enchilada from a crowded plate. I do not usually ponder the nuances of enchilada purity, but I live where there exists only mediocre Mexican restaurants, so my mind wanders to places it normally wouldn't. Here is my solution for being surrounded by mediocrity:
Chicken Enchiladas with Cilantro Cream Sauce
1 pound cooked, shredded chicken
4 ounces roasted green chiles, chopped
1 cup cooked spinach, well drained and chopped
8-10 ounces shredded cheese blend (such as monterrey jack, mild cheddar and asadero)
Dash of salt
10 corn tortillas
1 bunch fresh cilantro (leaves only), chopped
1 clove garlic, crushed
1 lime, juiced
1 cup heavy cream
¼ cup sour cream or Greek yogurt
1/2 cup chicken stock
2 tsp oil or butter
Preheat oven to 350F. In a small bowl combine heavy cream, sour cream, chicken stock, lime juice, garlic and cilantro. Stir together until well mixed. Set aside. Grease shallow baking dish with oil or butter. Spread a thin layer of the cream sauce in the bottom of the dish, leaving enough to cover the top of the enchiladas. Combine together chicken, chiles, spinach and about half the cheese. Season with salt to taste. Warm the tortillas right before rolling to make them easier to work with. Place in a tortilla about 1/3 cup of the filling, roll it up and place it seam side down in the dish. Repeat with all tortillas until pan is full. Pour sauce over filled tortillas. Sprinkle remaining cheese over the top. Cover with foil and bake for about 20 minutes. Uncover and bake another 10-15 minutes until enchiladas are a golden color on top. Remove from oven and let cool about five minutes before serving.