Chicken Faux Fried Rice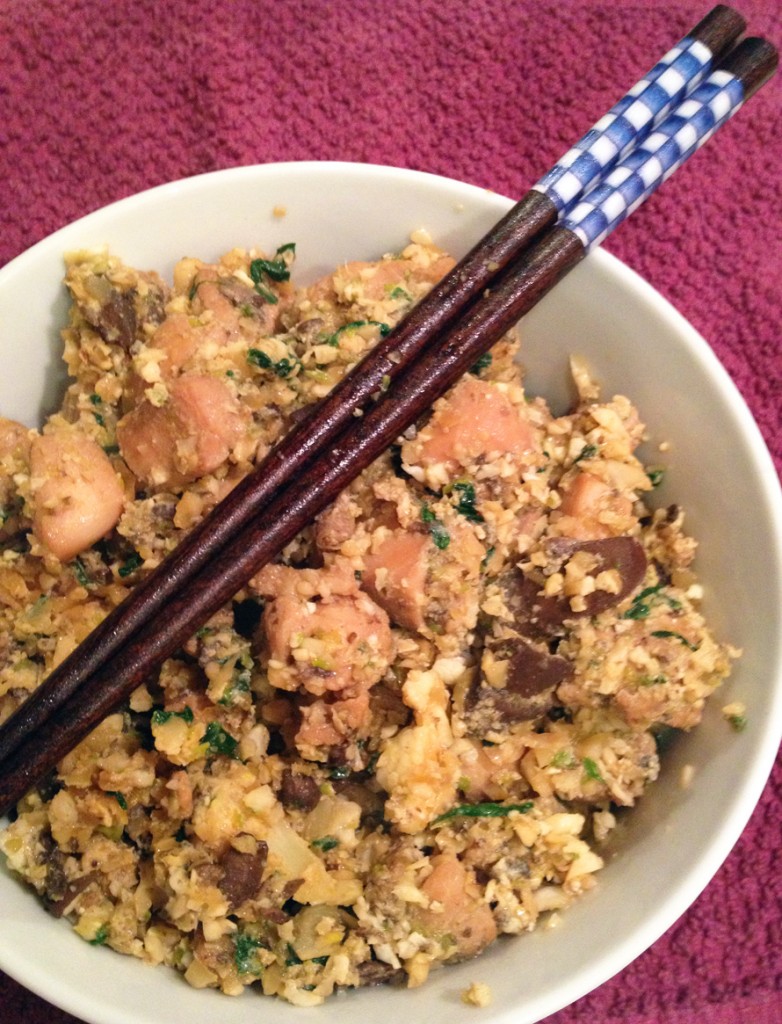 Chopsticks are fun. Whenever there is bite-sized food I like using them. Little B likes using them, too, and is still working on mastering their use. I do use a bit of rolled paper and a rubber band to connect them on tip, then she can practice the squeezing and picking up of food, knowing that free range chop stick use is in her near future. I don't eat rice anymore, which makes ordering in Chinese restaurants a little challenging, but I enjoy the flavors and textures of the dishes, including fried rice. As I continue to explore the many and varied uses of cauliflower, I did some research about using it instead of rice. In the end, using it as a rice substitute, especially in a fried rice type dish, is a lot faster than using traditional rice. The saute part of this one-dish wonder is just enough time to cook it and keep it at a firmness similar to rice. The cauliflower, combined with using gluten free soy sauce made it fun to make and eat. I'm thinking next time I will make a beef and broccoli concoction on top of some faux rice. I bet it will turn out great!
Chicken Faux Fried Rice
1 large head cauliflower
2 pounds skinless, boneless chicken thighs
1 Tbsp ground ginger
1 tsp ground mustard
3/4 cup gluten free soy sauce
1 Tbsp coconut oil
4 garlic cloves, crushed
1/2 medium white onion, finely chopped
1 stalk celery
3 eggs, whisked
2 cups mini portabello mushrooms, roughly chopped
2 cups fresh spinach, finely chopped
1 cup mixed vegetables (peas, corn, carrots), optional
Salt and pepper to taste
Cut chicken into small, bite-sized pieces. In a medium bowl place 1/2 cup soy sauce, ground mustard and ground ginger. Whisk together, then add half the mixture to the chicken, making sure it is coated. Place in refrigerator to marinate for about 30 minutes. Cut cauliflower into pieces small enough to fit in food processor. Fill processor with cauliflower and pulse until at least 3/4 of it is the size of rice grains – having some slightly larger pieces remaining is fine, for they will break down a bit during the cooking process. When all the cauliflower is chopped set it aside. Cut celery into rough pieces and pulse in processor until very fine, almost a paste. Pull the chicken from the fridge and separate the chicken from the marinade, discarding the liquid. Add the chicken to the pan and toss until cooked through, about five minutes for small pieces. In a large skillet or wok over medium high heat add the coconut oil. When hot add the celery, garlic and onion. Toss in the oil until it all begins to brown. Add the cauliflower to the pan, turning up the heat slightly to make sure the cauliflower sears. Toss the whole mixture every minute for five minutes. Add mixed vegetables if you are including them. In a bowl stir together the egg and remaining 1/4 cup soy sauce. Make a 'bowl' in the middle of the skillet/wok, all the way to the bottom. Pour the egg mixture into the skillet and let it cook for a few seconds. Start stirring it with the chicken and cauliflower mixture until it is all coated. Continue tossing the pan contents until the egg is no longer runny. Add the spinach and toss, letting everything cook for another minute until the spinach starts to wilt. Serve immediately with salt, pepper and more soy sauce as desired.