Chocolate Strawberry Bacon Cake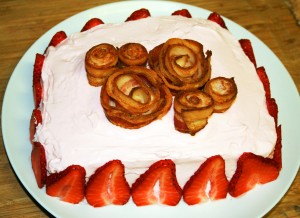 This cake is ninety percent harmless. The remaining ten percent is included to fulfill the wishes of a birthday girl. A young friend of ours came for a week long visit, which included her birthday! I wanted to make a cake for her, and asked what she wanted. Chocolate and strawberries, and boy does she love frosting made with cream cheese and cool whip! The combination does not bother her tummy like milkier versions of frosting. Hmmm….cool whip…..high fructose corn syrup, chemicals of fifteen plus letters per word…not typically ingredient in things I make. It worked really well, though, and the birthday girl loved her cake. She also wanted a bacon rosette….okay! I can do that, too! This may sound like an odd combination, but the lightness of the frosting and the bacon worked pretty well together, and for bacon lovers, like the birthday girl, this oddness is such a non-issue. The cake was light and airy and went well after a meal of steaks and greens. I will definitely be making it again. The chocolate cake idea came from here.
Bacon Rosettes
8 slices bacon
Muffin pan
Cake
2 cups almond flour
¾ cup cocoa powder
¼ cup whey protein powder, vanilla
2 tsp baking powder
½ tsp baking soda
¼ tsp sea salt
½ cup butter, softened
1 cup equivalent liquid stevia
2 large eggs
1 tsp vanilla extract
½ cup almond milk
Strawberry Cream Cheese Frosting
8 ounces cream cheese, room temperature
½ cup salted butter, room temperature
16 ounces cool whip
4 Tbsp sugar free strawberry syrup
8 – 10 large strawberries
First, make the bacon rosettes. Preheat oven to 350 degrees. In a muffin pan curl two pieces of bacon around themselves, starting on the outer edge and curling to the middle. Make a few buds by rolling a single piece tightly and securing it with two perpendicular toothpicks. Bake until the top edges are crispy, about 30-40 minutes. When done remove from the oven and set roses on paper towels to soak up any extra grease. Set aside until it is time to decorate.
Second, make the cake. Preheat oven to 325 degrees and butter/grease a 9×13 pan. In a medium bowl, whisk together almond flour, cocoa powder, whey protein powder, baking powder, baking soda and salt. In a large bowl, beat butter and liquid stevia until well combined. Beat in eggs and vanilla extract, followed by the almond milk. Add half of the almond flour mixture, stir, then add the remaining almond flour mixture and mix batter until combined. Spread batter in prepared pan (it will be thick, so spreading is a necessity) and bake about 20 minutes, or until a tester inserted in the center comes out clean. Let cool.
While the cake cools, make the frosting. In a stand mixer combine cream cheese, butter and strawberry syrup. When smooth and combined, add the cool whip. Mix until combined and again smooth. Let chill until time to frost the cake. Prepare the strawberries by hulling and slicing them in thin layers.
When the cake is cool, cut two equally sized layers out of the 9×13 pan. Carefully remove the layers. Place the bottom layer on a serving plate. Spread a thin layer of frosting on the layer, then add a layer of strawberry slices, overlapping the slices so there are no gaps. Add more frosting to level out the surface, then add the top layer of cake. Trim the edges until the sides are even, then clean the cuttings off the plate. Cover the cake with a thin layer of frosting to set the shape and catch crumbs. Follow the crumb layer with a thicker, final layer. Decorate the sides with more strawberry slices and arrange the bacon rosettes on top. Store in the refrigerator until serving, and keep leftovers chilled.