Shepherd's Pie with Cauliflower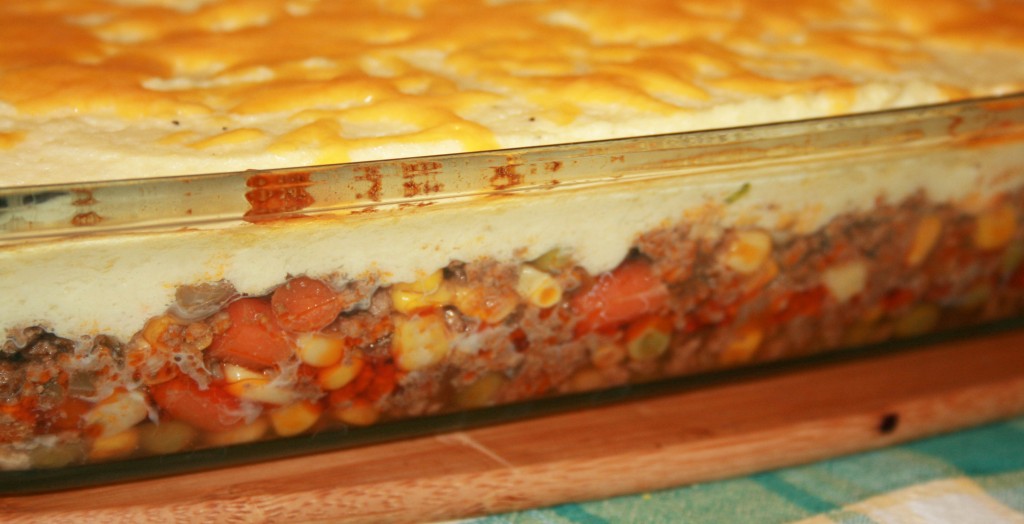 Last year for St. Patrick's Day I made the traditional American St. Patrick's Day meal with corned beef. That is all well and good, but not the only Americanized Irish food available. The Shepherd's Pie is another dish that actually has Irish roots much closer than the corned beef. Here is a version that is very Americanized, or more accurately low carb-ized, for it has not a speck of potato, but as with other manipulations that can be done with cauliflower, you might not miss the 'taters. This dish is usually called cottage pie when beef is used, and Shepherd's Pie when lamb is used. I used ground lamb, so I at least kept to some traditional aspects, even if the top is from a cauliflower patch! If I did not tell you, you would never have known. I got the idea for the topping here. I hope for you fun and festivities on this St. Patrick's Day, and eat cauliflower!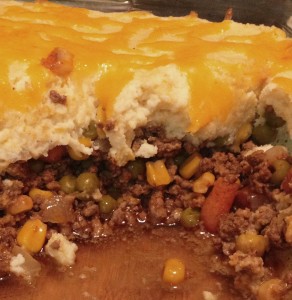 Shepherd's Pie
For the Stew
2 Tbsp butter
1 pound stew beef or lamb, ground or cut into small bite-sized pieces
½ – 1 cup red wine
2 Tbsp tomato paste
2 cloves garlic, crushed
2 Tbsp Worcestershire sauce
1 cup chopped carrots
1 small onion, chopped
1 cup frozen peas
1 cup frozen corn
For the Topping
1 medium head of cauliflower
2 Tbsp heavy cream
2 Tbsp butter
½ cup plus 1 cup shredded sharp cheddar cheese
4 egg whites
Salt & pepper to taste
Clean and trim cauliflower, adding florets to a microwave safe bowl with ¼ cup water. Cover with cling wrap or a vented cover and microwave for 5 – 8 minutes until soft. Drain water. Add the cream and butter to the bowl and toss until butter is melted. Add the cauliflower and ½ cup of cheese to a food processor or use a hand blender to process until the mixture is a smooth consistency. It should look like thick mashed potatoes. Season with salt and pepper. Let cool.
Preheat oven to 375 degrees. In a skillet over medium high heat melt the butter, then add the meat. Saute until browned, about five minutes. If an overwhelming amount of liquid is in the meat, partially drain and continue cooking. Add red wine and cook until sauce bubbles. Add tomato paste, garlic and Worcestershire sauce, stirring until blended. Add onion, corn and peas. Cover and let simmer for 30 minutes over low heat. Turn off heat and set aside while you finish the topping.
Right before putting the cauliflower on top of the meat filling, whip the egg whites to a stiff peak. Fold 1/3 of the egg whites into the cauliflower mixture to lighten it up. Then fold the remaining egg whites into the cauliflower mixture and gently mix until combined. In a 9×13 baking dish add the stew and spread until even. Gently top with cauliflower topping, spreading it evenly and not pressing down too far. Sprinkle the remaining 1 cup of shredded cheese over the top. Bake for 15 – 20 minutes until topping is puffed and cheese is browning slightly. Remove from heat and serve immediately. Sprinkle more Worcestershire Sauce on individual servings if needed.