Cranberry Roasted Chestnut Muffins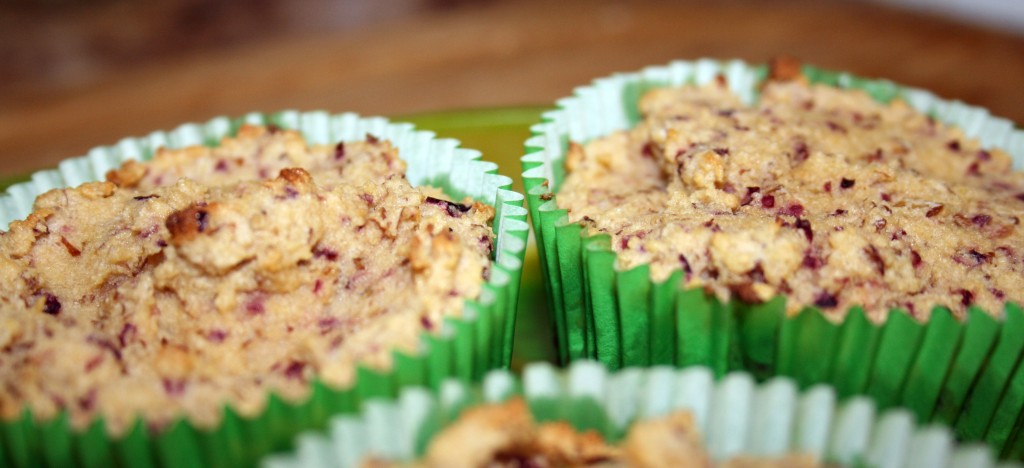 After you do some holiday baking and roast chestnuts on an open fire, you want to do more! We set aside some chestnuts from our recent roasting adventure so I could make these muffins. A recipe for my extra special secret cornbread dressing includes the wonderful inventions of roasted chestnuts and fresh cranberries. I have yet to convince myself to share the recipe, especially since I have not made it in a while, but did recently have a hankering for the flavors that make up the dressing. The evils of corn (it is not the fault of the natural corn, but the sugary nature of the vegetable, which is why I avoid it) have discouraged me from making the dressing in recent years. To recreate the flavor and texture in a corn free way I came up with these muffins. The flax seed gives them the texture that hints at cornbread (and adds extra fiber), while dancing well with the cranberries and chestnuts. Muffins continue to give Little B a sweet treat while keeping her diet high in fiber and low in sugar. She still gets a little confused sometimes when she can have muffins at home and not when we are out, but I have taken to having muffin back ups in my purse for such occasions. She helps make the muffins pretty much every time, which helps keep her interest, and they sate her desire for baked goods. So good so far!!
Cranberry Muffins with Roasted Chestnuts
6 eggs
6 Tbsp butter, melted
4 Tbsp heavy cream or half and half
1 tsp vanilla3 drops liquid stevia
½ tsp sea salt
½ cup coconut flour
¼ cup flaxseed meal
¼ cup powdered erythritol
½ tsp baking powder
8 ounces fresh cranberries
4 roasted chestnuts (can substitute with 10 raw pecan or walnut halves)
Preheat oven to 400 degrees. Prepare muffin pan with liners. In blender add wet ingredients, nuts and cranberries together. Blend on low until cranberries and nuts are broken up in small pieces. In separate bowl combine dry ingredients. Add wet ingredients to dry ingredients and stir just until combined. Divide batter among the 12 muffin cups. Bake for about 15 minutes until tops begin to brown. Let cool for about ten minutes before serving.