Dancing Vegetable Soup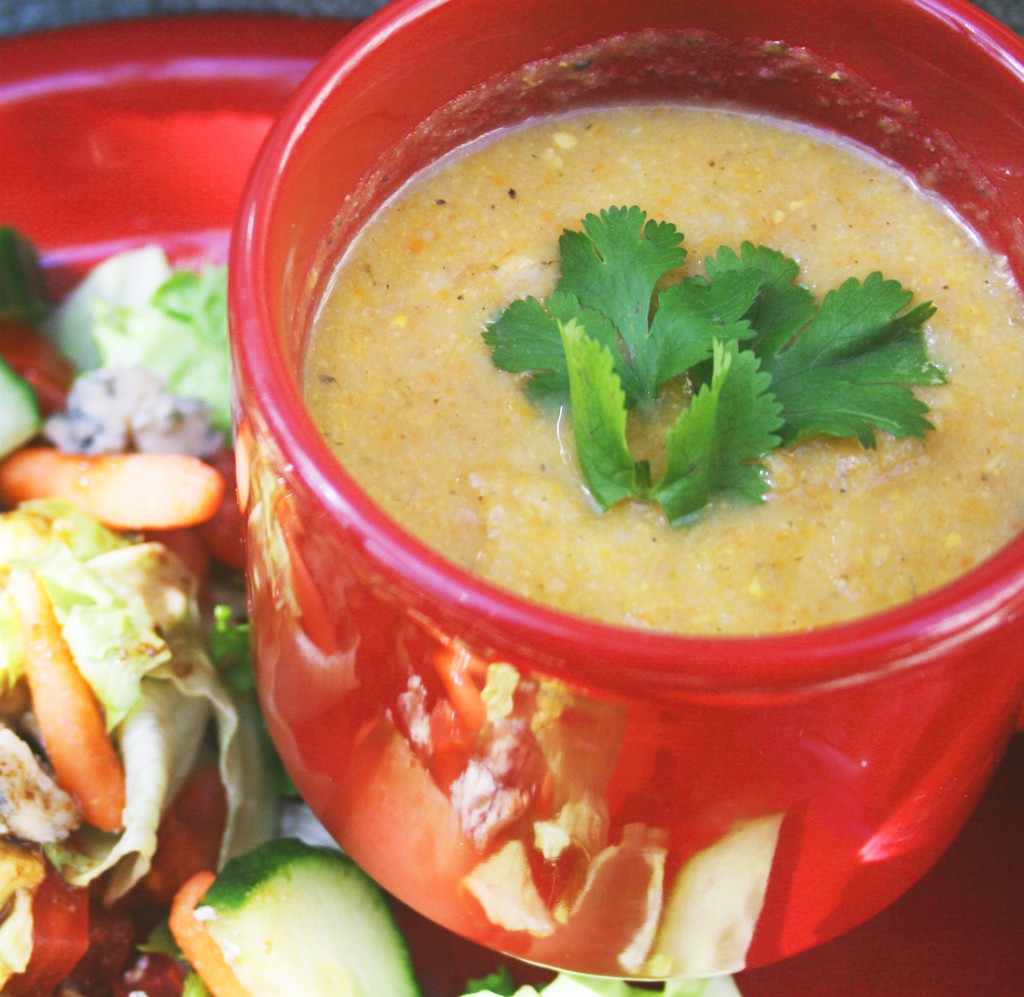 For me, spontaneous homemade soup is hard pressed to satisfy ultimately. It is usually good right away, but always tastes better the second or third day. Where is the spontaneity in that? Regardless, you have to make the soup before the flavors can hang out together and can get better. When I make soup it is usually pretty good, but I look forward to tasting it the next day!
I called this dish dancing vegetable soup because it made me dance when I made it. I was in a rush and pureed the soup while it was still over the heat. I have done this before and did not think twice about doing it this time, but I failed to turn the heat down. Having the heat on is fine, but having it too high is downright dangerous. Oops! When the soup was half pureed some bubbles rose from the bottom (trying to get away from all that heat underneath it). The evil bubbles splashed steaming hot soup onto my left thumb where I was holding the pot and also the bottom of the wrist of my right hand that was holding the stick blender. I popped back away from the stove and did a twisty spin while flailing my arms about as I headed to the sink. The soup was thick and clung to my skin. It really hurt. As I ran cold water on my hand and wrist I did a kind of jogging side step, then lunged for the freezer to get a cold pack. As the cold pack cooled off my hot skin Little B woke up from her nap, crying from a bad dream, so on the way to the bedroom to soothe her I was balancing the pack between my left hand and the bottom of my right wrist. It was slippery. After I got Little B calmed down she asked me what the cold pack was for. I told her I burned myself and showed here where it happened. She kissed my burn spots and they felt a lot better.
This soup is high in fiber, low fat and is good hot or cold. I usually only eat about a cup along with a sandwich or salad because it is pretty filling.
Dancing Vegetable Soup
1 cup broccoli, chopped
2 cups cauliflower, chopped
3 large carrots, chopped
½ onion, chopped
2 medium potatoes, peeled and chopped
1 apple, peeled and chopped
1 medium tomato, chopped
2 cloves garlic, chopped
5 cups chicken broth
2 tsp dried thyme leaves
1 tsp ground sage
2 tsp dried parsley leaves
2 tsp salt
1 dash cayenne pepper
1 Tbsp olive oil
Heat oil at medium high in a large pot. Add onion and garlic, cooking them until they sweat and sear a bit. Add remaining vegetables and stir to spread onions and garlic throughout. Add broth, salt and spices. Cover and simmer until vegetables are cooked soft, about 45 minutes. Remove from heat. Puree soup with a stick blender until smooth. Return to heat and simmer for 10 more minutes. Serve hot or cold.