Cinnamon Roll Cake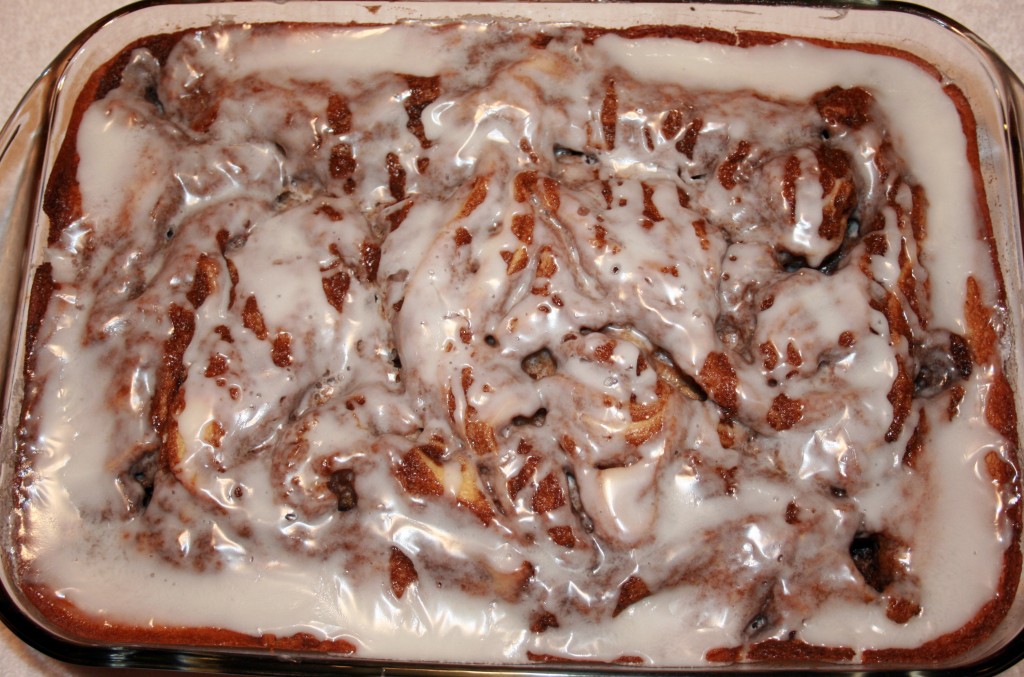 Have you ever seen a 9 x 13 cinnamon roll? Yes you have! It is right there ↑! I like sweet stuff for breakfast, but only when it is going to be a lazy day. The crash from the sugar rush is best experienced while hanging out on the couch reading a book or building a block tower with Little B. An occasional breakfast with pancakes or waffles is good (although not necessarily good for you), but I tend to be the producer of such delights, and it is much more onerous to make them compared to a plate magically appearing piled high and presented by someone else for eating.
With a gaggle of girls using my house for slumber party last weekend I could not imagine making enough fresh baked pancakes, waffles or cinnamon rolls to appease them and also have breakfast ready at a decent hour. There were bodies curled up in blankets over the majority of the living room floor. It would be hard to quietly measure and mix and roll breakfast in the kitchen, a mere four feet away from the slumbering sweethearts. This cake was quick, made the day before and did not have to go in the fridge, which was already full of other party foods. As it cooked, the sugary topping formed crevasses where cinnamon gathered, making lovely sweet nips in almost every bite. All the girls could have a little piece or a big one without committing to a whole roll. Of course I also provided healthy, savory eggy muffins for breakfast as well, but the cake is what disappeared the fastest.
I have seen cinnamon roll cakes all over the internet, but this recipe made the most sense to me, so I relied on it. I changed the order of preparation a bit, but it worked out great.
Cinnamon Roll Cake
Cake
3 cups Flour
1/4 teaspoon Salt
1 cup Sugar
4 teaspoons Baking Powder
1 1/2 cups Milk
2 Eggs
2 teaspoons Vanilla
1/2 cup ( 1 stick) Butter, melted
Topping
1 cup ( 2 sticks) Butter, softened
1 cup Brown Sugar
2 Tablespoons Flour
1 Tablespoon Cinnamon
Glaze
2 cups Powdered Sugar
5 Tablespoons Milk
1 teaspoon Vanilla
Preheat oven to 350 degrees. Spray a 9×13 glass baking pan with cooking spray. Set aside. To make the topping mix in a medium bowl the 2 sticks of butter, brown sugar, flour and cinnamon together until well combined and creamy. Set aside. In an electric or stand mixer add the flour, salt, sugar, baking powder, milk, eggs, and vanilla. Once combined well, slowly stir in the melted butter. Pour into the prepared 9×13 baking pan.
Drop the topping mixture evenly over the cake batter by the tablespoonfuls and use a knife to marble/swirl through the cake. Bake at 350 for 35-40 minutes or when a toothpick inserted near the center comes out nearly clean.
In a medium bowl, mix the powdered sugar, milk and vanilla together with a whisk. Drizzle evenly over the warm cake. Serve warm or at room temperature.