Egg Bake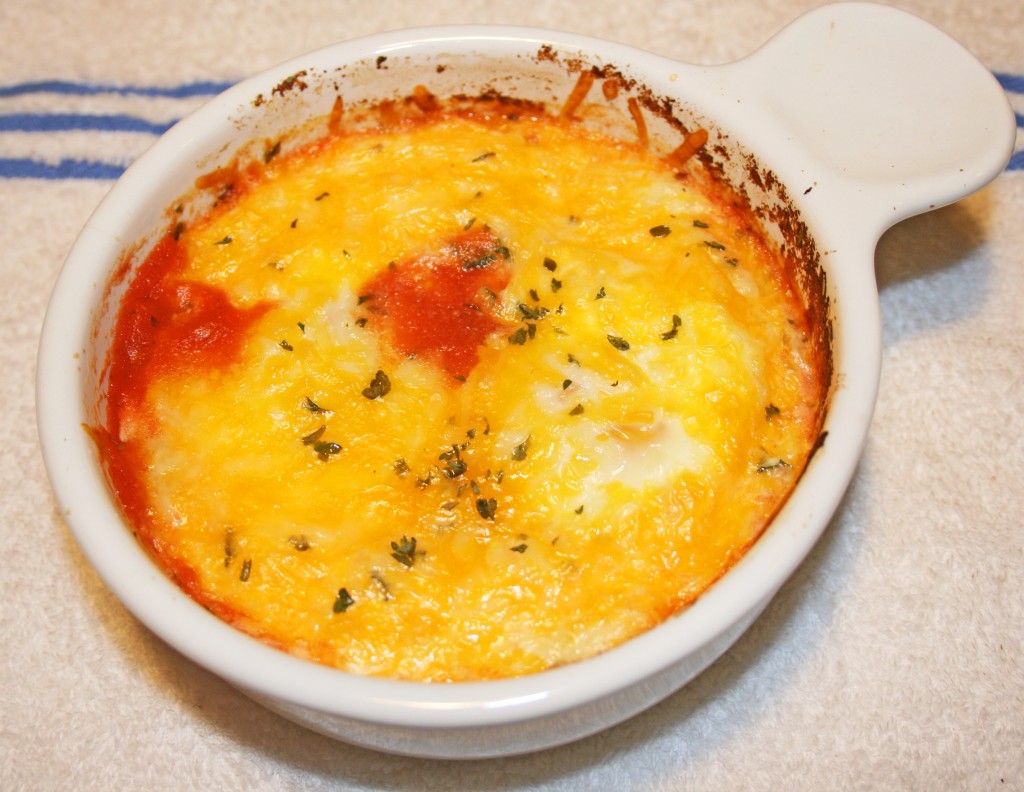 When I was a single working girl I loved making these eggs for breakfast. They would warm me up on winter mornings when I was not feeling it for oatmeal. I would set it up and start it baking right when I woke up. By the time I was ready for work my breakfast was ready too! If I wasn't running late I would sit and enjoy every bite before leaving home. If I was running late I would snap a top on it and take it with me, enjoying it at my desk while my slower-than-molasses computer booted up.
My married version of this dish is a little different – I triple the recipe, which works wonderfully, and bake it in a small casserole dish. Big D may or may not be interested – he is not a big breakfast eater – or even be awake to decide. It also may be a morning when Little B decides she does not want any other food touching her eggs. After I eat my share eventually – following the preparation of eggs 'without all that red stuff on them' – the leftovers will go in the fridge. Microwaving the eggs to reheat may make an explosive mess. It tastes okay cold, but is just not the same. I end up not making it much anymore.
When I made it today I was by myself in the house. I curled up on the couch and loved every bite. I was not hurrying to leave for work, but it still warmed me up on a cold day. It tasted as good as it always did.
Egg Bake
1 14.5-ounce can diced tomatoes
4 eggs
1/2 cup grated cheese
1 tsp dried oregano
1 tsp dried parsley
Pinch garlic powder
Pinch onion powder
Salt and pepper to taste
Preheat oven to 350F. Open the can of tomatoes, but don't pour them out. Add oregano, parsley, garlic and onion powders, as well as salt and pepper. With a spoon mix up the spices with tomatoes in the can. Divide tomato mixture between two 12 ounce oven-proof ramekins. Break two eggs into each ramekin*. Top with cheese. Bake for 20-25 minutes until eggs are cooked to desired doneness.
*Since I was usually cooking for one I placed the second ramekin with tomatoes (before adding eggs and cheese) in the fridge. The next day I could quickly add the eggs and cheese and continue preparation.