Big D's Gluten Free King Cake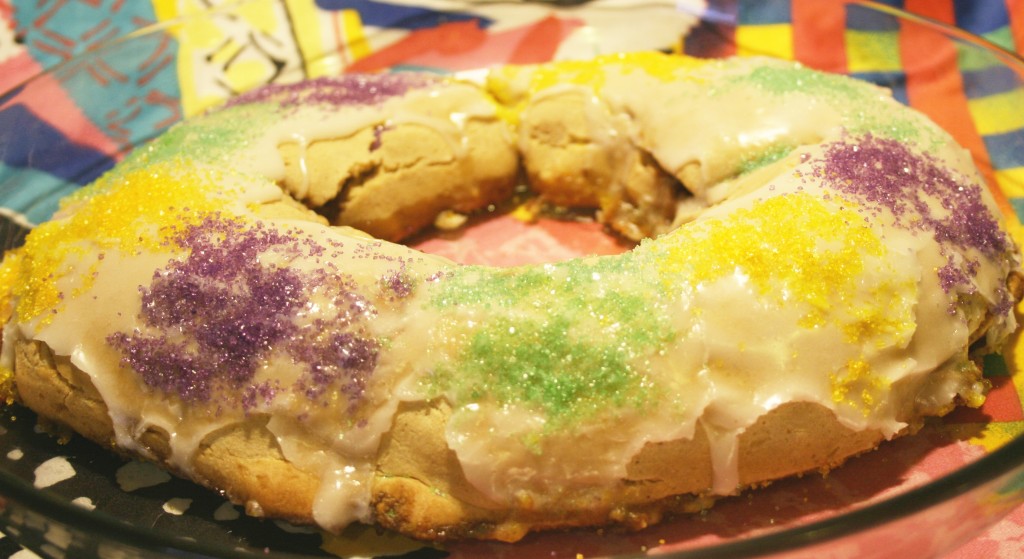 Do you know how fun it is to eat a huge cinnamon pecan King Cake? How about doing it in front of someone who cannot eat it? Someone who would get sick if he did, but who also adores cinnamon rolls? No fun at all. After making a traditional King Cake the other day I decided to make one Big D could eat without worrying about wheat. Here is what I came up with and I must say, it came out gangbusters good! It is smaller and flatter than the humongous one I made with wheat, but it was plenty for him to be a complete part of the celebration. We had people over this morning for coffee and cake – they preferred this wheat free version to the wheat version. I bet I will be making it again. Let the good times keep rolling!
Big D's Gluten Free King Cake
Pastry:
1 cup warm water (about 110F)
2 ¼ tsp (1 pkg) active dry yeast
1 ½ cups Bob's Red Mill Gluten Free All Purpose Baking Flour
1 ½ cups brown rice flour
1 tsp xanthan gum
2 Tbsp white sugar
2 tsp salt
½ tsp vinegar
2 eggs, room temperature
Filling:
½ cup brown sugar
¼ cup white sugar
1 Tbsp brown rice flour
½ cup pecans, finely chopped
1 Tbsp cinnamon
¼ cup butter, melted
Icing:
1 cup confectioner's sugar
2 Tbsp milk
¼ tsp vanilla
¼ tsp lemon juice
1 Tbsp purple decorating sugar
1 Tbsp green decorating sugar
1 Tbsp yellow decorating sugar
Grease a large cookie sheet with butter. Set aside. Place on the counter a piece of wax or parchment paper. Spray it with oil or cooking spray. In a bowl combine all the dry Filling ingredients together. Add melted butter and stir until crumbles form. Set aside.
Preheat oven to 350F. To make the pastry add yeast to warm water and wait until it proofs. In a stand mixer using a flat paddle, place eggs and vinegar and whip until blended. Add yeast/water mixture and continue mixing. Add baking mix, flour, gum, sugar and salt and stir on low speed until completely combined, scraping down sides as needed. Spread the dough out on the wax/parchment paper in the shape of a rectangle, roughly 22" x 10". Make sure it is as thin and even as possible. Spread filling on the dough, leaving about 1" around the edges without filling. Using the paper as a a guide gently roll the dough into a tube. Transfer the tube by rolling it off the paper onto the cookie sheet and coax it into a ring, gently connecting the ends together. Place ring in oven and bake for about 45 minutes until browned on top.
While the bread is baking make the icing. Mix together confectioner's sugar, vanilla, lemon juice and milk. Set aside. While the cake is still warm drizzle the icing along the highest point of the bread, encouraging it to drip down the sides. Before the icing hardens sprinkle colored sugar over the icing, alternating colors in the order of purple, green then gold. Allow the cake to cool and the icing to set. Transfer to a serving dish.