Mardi Gras King Cake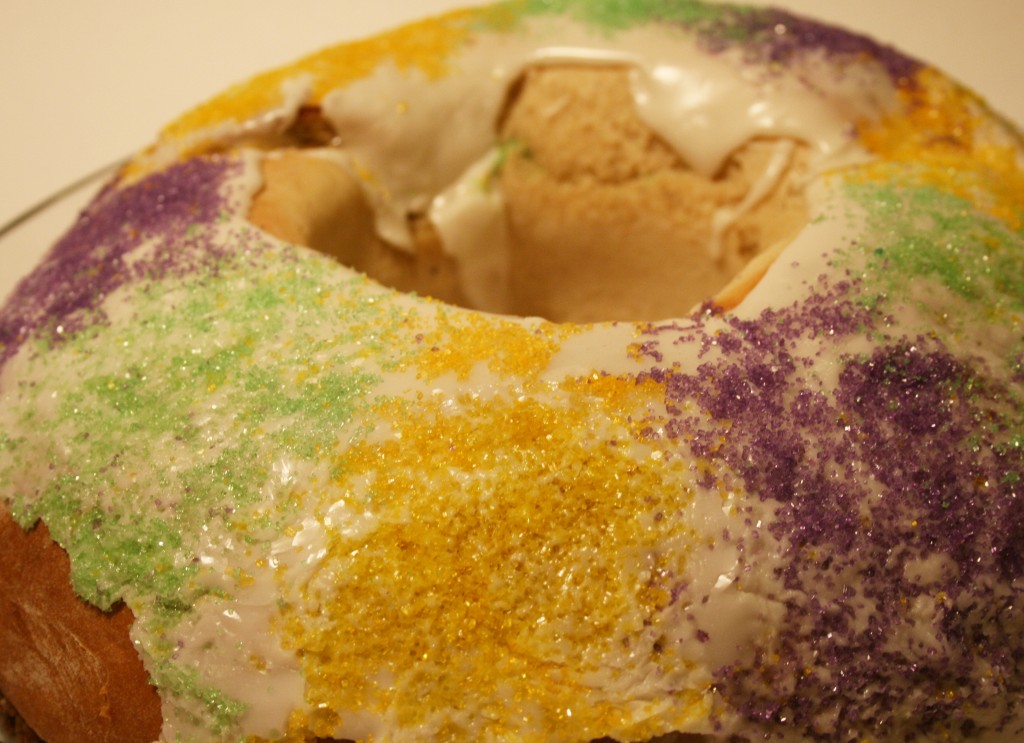 The bands are playing, the krewes are parading and in less than two weeks it will all be over. Mardi Gras is in full swing down in New Orleans, among other places. I miss that city. A while back Big D, Little B and I lived in New Orleans. It was only for six months but it was an amazing six months. We got there right before Halloween and left in April – experiencing the most festive and moderate weather months available down there. I know this to be true. I have also been down there in August. You might as well not take a shower in August, because as soon as you step outside the wet heat leaves a sheen of moisture on your skin. While living there we enjoyed as many celebrations as we could – art festivals, music festivals, food festivals, buskers, as well as the general mystery and charm of the streets. Our rental was half a renovated shotgun house in the neighborhood of Holy Cross, a sub-district squeezed between the Lower Ninth Ward and the great Mississippi River. The neighborhood was briefly under water during Hurricane Katrina and gradually coming back to life when we arrived. Unless we wanted to live on junk food from the local convenience store we had to drive a few miles to find groceries, and of course there were the culinary delights of Marigny and the French Quarter a few blocks away. A lot of the restaurants and stores that were open before the hurricane were either not returning or there was so much damage to the structures that they moved further away. We want to return for another stay, but have not figured out how to do so just yet. As I said, our time there was quite festive.
While most of the country goes into a celebratory slump following New Years, New Orleans keeps on going. Christmas decorations come down, making way for the colors purple (justice), green (faith) and gold (power) of Mardi Gras, and the parties roll on. I did not make a King Cake while we lived in the Crescent City because 1) there were so many delicious looking options available at the local bakeries, and 2) we were under the delusion we could be content eating a low carbohydrate diet, so who would eat a cake if I did make it? We have now come to our senses and enjoy exploring all foods, constantly striving for moderation, so I am diving in and making a huge, beautiful celebratory pastry.
The King (and sometimes Queen) Cake is one of the many and varied traditions of Mardi Gras. They are extremely popular sweets. Many bakeries make most or all their revenue for the year during Mardi Gras by selling King Cakes. Families often have recipes they pass down through generations, but what I found most common commercially was a loosely braided or rolled brioche fashioned in a wreath shape, filled with pecan, cinnamon, cream cheese or fruit. They were usually covered with a white icing sprinkled with colorful colored sugar. A bean or plastic baby is traditionally baked into the cake – whoever gets the piece of cake with the trinket is expected to meet obligations particular to their group. The obligations vary widely. Sometimes there are strong references to Christian stories regarding the Magi and Christ Child, to others it means the holder of the trinket may have the next baby, other times it means the person provides the next king cake or hosts the next party (which start happening at the beginning of of the Mardi Gras season, January 6th). In other circles it means you will have good luck for the year, or you are King/Queen for the day and get treated like royalty. In New Orleans many Mardi Gras Krewes use trinkets in the cakes to select the king and queen for the annual Mardi Gras season. Regardless of the obligation, the bearer of the cake needs to make sure they tell connoisseurs there is a wonderful little choking hazard in their sweet delight. Most cakes sold by bakeries provide the trinket outside of the cake or not at all for fear of someone choking…liability liability liability…
My recipe is a conglomeration from numerous sources. It is hard to actually credit someone, so I will claim it as my own based on research and experimentation and give the closest credit I can give – two sources, here and here. Laissez les bons temps rouler!
King Cake
Pastry:
2 packages active dry yeast
2/3 cup warm water (about 110F)
¼ cup butter, melted and cooled slightly
1 cup milk, room temperature
2 eggs, room temperature
5-6 cups all-purpose flour
½ cup white sugar
2 tsp salt
1 tsp ground nutmeg
1 ½ tsp lemon zest
2 Tbsp oil or butter
1 heat resistant trinket
Small coffee can, mason jar or similar sized heat resistant container
Filling:
¾ cup brown sugar
¼ cup white sugar
1 ½ cups pecans, chopped
1/3 cup flour
2 Tbsp ground cinnamon
½ cup butter, melted
Icing:
2 cups confectioner's sugar
3 ½ Tbsp milk
¼ tsp vanilla
½ tsp lemon juice
2 Tbsp purple decorating sugar
2 Tbsp green decorating sugar
2 Tbsp yellow/gold decorating sugar
Combine yeast and water in a small glass bowl and wait about five minutes until the yeast reaction starts – it foams or bubbles. In a mixing bowl with a bread hook attached combine the water/yeast mixture with the butter, milk and eggs. Mix until combined and smooth. Add lemon zest, flour, sugar, nutmeg and salt. Mix slowly until dough forms, then mix at medium speed until a ball forms and sticks to the bread hook, pulling off the sides. You may need to add more flour for the balling to occur. Place dough in a bowl greased with oil or butter. Flip the dough so it gets coated with the grease. Cover the bowl with plastic wrap or a damp towel, then place in a warm, draft-free place for about two hours until it doubles in size.
When the dough is almost done rising you can make the filling. Combine together all filling ingredients except butter. When the dry ingredients are well combined add the butter and mix until crumbs form. Set aside.
Grease a large cookie sheet and set aside. Place risen dough on a floured surface and roll it into a 24" x 10" rectangle. Spread filling on top of the dough, leaving about an inch along all edges. Add the trinket (I used a green bean, since I did not want to risk Little B choking on something harder). If your trinket is not heat resistant you can wait until the cake is baked and add it by pushing it into the bottom of the cake before serving. Roll dough tightly along the longest edge, until all filling is enclosed in the roll. Grease a small coffee can or other heat resistant container and place it in the middle of a large greased cookie sheet. Curve the roll of dough around the container. Connect the ends of the roll and press together, using a bit of water on your hands to seal them together. Let rise again in a warm, draft-free place for 30-45 minutes. When dough is almost done rising preheat the oven to 375F. Bake cake for about 30 minutes until golden brown.
While the bread is baking make the icing. Mix together confectioner's sugar, vanilla, lemon juice and milk. Set aside. As soon as the cake comes out of the oven remove the can. While the cake is still warm drizzle the icing along the highest point of the bread, allowing it to drip down the sides. Before the icing hardens sprinkle colored sugar*, alternating colors in the order of purple, green then gold, over the icing. Allow the cake to cool and the icing to set. Transfer to a serving dish and enjoy!
*If you have a hard time finding purple decorating sugar like I did, but you can find or make purple food coloring (liquid or gel), here is an easy solution. Just mix some sugar and the food color (this works for more than just purple. Heh.) until you get the desired shade. Let it sit on the counter for about an hour until it dries and clumps. Loosen the clumps and you are good to go!