German Chocolate Fusion Cake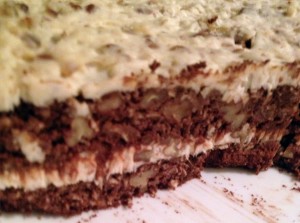 I woke up this morning with a plan to fulfill a birthday request. It sounded simple – a low carb, wheat free German Chocolate Cake for dessert. Now, I could have gone to a version I made before, but there were a few barriers to doing so: 1) in our little hotel kitchenette with not much room, 2) the absence of measuring cups, a mixer, blender, food processor or more than one mixing bowl (which was actually an ice bucket absconded from the ferry we floated to Juneau on), 3) time was not in abundance. To balance all these challenges I did some digging to come up with a simple recipe that kept the ingredients list of the cake short, allowed for minimal processing, and maximized the small kitchen and involvement of Little B. The results were wonderful, if I may say so myself, and achieved the German Chocolate Cake flavors, if not necessarily in a more traditional presentation. Why do I call it a fusion cake? Because I was inspired by a energy bar recipe. I got some inspiration from the recipe found here, then leaped off into a search for my own results. Big D and I talked recently about coming up with some low carb, portable snack or energy bars. Something we could throw in a backpack to nourish us during long hikes or camping trips, beyond the old reliable of mixed nuts or peanut butter. This cake is a step in that direction – I think with a few tweaks of the cake portion of the recipe we could have some good snack bars, but that is a different story. This cake gave Big D the nutty, coconutty, chocolaty birthday dessert flavors he wanted, which was most important to me. My initial hesitation in even trying to make the cake, what with everything else going on in our lives lately (under-supplied kitchen, new town, looking for permanent housing, furlough, new job, new everything), helped me get everything back into perspective. Cooking always has and still does calm me, and stressing about giving a gift is unnecessary if you create it from the heart. Happy Birthday Big D!
German Chocolate Fusion Cake
Cake
1 cup almond flour
2 scoops vanilla whey protein powder
½ cup cocoa powder
2 cups Stevia in the Raw
1 cup unsweetened coconut
1 cup pecans, finely chopped
4 large eggs
1 cup heavy cream
1 cup water
3 tsp vanilla
Topping
12 ounces cream cheese, room temperature
2 Tbsp coconut oil
2 Tbsp heavy cream
1 1/2 cup Stevia in the Raw
½ cup unsweetened coconut
½ cup pecans, finely ground
Preheat oven to 350 degrees. Place all dry cake ingredients into a large bowl. Stir until well combined. Add the eggs, cream, water, and vanilla. Stir again until batter is well combined. Pour into two greased (or lined with parchment paper) 9-inch baking rounds. Bake until solid firm in the middle. It will not rise very much. Baking time will be 35 – 45 minutes. Remove from oven and let cool completely. Remove rounds from pans and peel off parchment paper. Make the topping while the cake bakes and cools: combine cream cheese, heavy cream, coconut oil and Stevia in the Raw in sauce pan. Heat through and stir until smooth. Set aside and let cool about five minutes. Add coconut and pecans and stir again until well combined. Let topping cool completely. Place one cake round on a serving plate. Top round with half of the topping. Place second round on top of first, then finish the cake with remaining topping, spreading it on the sides if there is enough – the layers will be thin so you may not need to put on the sides at all. Chill to let the topping set. Serve cold or remove from refrigerator about one hour before serving.