Ghoulish Meatballs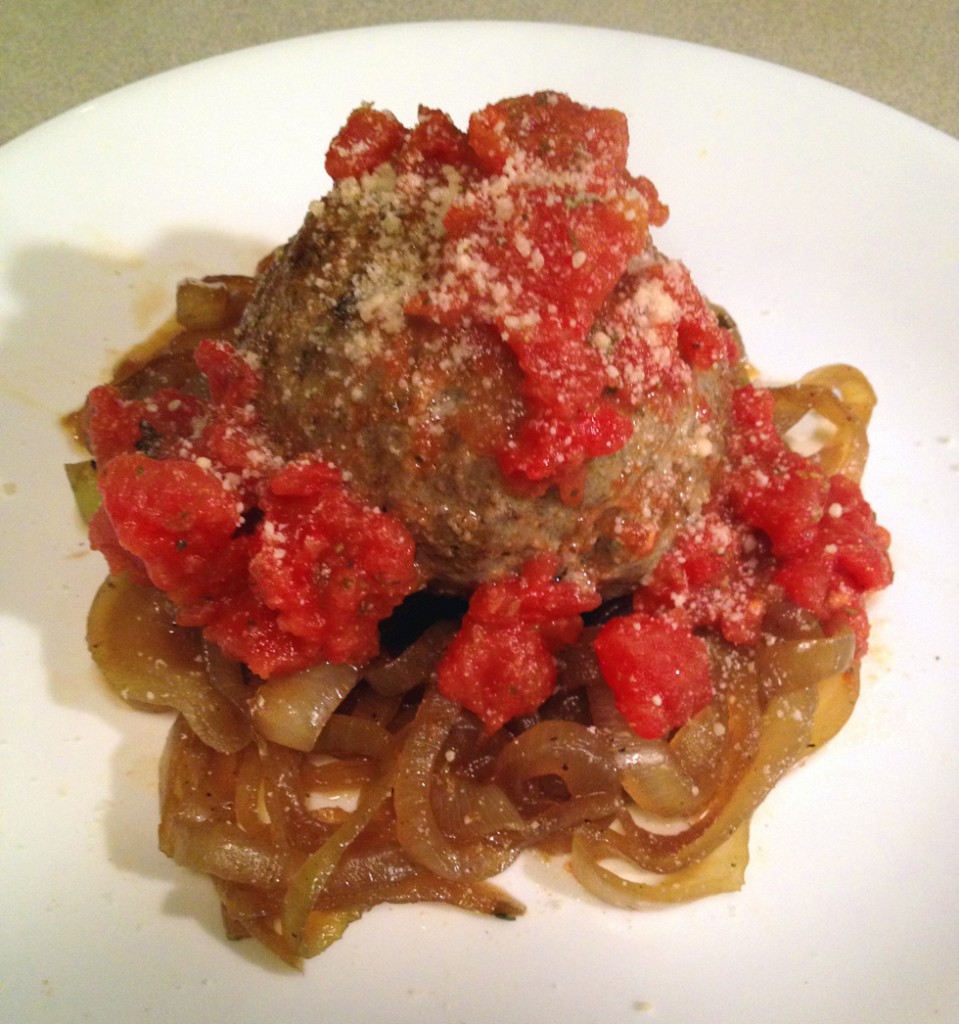 In honor of Halloween I made some quite delicious, ghoulish meatballs! They are massive and arrogant and a little scary. I maxed out my hands trying to form them into balls, but it worked! I have made meatballs before, but they were little and gooey and cheesy. All of those things I consider good, but a huge, ghoulish meatball is awesome! I originally planned on baking the balls, but we are still lacking in the shallow baking pan department as part of our reliance on a hotel room kitchenette. The stove top worked pretty well, allowing for browning on all sides, so all was good good good! The stove top was busy though, with making the sauce and onions and meatballs! It came together in low carb loveliness and is a new comfort food for me. The sweet of the sauteed onions balanced out the bite of the meatballs and tartness of the tomatoes. Today was a crazy busy day with much good news (we officially found a place to live in our new town), much fun, and a humongous amount of candy for Little B. Usually off limits, we let her eat and eat and eat candy with sugar all over and in it. Her glazed eyes and erratic, hyper behavior reminds us why we avoid it the rest of the year. I am writing a last line before bed, and look forward to Samhain tomorrow, the beginning our spiritual new year. Sweet, ghoulish dreams everyone!
Ultimate Meatballs
Balls
1 pound 15 -20 % fat ground beef
3/4 pound ground hot Italian sausage
2 eggs, lightly whisked
1 Tbsp dried oregano leaves
2 tsp dried basil leaves
1 tsp dried parsley leaves
2 tsp garlic powder
1 tsp sea salt
1/2 – 3/4 cup Parmesan cheese, finely grated, plus more for serving
Sauce
1  14.5 ounce can diced Tomatos with sauce
1 tsp dried oregano leaves
1 tsp dried basil leaves
1/2 tsp garlic powder
Salt and pepper to taste
Onions
1 large sweet onion, sliced into thin rings
SAUCE: In a small sauce pan over medium heat combine tomatoes, oregano, basil, garlic, salt and pepper. Stir. When bubbly, turn temperature down to low and simmer, covered, for at least 30 minutes. ONIONS: To prepare the onions, heat a deep pan over medium high heat until hot. It should be dry. Add the onion rings and let sit for a minute without stirring until they begin to brown and sweat. Stir them every minute or two, allowing the onions to brown more. When onions are about half browned add 1/2 cup water and scrape the bottom of the Pan. Stir and continue cooking until the liquid cooks away. Sprinkle with salt to taste. Turn off the heat and cover until time to serve. MEATBALLS: In a small bowl combine the spices – oregano, basil, parsley, garlic, salt and cheese. Set aside. In a large bowl squish together the ground beef and sausage until mixed up well. Add the eggs and make sure all the meat is coated. Pour in spice mixture and knead meat until spices are well distributed. Refrigerate until sauce and onions are ready. When time to cook the meatballs remove meat mixture from refrigerator (can be prepared the day before). Heat large frying pan to medium high heat. Form meat into six huge meatballs, placing them immediately into the hot pan. When forming the balls make sure to press the meat together firmly and roll it around in your hands to make them as round as possible. As one side of each meatball browns, gently turn them to another side. Repeat this a few times so three or four sides are a bit brown. Lower heat, Cover and cook until meatballs are cooked through, about 20 minutes. Depending on your stove you may need to move them around during the cooking time to prevent the outside from overcooking. To serve, arrange a layer of onion on the plate, add a meatball or two, and top with the tomato sauce and more Parmesan cheese. Serve immediately.