Greek Salad On A Stick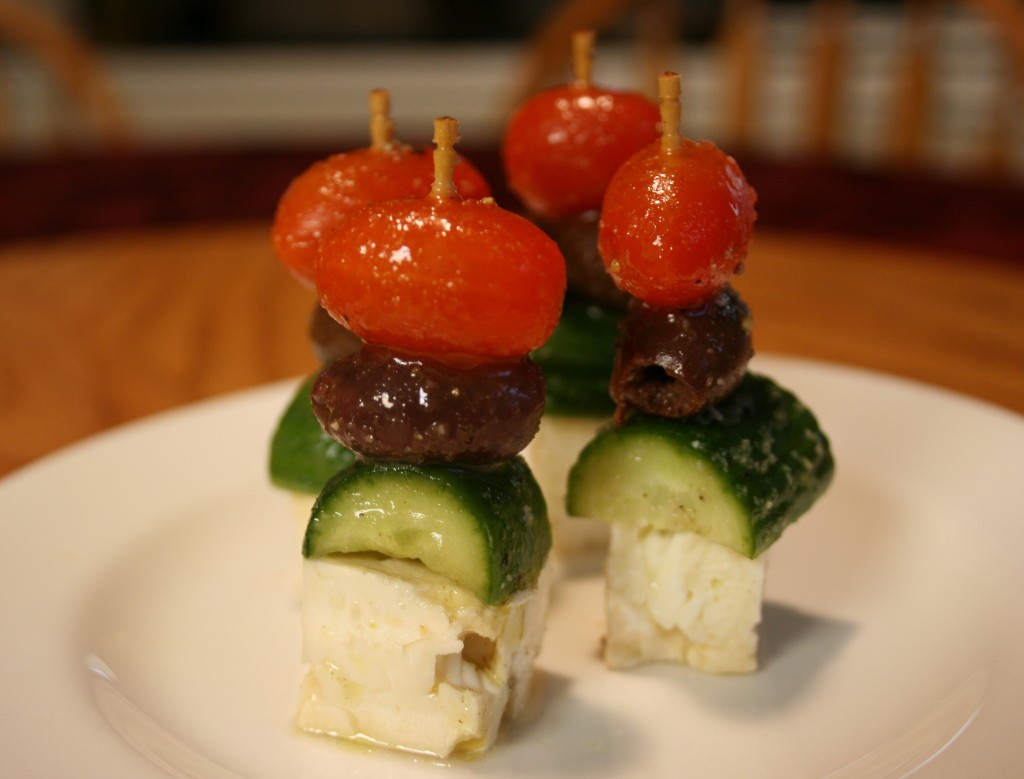 I will start by saying these toothpick-mounted wonders are the closest I got to making football shaped food this year. I actually watched quite a bit of the Super Bowl today. Good game, considering I did not feel strongly about one team or the other winning. I don't watch much professional American Football these days; mostly because I don't have a TV at home, but even more because any attempt I make to do something for hours at a time is frequently interrupted by a lively 2 1/2 year old daughter. When I weigh time with Little B against watching football, Little B always wins.
Greek salads are things I can just eat and eat, especially with some hot grilled kebabs on top. My favorite of all time is at Papouli's in San Antonio – they have a killer dressing. The tanginess of the dressing, olives and feta just pull me in, and are much less bad for me health-wise than my other salad love, blue cheese dressing. Yes, I know blue cheese dressing is not a salad – I need the lettuce and tomato and cucumber to hold the dressing – but the calorie and fat load of blue cheese dressing can wreak havoc on almost any diet.
I saw this idea somewhere last year but for the life of me cannot remember where. I think it was here, but it was a while back. I tried to give credit where it is due, so I get kudos for trying, right? I have made these wonderful little appetizers a number of times and love the juiciness with the dressing added. The whole stick of salad can fit in one bite. Whoa! Heaven! I sometimes include onion, but usually not because some of my nearest and dearest have a hard time with raw onion, so I present the recipe without. I most recently served these along with my smorgastarta and they were a great compliment.
Greek Salad On A Stick
24 toothpicks
1 block feta cheese, cut into 24 cubes
24 grape tomatoes
24 kalamata olives, pitted
1 English cucumber or 3 mini cucumbers
¼ cup olive oil
1/8 cup red wine or balsamic vinegar
1 tsp lemon juice
½ tsp salt
¼ tsp pepper
1 tsp dried oregano
Whisk together the last six ingredients. Set aside. Slice cucumbers into thick slices, about ½ inch in length, then again in half or quarters, depending on cucumber size. I have found that all four elements fitting on the toothpicks is directly related to the size of the cucumber pieces (or the squishiness of the olives, but that can only go so far), so do a test 'pick before cutting up all the cucumber. Start with putting on toothpicks the tomato, followed by an olive and cucumber, ending with the feta. Place all the filled toothpicks in a deep plate or bowl that will just hold the completed 'picks. Drizzle dressing over the 'picks. Refrigerate for at least an hour. Before serving move the 'picks to a serving dish and again drizzle the dressing over the 'picks. If you use fancy decorated 'picks, the top of which won't look good slimed with dressing, you may need to spoon the dressing over them with a spoon.