Smorgastarta…sorta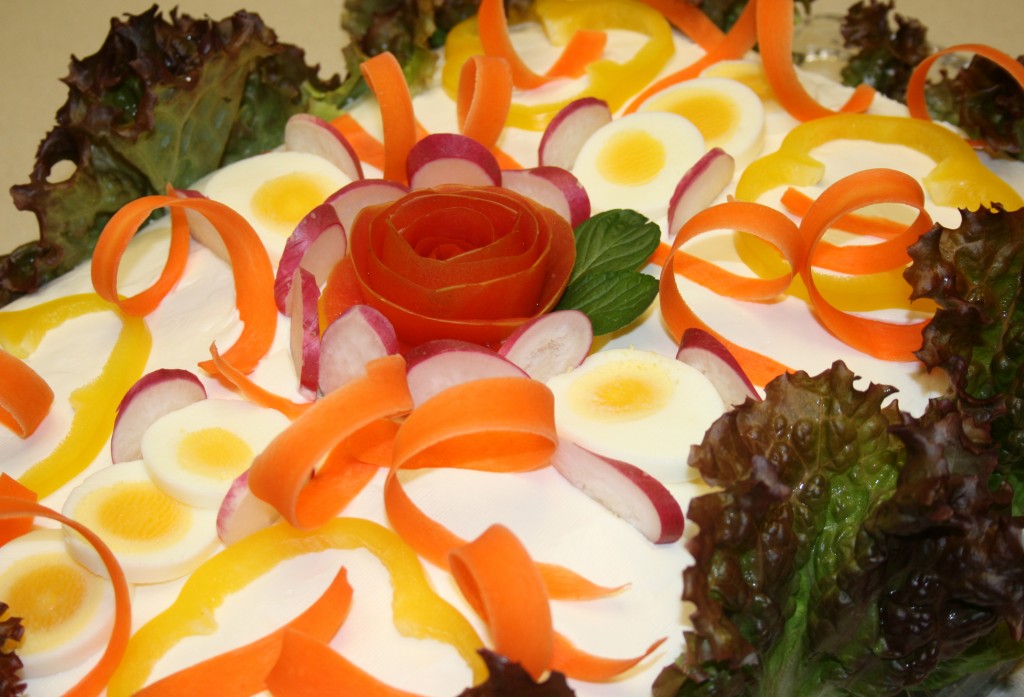 I prepared food for a party this weekend. It was far from the many Super Bowl parties going on – this one was a bunch of ladies getting together to have fun at a private home. Television off. Music and conversation on. They wanted some filling food without loading up on the calories, and nix the seafood. I have reliable recipes I've made for years, but also like the thrill (geez I need to get a life!) of trying a new recipe for the first time and serving it at a party. The centerpiece I made was a cake…sort of. It was a spin off of a smorgastarta. If you have never heard of such a thing, it is basically a layered sandwich frosted like a cake. The original version is popular in Sweden and served at parties – bread, herring mousse, cucumber, bread, smoked salmon, sauce, lettuce, bread, then frosted with a cream cheese/sour cream 'frosting'. A beautiful version is described and presented at Panini Happy. Since the party would include people who are not partial to seafood, I came up with a version that is about as friendly to the masses as possible. How can I go wrong with chicken, ham and turkey? It was really fun to make, much prettier than an old fashioned sandwich tray and deeeelicious! The leftover bits and pieces from the garnish made a great salad. Heh. My garnish ended up looking a little different than I originally planned (and described below in the directions), but I just went with the flow and I like my results. Let them eat cake…
Smorgastarta…sorta
24 slices large whole wheat bread
1/2 cup Butter (room temperature)
4 ounces thin sliced ham (about 15 slices)
4 ounces thin sliced turkey (about 15 slices)
8 ounces thin sliced cheese
1 English cucumber, peeled and sliced thin
7 cups diced chicken (about seven chicken breasts)
1 cup mayonnaise
1 cup diced dill pickle
1/4 cup shredded onion
1 tsp curry
24 ounces cream cheese (room temperature)
16 ounces sour cream (room temperature)
1 large round tomato
10-14 leaves of green/purple lettuce or flat leaf parsley sprigs
3 boiled eggs (10 minute boil)
1 tall red or yellow bell pepper
1 bunch green onions
1 large carrot
Make sandwich decorations and chill them while constructing cake:
-use peeler to make long thin ribbons from the carrot
-trim green onions until there is only 2″ of green above the white portion, then slice the green parts in quarters lengthwise, not cutting into the white
-make vertical cuts in radishes almost to the bottom four time around the radish
-place carrots, onions and radishes in ice water and set in fridge for at least an hour. The carrots will curl, the onion greens will curl and the radishes should open up and become 'roses'.
-remove chilled vegetables from water and set on towel to dry (radishes and onions should be done in an hour, but carrots may take two hours to curl if thick)
-core bell pepper and slice horizontally, making rings
Peel tomato skin in one long ribbon to make a tomato rose. Lay it flat for about 30 minutes so it can relax and flatten out. It needs to be flat so you can roll it, otherwise it will try to keep the shape of the tomato and not roll tightly enough. When ready to decorate the cake, roll the skin like a roll of tape. One side of it will naturally form a rose. Garnish with some mint or basil leaves.
To make chicken salad combine chicken, mayonnaise, pickle, shredded onion and curry. Set aside.
Remove crust from all slices of bread. Butter one side of eight pieces of bread and place them butter side up in a rectangular shape on a serving tray. Spread chicken salad on bread, bringing as close to the edges as possible. Place a layer of cucumber on top of salad.
Butter both sides of eight pieces of bread and place on top of the cucumber. Arrange ham and turkey in loose rolls on bread, making sure slices are not pressed flat. Drizzle mustard over meat. Add a layer of cheese. Butter one side of eight pieces of bread and place butter side down on top of cheese.
Thoroughly blend together the cream cheese and sour cream until smooth. Use the mixture like frosting and cover the sandwich on top and all sides.
Press parsley sprigs or lettuce fans on side of frosted sandwich. Arrange egg slices, radishes, carrots, green onions, tomato roses and bell pepper rings on top to decorate. Chill sandwich for at least three hours before serving.