Jalapeno Popper Dip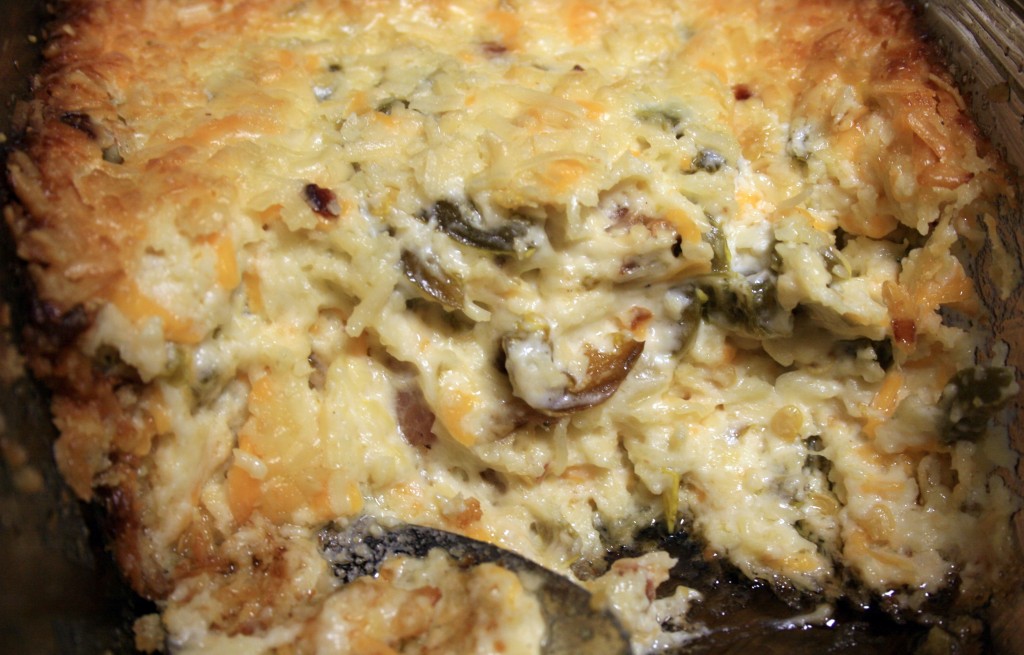 I have really been craving stuffed jalapeno poppers. Especially from Snoopy's in Corpus Christi TX or Los Amigos in Bonham TX. Big D really loves them too, but it is almost impossible to find them without a crunchy, wheaty layer of breading all over them. Since Big D is not a wheat fan (well, he likes wheat, his body doesn't) I feel a bit of guilt inhaling a plate full right in front of him. To appease us both I came up with the following recipe. From the urging of Big D I added double the jalapenos listed in the recipe for this batch – our sinuses are definitely cleared out now. I don't recommend it for the faint of heart, but if the crowd you are feeding includes a lot of pepper lovers the go for it. The other ingredient quantities don't need adjustment. As always, the leftovers a day or two later had a much more rounded taste from sitting around and hanging out together, so mixing it all up and waiting to bake it a day or so would be stellar.
Jalapeno Popper Dip
8 ounces cream cheese, room temperature
8 ounces mayonnaise
8 ounces Monterrey jack cheese, shredded
4 ounces cheddar cheese, shredded
2 cloves garlic, crushed
2 slices bacon, cooked crisp and crumbled
1 cup pickled jalapenos, roughly chopped
2 ounces Parmesan cheese
Preheat oven to 350 Fahrenheit. In a mixing bowl thoroughly combine the garlic and mayonnaise with all the cheeses except Parmesan. Stir in the bacon and jalapenos. Pour mixture into 9×9 glass baking dish, or glass bread pan or 9 inch glass pie pan – the idea is to use glass to get a crispy pretty finish all around, so the more crispy you like your dip the wider the dish you should use. Sprinkle the Parmesan cheese over the top* and pop in the oven for 30-35 minutes until brown and bubbly. A deeper bread pan or casserole dish may need 45-50 minutes to get completely bubbly. Let sit for about five minutes before serving.
*If you want the bready effect of stuffed jalapenos combine about ½ cup of bread crumbs with the Parmesan cheese before sprinkling over the top.